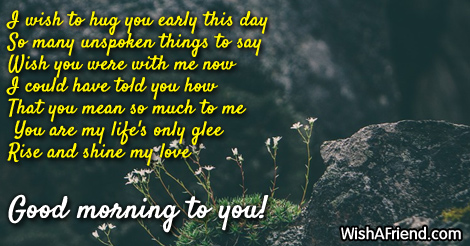 I wish too
I wish to hug you early this day
So many unspoken things to say
Wish you were with me now
I could have told you how
That you mean so much to me
You are my life's only glee
Rise and shine my love
Good morning to you!
Other Popular Good Morning Poems for Him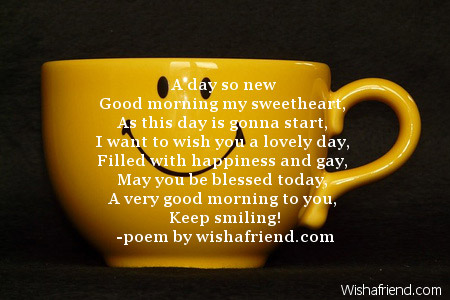 A day so new
Good morning my sweetheart,
As this day is gonna start,
I want to wish you a lovely day,
Filled with happiness and gay,
May you be blessed today,
A very good morning to you,
Keep smiling!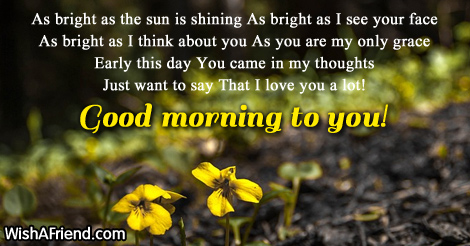 As bright as
As bright as the sun is shining
As bright as I see your face
As bright as I think about you
As you are my only grace
Early this day
You came in my thoughts
Just want to say
That I love you a lot!
Good morning to you!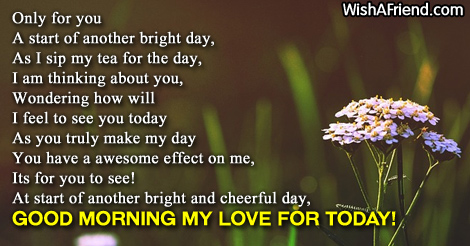 Only for you
A start of another bright day,
As I sip my tea for the day,
I am thinking about you,
Wondering how will I feel to see you today
As you truly make my day
You have a awesome effect on me,
Its for you to see!
At start of another bright and cheerful day,
Good morning my love for today!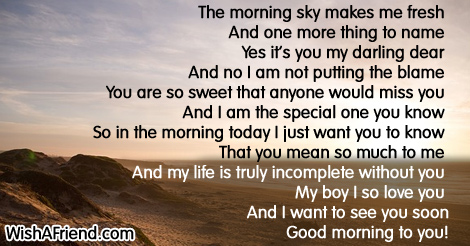 The morning sky
The morning sky makes me fresh
And one more thing to name
Yes it's you my darling dear
And no I am not putting the blame
You are so sweet that anyone would miss you
And I am the special one you know
So in the morning today I just want you to know
That you mean so much to me
And my life is truly incomplete without you
My boy I so love you
And I want to see you soon
Good morning to you!
Without you my love
I know I can't stay away from you for long,
I know that to me,
You truly belong,
Early in the morning, I miss you the most,
In your thoughts I am engrossed,
Sending you warm wishes for this morning,
Have a lovely day,
Good morning!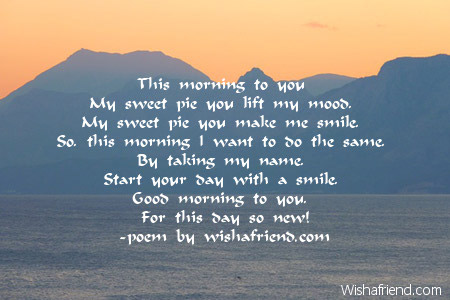 This morning to you
My sweet pie you lift my mood,
My sweet pie you make me smile,
So, this morning I want to do the same,
By taking my name,
Start your day with a smile,
Good morning to you,
For this day so new!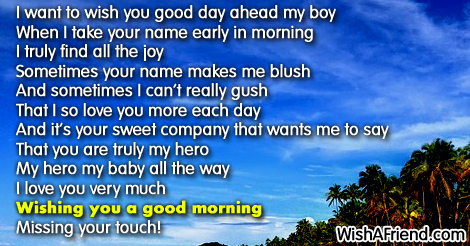 I want to wish you a good day
I want to wish you good day ahead my boy
When I take your name early in morning
I truly find all the joy
Sometimes your name makes me blush
And sometimes I can't really gush
That I so love you more each day
And it's your sweet company that wants me to say
That you are truly my hero
My hero my baby all the way
I love you very much
Wishing you a good morning
Missing your touch!