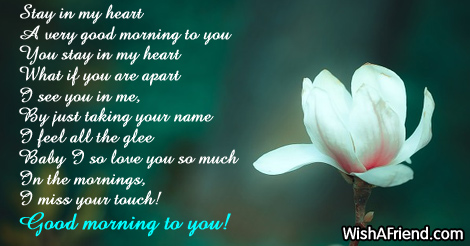 Stay in my heart
A very good morning to you
You stay in my heart
What if you are apart
I see you in me,
By just taking your name
I feel all the glee
Baby I so love you so much
In the mornings,
I miss your touch!
God morning to you!
Other Popular Good Morning Poems for Him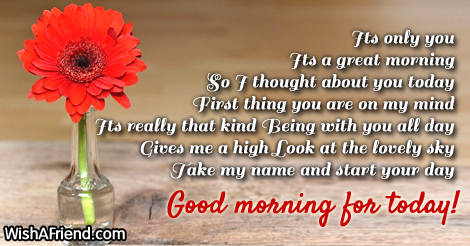 Its only you
Its a great morning
So I thought about you today
First thing you are on my mind
Its really that kind
Being with you all day
Gives me a high
Look at the lovely sky
Take my name and start your day
Good morning for today!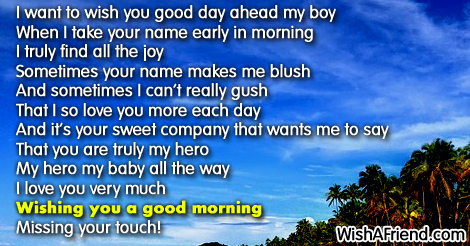 I want to wish you a good day
I want to wish you good day ahead my boy
When I take your name early in morning
I truly find all the joy
Sometimes your name makes me blush
And sometimes I can't really gush
That I so love you more each day
And it's your sweet company that wants me to say
That you are truly my hero
My hero my baby all the way
I love you very much
Wishing you a good morning
Missing your touch!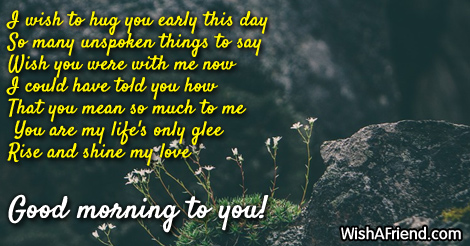 I wish too
I wish to hug you early this day
So many unspoken things to say
Wish you were with me now
I could have told you how
That you mean so much to me
You are my life's only glee
Rise and shine my love
Good morning to you!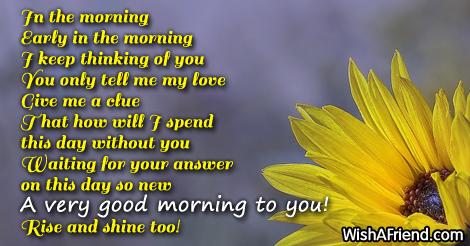 In the morning
Early in the morning
I keep thinking of you
You only tell me my love
Give me a clue
That how will I spend this day without you
Waiting for your answer on this day so new
A very good morning to you!
Rise and shine too!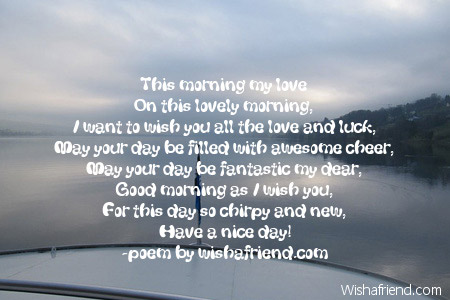 This morning my love
On this lovely morning,
I want to wish you all the love and luck,
May your day be filled with awesome cheer,
May your day be fantastic my dear,
Good morning as I wish you,
For this day so chirpy and new,
Have a nice day!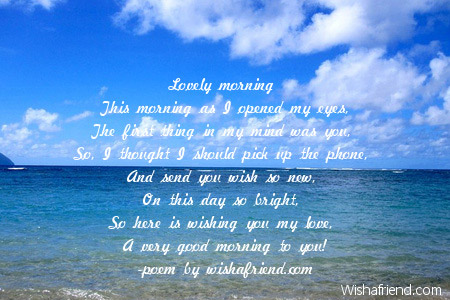 Lovely morning
This morning as I opened my eyes,
The first thing in my mind was you,
So, I thought I should pick up the phone,
And send you wish so new,
On this day so bright,
So here is wishing you my love,
A very good morning to you!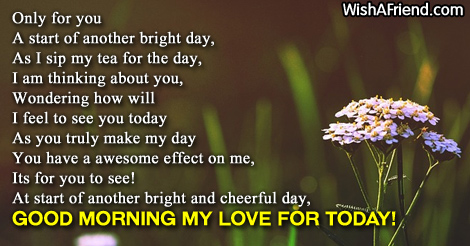 Only for you
A start of another bright day,
As I sip my tea for the day,
I am thinking about you,
Wondering how will I feel to see you today
As you truly make my day
You have a awesome effect on me,
Its for you to see!
At start of another bright and cheerful day,
Good morning my love for today!