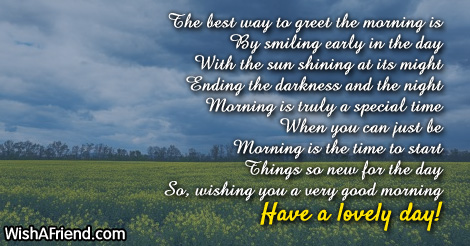 The best way to greet
The best way to greet the morning is
By smiling early in the day
With the sun shining at its might
Ending the darkness and the night
Morning is truly a special time
When you can just be
Morning is the time to start
Things so new for the day
So, wishing you a very good morning
Have a lovely day!
Other Popular Good Morning Poems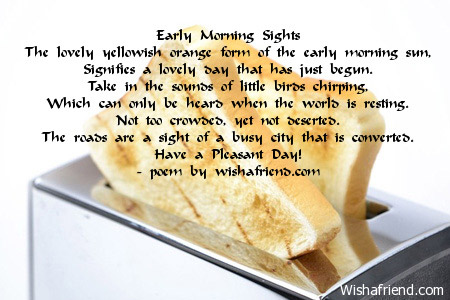 Early Morning Sights
The lovely yellowish orange form of the early morning sun,
Signifies a lovely day that has just begun.
Take in the sounds of little birds chirping,
Which can only be heard when the world is resting.
Not too crowded, yet not deserted.
The roads are a sight of a busy city that is converted.
Have a Pleasant Day!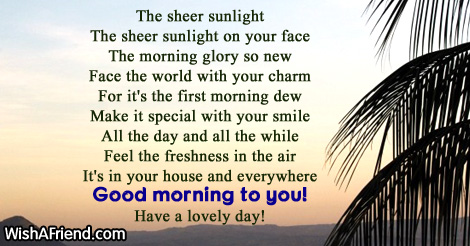 The sheer sunlight
The sheer sunlight on your face
The morning glory so new
Face the world with your charm
For it's the first morning dew
Make it special with your smile
All the day and all the while
Feel the freshness in the air
It's in your house and everywhere
Good morning to you!
Have a lovely day!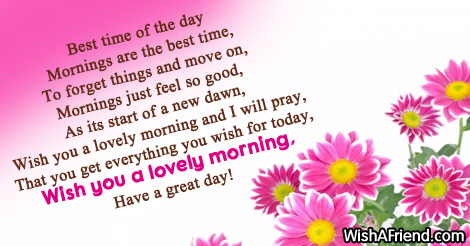 Best time of the day
Mornings are the best time,
To forget things and move on,
Mornings just feel so good,
As its start of a new dawn,
Wish you a lovely morning and I will pray,
That you get everything you wish for today,
Wish you a lovely morning,
Have a great day!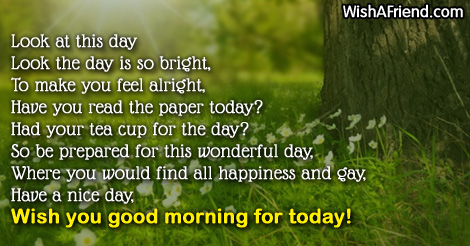 Look at this day
Look the day is so bright,
To make you feel alright,
Have you read the paper today?
Had your tea cup for the day?
So be prepared for this wonderful day,
Where you would find all happiness and gay,
Have a nice day,
Wish you good morning for today!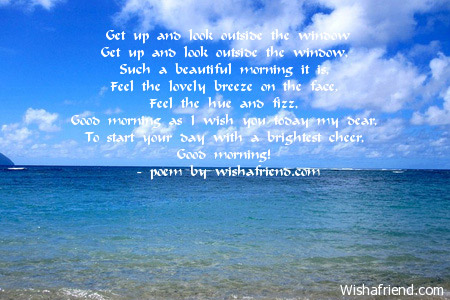 Get up and look outside the window
Get up and look outside the window,
Such a beautiful morning it is,
Feel the lovely breeze on the face,
Feel the hue and fizz,
Good morning as I wish you today my dear,
To start your day with a brightest cheer,
Good morning!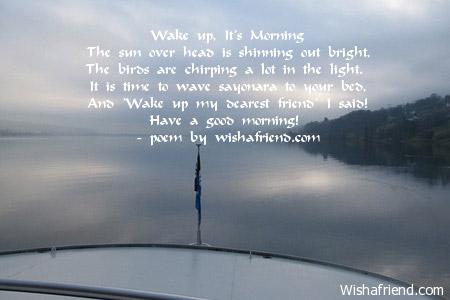 Wake up, It's Morning
The sun over head is shinning out bright,
The birds are chirping a lot in the light.
It is time to wave sayonara to your bed,
And 'Wake up my dearest friend' I said!
Have a good morning!
Give yourself a break in life
Give yourself a break in life
You deserve to take a lot more
Give yourself some respite
By walking through the morning chore
Make a list of things you will do
Make a lot of things in hew
Feel good as it's just the start
Feel good as you have chance ahead
Morning is such a great time
Morning time brings in a new cheer
Morning time is really bright
Makes you feel so awesome and right
Wishing you a lovely morning!