You don't have many
You don't have many choices,
You don't have all the day
You have to make a start
You have to have a say
So today when you get up
Thinking about your day
You have to make it special
You have to work your way
Wishing you a super morning!
Have a nice day!
Other Popular Good Morning Poems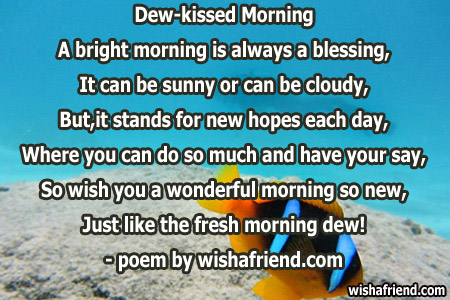 Dew-kissed Morning
A bright morning is always a blessing,
It can be sunny or can be cloudy,
But,it stands for new hopes each day,
Where you can do so much and have your say,
So wish you a wonderful morning so new,
Just like the fresh morning dew!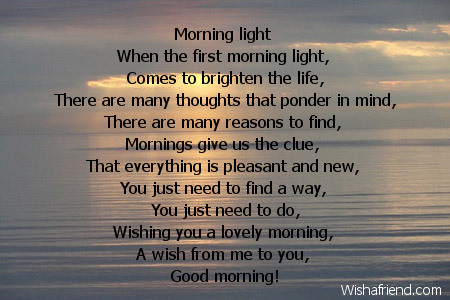 Morning light
When the first morning light, Comes to brighten the life,
There are many thoughts that ponder in mind,
There are many reasons to find,
Mornings give us the clue,
That everything is pleasant and new,
You just need to find a way,
You just need to do,
Wishing you a lovely morning,
A wish from me to you,
Good morning!
The Nature Talking To Me
The birds are singing on the trees,
The big bright sun is smiling at me.
The breeze is asking me to come and play,
The dew drops are wishing me a good day.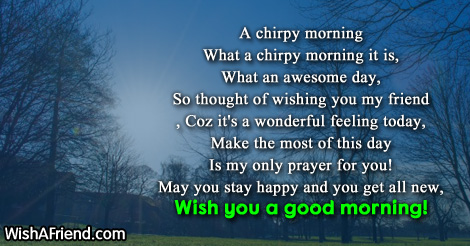 A chirpy morning
What a chirpy morning it is,
What an awesome day,
So thought of wishing you my friend
, Coz it's a wonderful feeling today,
Make the most of this day
Is my only prayer for you!
May you stay happy and you get all new,
Wish you a good morning!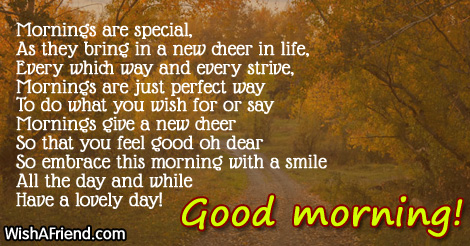 It is truly special
Mornings are special,
As they bring in a new cheer in life,
Every which way and every strive,
Mornings are just perfect way
To do what you wish for or say
Mornings give a new cheer
So that you feel good oh dear
So embrace this morning with a smile
All the day and while
Have a lovely day!
Good morning!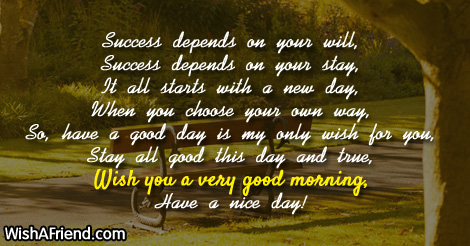 On your will
Success depends on your will,
Success depends on your stay,
It all starts with a new day,
When you choose your own way,
So, have a good day is my only wish for you,
Stay all good this day and true,
Wish you a very good morning,
Have a nice day!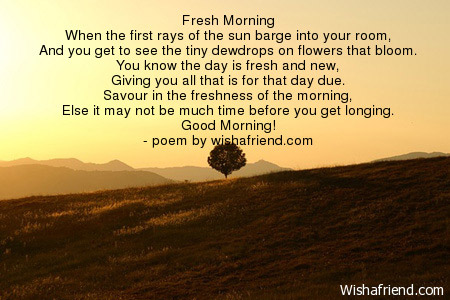 Fresh Morning
When the first rays of the sun barge into your room,
And you get to see the tiny dewdrops on flowers that bloom.
You know the day is fresh and new,
Giving you all that is for that day due.
Savour in the freshness of the morning,
Else it may not be much time before you get longing.
Good Morning!