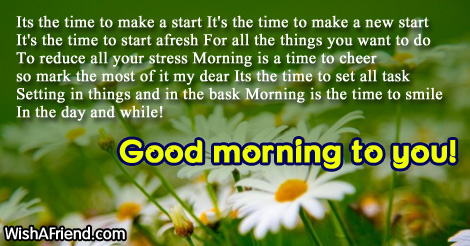 Its the time to make a start
It's the time to make a new start
It's the time to start afresh
For all the things you want to do
To reduce all your stress
Morning is a time to cheer
so mark the most of it my dear
Its the time to set all task
Setting in things and in the bask
Morning is the time to smile
In the day and while!
Good morning to you!
Other Popular Good Morning Poems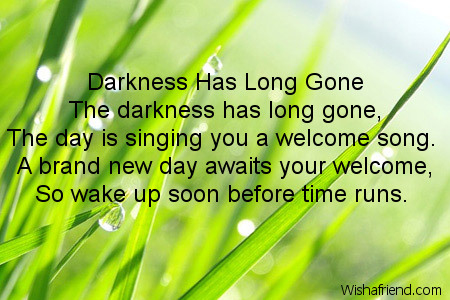 Darkness Has Long Gone
The darkness has long gone,
The day is singing you a welcome song.
A brand new day awaits your welcome,
So wake up soon before time runs.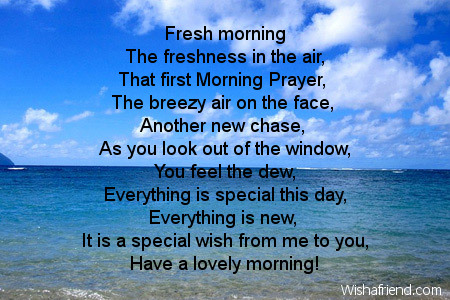 Fresh morning
The freshness in the air,
That first Morning Prayer,
The breezy air on the face,
Another new chase,
As you look out of the window,
You feel the dew,
Everything is special this day,
Everything is new,
It is a special wish from me to you,
Have a lovely morning!
Happy morning
A very good morning to the most important person I know,
Don't have many words to show,
But, just know that I care a lot,
You are always in my prayers and thought,
So wish you a good day ahead,
Be prepared for a super day,
Wish you a super good morning for today!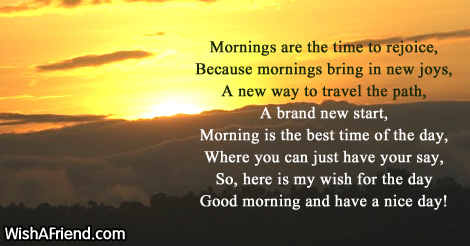 Best time of the day
Mornings are the time to rejoice,
Because mornings bring in new joys,
A new way to travel the path,
A brand new start,
Morning is the best time of the day,
Where you can just have your say,
So, here is my wish for the day
Good morning and have a nice day!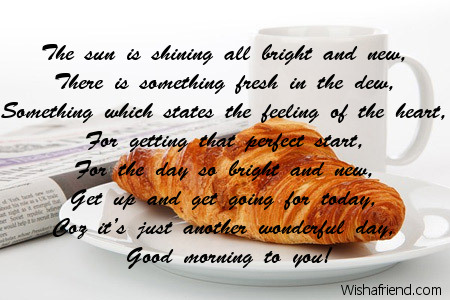 The sun that is bright
The sun is shining all bright and new,
There is something fresh in the dew,
Something which states the feeling of the heart,
For getting that perfect start,
For the day so bright and new,
Get up and get going for today,
Coz it's just another wonderful day,
Good morning to you!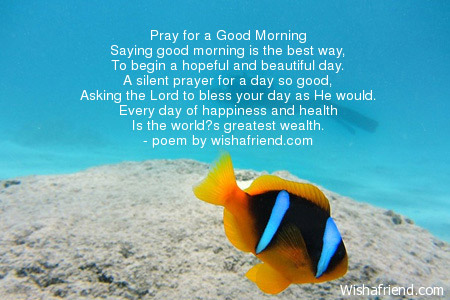 Pray for a Good Morning
Saying good morning is the best way,
To begin a hopeful and beautiful day.
A silent prayer for a day so good,
Asking the Lord to bless your day as He would.
Every day of happiness and health
Is the world's greatest wealth.
The Nature Talking To Me
The birds are singing on the trees,
The big bright sun is smiling at me.
The breeze is asking me to come and play,
The dew drops are wishing me a good day.