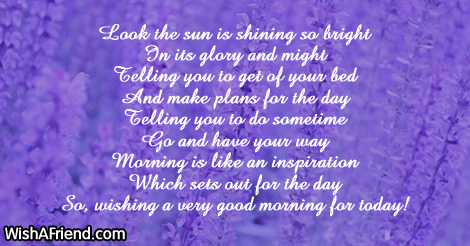 Look at the sun
Look the sun is shining so bright
In its glory and might
Telling you to get of your bed
And make plans for the day
Telling you to do sometime
Go and have your way
Morning is like an inspiration
Which sets out for the day
So, wishing a very good morning for today!
Other Popular Good Morning Poems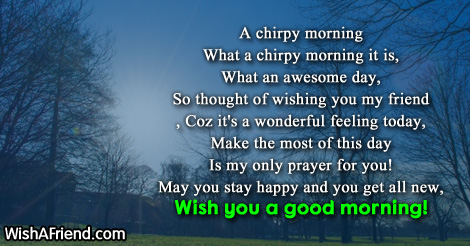 A chirpy morning
What a chirpy morning it is,
What an awesome day,
So thought of wishing you my friend
, Coz it's a wonderful feeling today,
Make the most of this day
Is my only prayer for you!
May you stay happy and you get all new,
Wish you a good morning!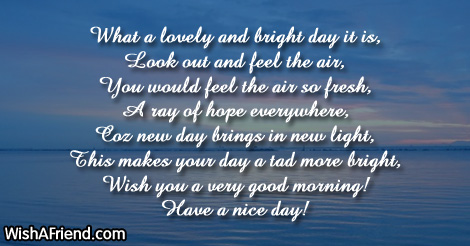 A lovely day
What a lovely and bright day it is,
Look out and feel the air,
You would feel the air so fresh,
A ray of hope everywhere,
Coz new day brings in new light,
This makes your day a tad more bright,
Wish you a very good morning!
Have a nice day!
It's time for cheer
Morning is the time to cheer,
Oh my lovely, oh my dear,
So I want you to smile a lot,
With cheering with positive thought,
Coz your day will be awesome,
So, be ready for some fun,
Have a nice day,
Wish you a lovely morning for today!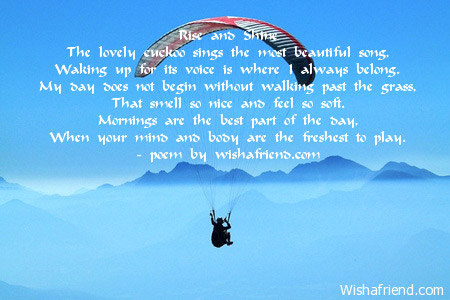 Rise and Shine
The lovely cuckoo sings the most beautiful song,
Waking up for its voice is where I always belong.
My day does not begin without walking past the grass,
That smell so nice and feel so soft.
Mornings are the best part of the day,
When your mind and body are the freshest to play.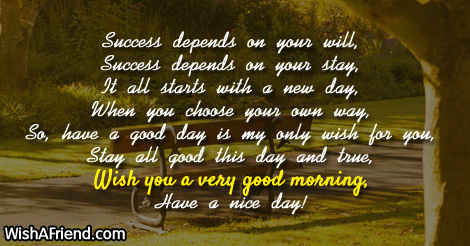 On your will
Success depends on your will,
Success depends on your stay,
It all starts with a new day,
When you choose your own way,
So, have a good day is my only wish for you,
Stay all good this day and true,
Wish you a very good morning,
Have a nice day!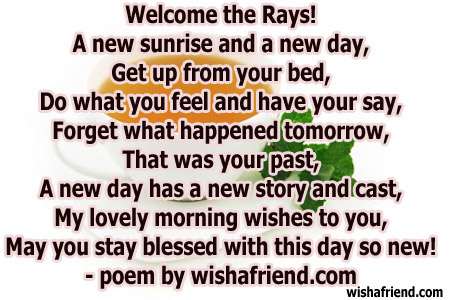 Welcome the Rays!
A new sunrise and a new day,
Get up from your bed,
Do what you feel and have your say,
Forget what happened tomorrow,
That was your past,
A new day has a new story and cast,
My lovely morning wishes to you,
May you stay blessed with this day so new!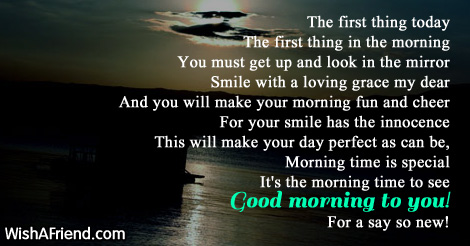 The first thing today
The first thing in the morning
You must get up and look in the mirror
Smile with a loving grace my dear
And you will make your morning fun and cheer
For your smile has the innocence
This will make your day perfect as can be,
Morning time is special
It's the morning time to see
Good morning to you!
For a say so new!