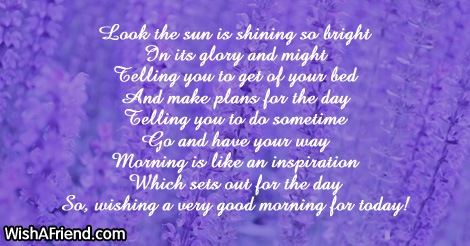 Look at the sun
Look the sun is shining so bright
In its glory and might
Telling you to get of your bed
And make plans for the day
Telling you to do sometime
Go and have your way
Morning is like an inspiration
Which sets out for the day
So, wishing a very good morning for today!
Other Popular Good Morning Poems
What a lovely day it is
Aha! What a lovely day it is,
Have you looked outside the window?
Look at the clear blue sky,
Feel the fresh and breezy air,
That ray of light which is right there,
Dew on that leaf looks like a tear,
All the things which miss and near,
Morning is to cheer,
So, start your day with a smile my dear,
Wish you have a lovely day,
A very good morning to you!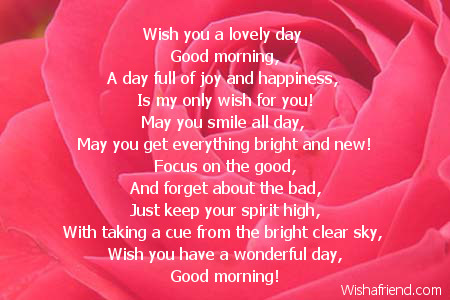 Wish you a lovely day
Good morning,
A day full of joy and happiness,
Is my only wish for you!
May you smile all day,
May you get everything bright and new!
Focus on the good,
And forget about the bad,
Just keep your spirit high,
With taking a cue from the bright clear sky,
Wish you have a wonderful day,
Good morning!
Hope of the day
A new day is here,
And a new quest,
There are new dreams in the eyes,
Hoping for it to be filled with wise,
The path is far, but the spirit is there,
As the sunshine will brighten up the day,
It's a new day, a new way,
So, have a lovely day today!
Good morning!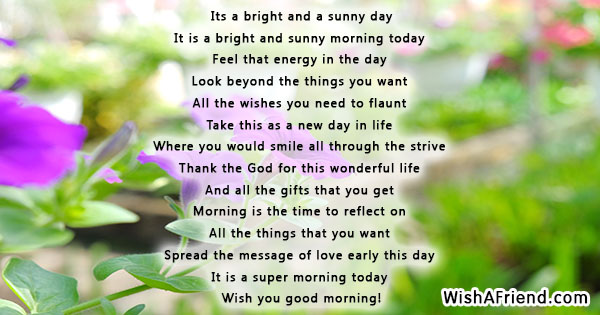 Its a bright and a sunny day
It is a bright and sunny morning today
Feel that energy in the day
Look beyond the things you want
All the wishes you need to flaunt
Take this as a new day in life
Where you would smile all through the strive
Thank the God for this wonderful life
And all the gifts that you get
Morning is the time to reflect on
All the things that you want
Spread the message of love early this day
It is a super morning today
Wish you good morning!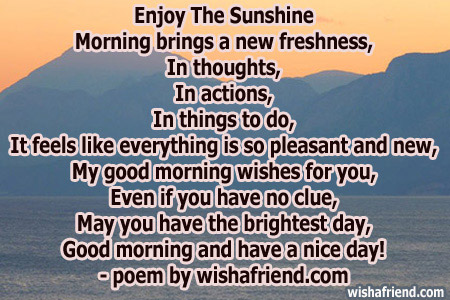 Enjoy The Sunshine
Morning brings a new freshness,
In thoughts,
In actions,
In things to do,
It feels like everything is so pleasant and new,
My good morning wishes for you,
Even if you have no clue,
May you have the brightest day,
Good morning and have a nice day!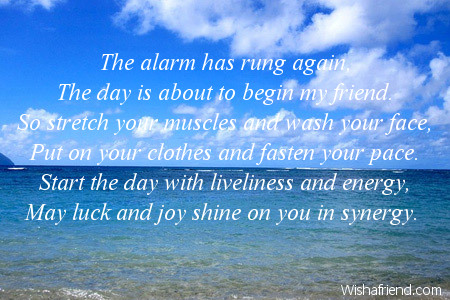 The Alarm Has Rung Again
The alarm has rung again,
The day is about to begin my friend.
So stretch your muscles and wash your face,
Put on your clothes and fasten your pace.
Start the day with liveliness and energy,
May luck and joy shine on you in synergy.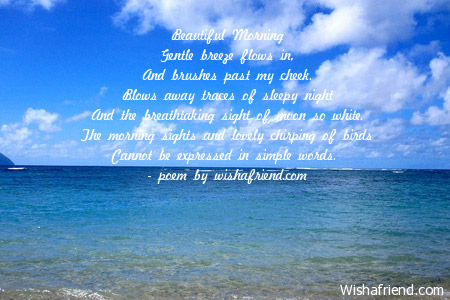 Beautiful Morning
Gentle breeze flows in,
And brushes past my cheek.
Blows away traces of sleepy night
And the breathtaking sight of moon so white.
The morning sights and lovely chirping of birds
Cannot be expressed in simple words.