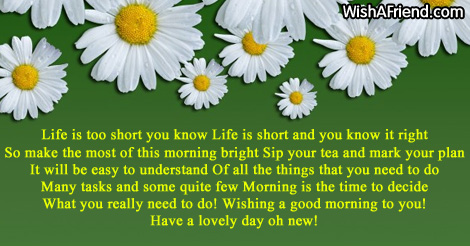 Life is too short you know
Life is short and you know it right
So make the most of this morning bright
Sip your tea and mark your plan
It will be easy to understand
Of all the things that you need to do
Many tasks and some quite few
Morning is the time to decide
What you really need to do!
Wishing a good morning to you!
Have a lovely day oh new!
Other Popular Good Morning Poems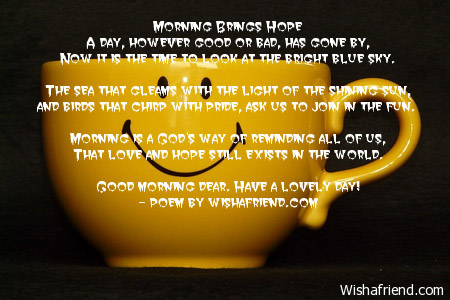 Morning Brings Hope
A day, however good or bad, has gone by,
Now it is the time to look at the bright blue sky.
The sea that gleams with the light of the shining sun,
and birds that chirp with pride, ask us to join in the fun.
Morning is a God's way of reminding all of us,
That love and hope still exists in the world.
Good morning dear. Have a lovely day!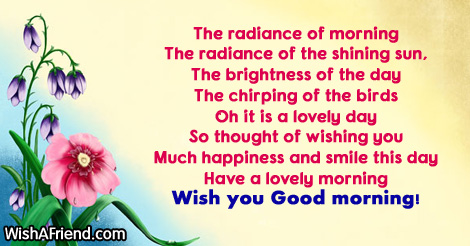 The radiance of morning
The radiance of the shining sun,
The brightness of the day
The chirping of the birds
Oh it is a lovely day
So thought of wishing you
Much happiness and smile this day
Have a lovely morning
Wish you Good morning!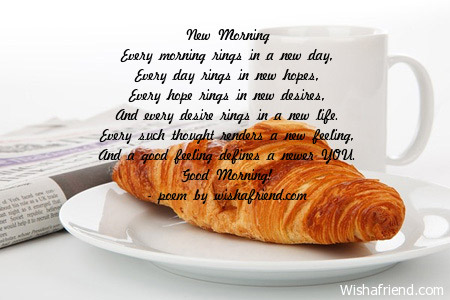 New Morning
Every morning rings in a new day,
Every day rings in new hopes,
Every hope rings in new desires,
And every desire rings in a new life.
Every such thought renders a new feeling,
And a good feeling defines a newer YOU.
Good Morning!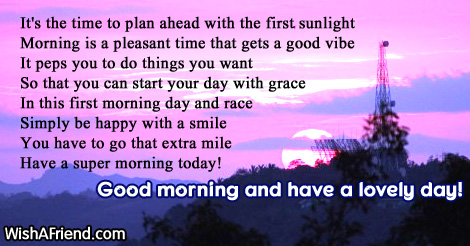 It is a great time
It's the time to plan ahead with the first sunlight
Morning is a pleasant time that gets a good vibe
It peps you to do things you want
So that you can start your day with grace
In this first morning day and race
Simply be happy with a smile
You have to go that extra mile
Have a super morning today!
Good morning and have a lovely day!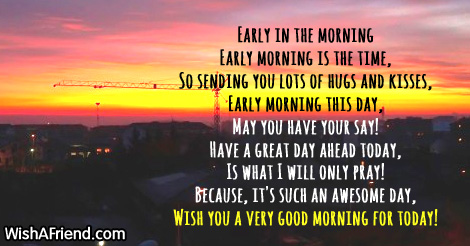 Early in the morning
Early morning is the time,
So sending you lots of hugs and kisses,
Early morning this day,
May you have your say!
Have a great day ahead today,
Is what I will only pray!
Because, it's such an awesome day,
Wish you a very good morning for today!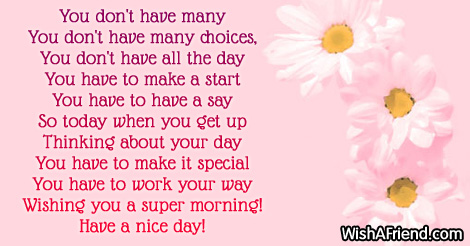 You don't have many
You don't have many choices,
You don't have all the day
You have to make a start
You have to have a say
So today when you get up
Thinking about your day
You have to make it special
You have to work your way
Wishing you a super morning!
Have a nice day!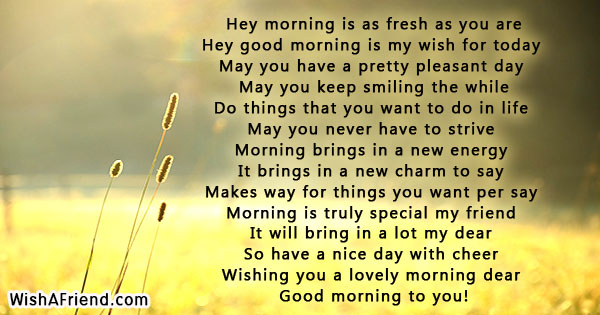 Hey morning is as fresh as you are
Hey good morning is my wish for today
May you have a pretty pleasant day
May you keep smiling the while
Do things that you want to do in life
May you never have to strive
Morning brings in a new energy
It brings in a new charm to say
Makes way for things you want per say
Morning is truly special my friend
It will bring in a lot my dear
So have a nice day with cheer
Wishing you a lovely morning dear
Good morning to you!