Look the sun is here
Look the sun has already risen
You also get up you sleepy head
Forget what happened yesterday
Because that was the day you had
Be prepared for the day so bright
With all your cheer and might
The chirpy sun shining in the sky
Will make you feel alright
Good morning and have a nice day!
Other Popular Good Morning Poems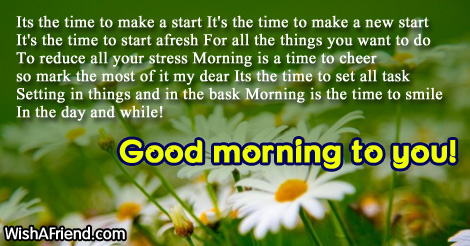 Its the time to make a start
It's the time to make a new start
It's the time to start afresh
For all the things you want to do
To reduce all your stress
Morning is a time to cheer
so mark the most of it my dear
Its the time to set all task
Setting in things and in the bask
Morning is the time to smile
In the day and while!
Good morning to you!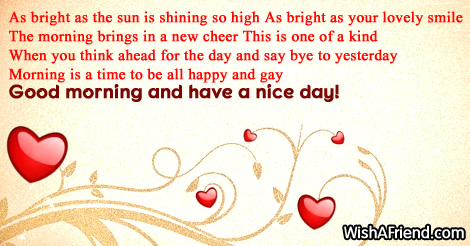 As bright as you can
As bright as the sun is shining so high
As bright as your lovely smile
The morning brings in a new cheer
This is one of a kind
When you think ahead for the day
and say bye to yesterday
Morning is a time to be all happy and gay
Good morning and have a nice day!
The Nature Talking To Me
The birds are singing on the trees,
The big bright sun is smiling at me.
The breeze is asking me to come and play,
The dew drops are wishing me a good day.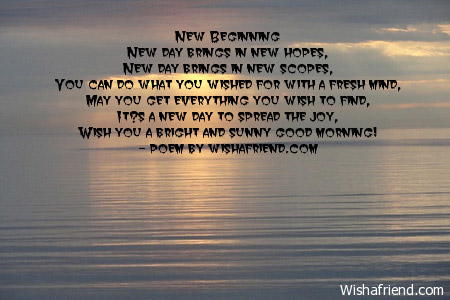 New Beginning
New day brings in new hopes,
New day brings in new scopes,
You can do what you wished for with a fresh mind,
May you get everything you wish to find,
It's a new day to spread the joy,
Wish you a bright and sunny good morning!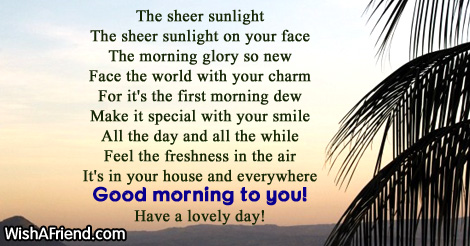 The sheer sunlight
The sheer sunlight on your face
The morning glory so new
Face the world with your charm
For it's the first morning dew
Make it special with your smile
All the day and all the while
Feel the freshness in the air
It's in your house and everywhere
Good morning to you!
Have a lovely day!
New start for the day
The start of a new day,
Brings many new opportunities your way,
Choose the best you can this day,
Begin your day with special pray,
And reach where you desire,
Coz you have what is required,
To be number one,
Wish you a lovely morning,
Have an awesome day!
The Morning Sun
The morning sun brings about new hope for today,
It is a promise that troubles are washed away with yesterday.
Today is a brand new day so make the most of it,
Live as if it were your last and enjoy every minute.
For every single day is a gift from God up in heaven,
Waste it, and you'll only be pleasing the devil.
Good Morning!