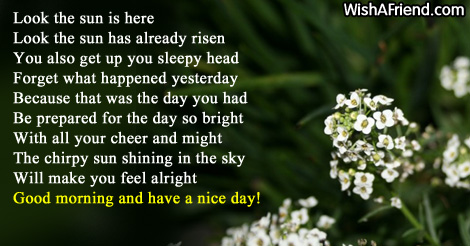 Look the sun is here
Look the sun has already risen
You also get up you sleepy head
Forget what happened yesterday
Because that was the day you had
Be prepared for the day so bright
With all your cheer and might
The chirpy sun shining in the sky
Will make you feel alright
Good morning and have a nice day!
Other Popular Good Morning Poems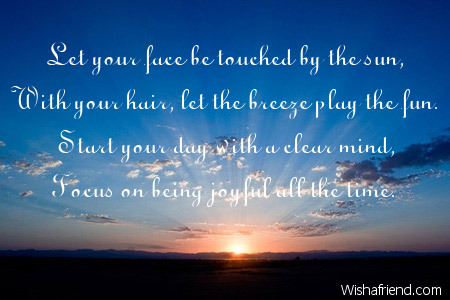 The Morning Nature
Let your face be touched by the sun,
With your hair, let the breeze play the fun.
Start your day with a clear mind,
Focus on being joyful all the time.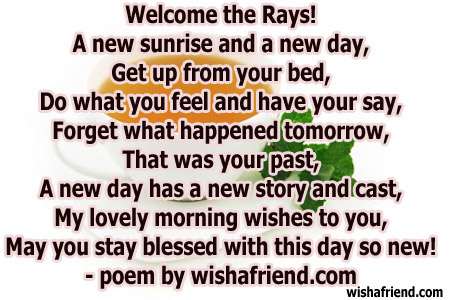 Welcome the Rays!
A new sunrise and a new day,
Get up from your bed,
Do what you feel and have your say,
Forget what happened tomorrow,
That was your past,
A new day has a new story and cast,
My lovely morning wishes to you,
May you stay blessed with this day so new!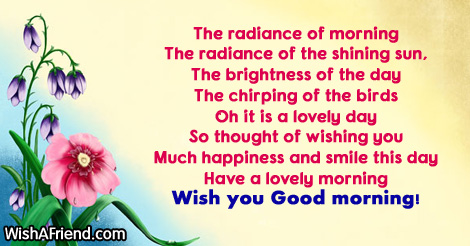 The radiance of morning
The radiance of the shining sun,
The brightness of the day
The chirping of the birds
Oh it is a lovely day
So thought of wishing you
Much happiness and smile this day
Have a lovely morning
Wish you Good morning!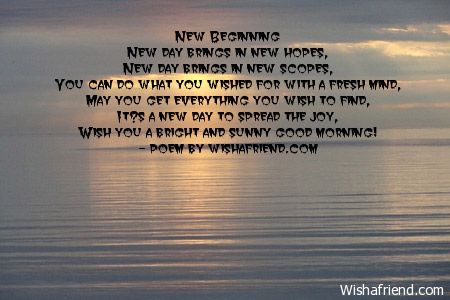 New Beginning
New day brings in new hopes,
New day brings in new scopes,
You can do what you wished for with a fresh mind,
May you get everything you wish to find,
It's a new day to spread the joy,
Wish you a bright and sunny good morning!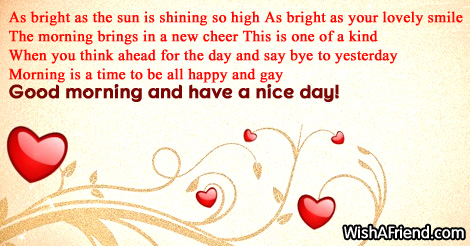 As bright as you can
As bright as the sun is shining so high
As bright as your lovely smile
The morning brings in a new cheer
This is one of a kind
When you think ahead for the day
and say bye to yesterday
Morning is a time to be all happy and gay
Good morning and have a nice day!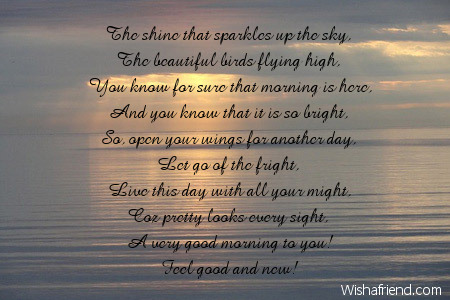 The sun that shines
The shine that sparkles up the sky,
The beautiful birds flying high,
You know for sure that morning is here,
And you know that it is so bright,
So, open your wings for another day,
Let go of the fright,
Live this day with all your might,
Coz pretty looks every sight,
A very good morning to you!
Feel good and new!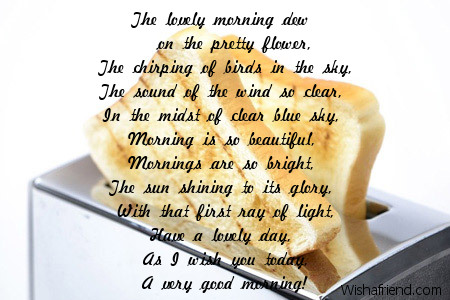 Lovely morning
The lovely morning dew on the pretty flower,
The chirping of birds in the sky,
The sound of the wind so clear,
In the midst of clear blue sky,
Morning is so beautiful,
Mornings are so bright,
The sun shining to its glory,
With that first ray of light,
Have a lovely day,
As I wish you today,
A very good morning!