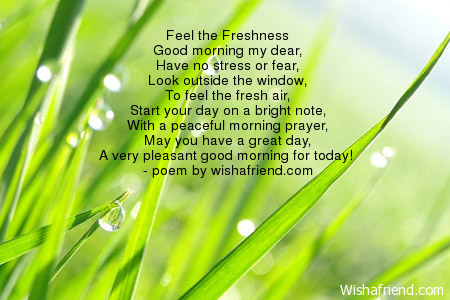 Feel the Freshness
Good morning my dear,
Have no stress or fear,
Look outside the window,
To feel the fresh air,
Start your day on a bright note,
With a peaceful morning prayer,
May you have a great day,
A very pleasant good morning for today!
Other Popular Good Morning Poems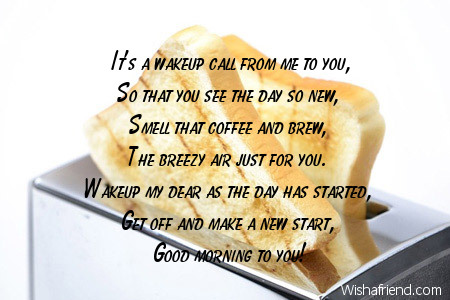 A Wake-up call
It's a wakeup call from me to you,
So that you see the day so new,
Smell that coffee and brew,
The breezy air just for you.
Wakeup my dear as the day has started,
Get off and make a new start,
Good morning to you!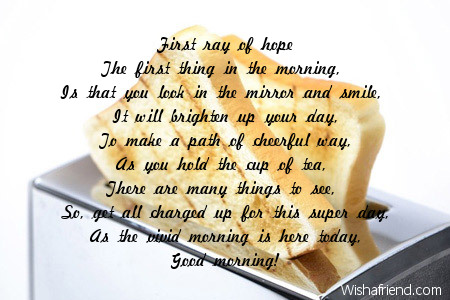 First ray of hope
The first thing in the morning,
Is that you look in the mirror and smile,
It will brighten up your day,
To make a path of cheerful way,
As you hold the cup of tea,
There are many things to see,
So, get all charged up for this super day,
As the vivid morning is here today,
Good morning!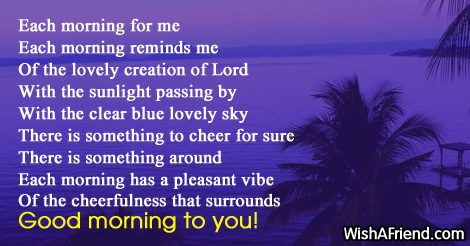 Each morning for me
Each morning reminds me
Of the lovely creation of Lord
With the sunlight passing by
With the clear blue lovely sky
There is something to cheer for sure
There is something around
Each morning has a pleasant vibe
Of the cheerfulness that surrounds
Good morning to you!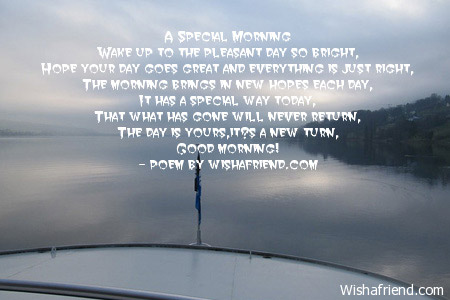 A Special Morning
Wake up to the pleasant day so bright,
Hope your day goes great and everything is just right,
The morning brings in new hopes each day,
It has a special way today,
That what has gone will never return,
The day is yours,it's a new turn,
Good morning!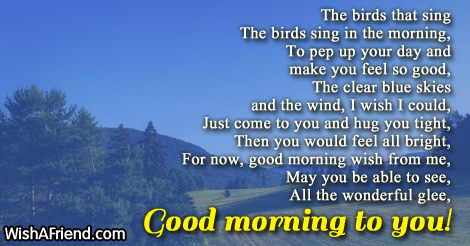 The birds that sing
The birds sing in the morning,
To pep up your day and make you feel so good,
The clear blue skies and the wind,
I wish I could,
Just come to you and hug you tight,
Then you would feel all bright,
For now, good morning wish from me,
May you be able to see,
All the wonderful glee,
Good morning to you!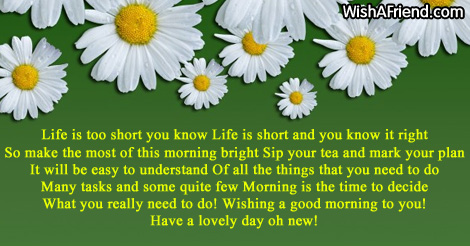 Life is too short you know
Life is short and you know it right
So make the most of this morning bright
Sip your tea and mark your plan
It will be easy to understand
Of all the things that you need to do
Many tasks and some quite few
Morning is the time to decide
What you really need to do!
Wishing a good morning to you!
Have a lovely day oh new!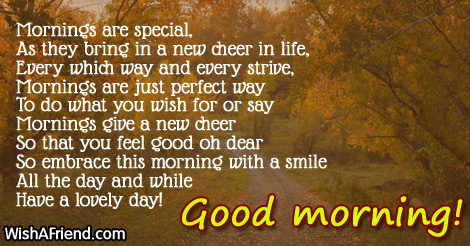 It is truly special
Mornings are special,
As they bring in a new cheer in life,
Every which way and every strive,
Mornings are just perfect way
To do what you wish for or say
Mornings give a new cheer
So that you feel good oh dear
So embrace this morning with a smile
All the day and while
Have a lovely day!
Good morning!