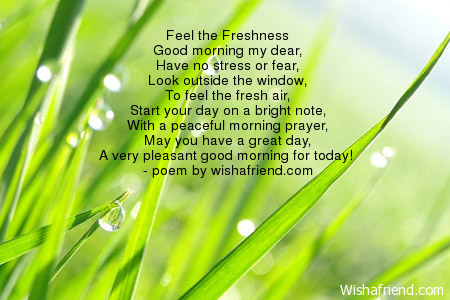 Feel the Freshness
Good morning my dear,
Have no stress or fear,
Look outside the window,
To feel the fresh air,
Start your day on a bright note,
With a peaceful morning prayer,
May you have a great day,
A very pleasant good morning for today!
Other Popular Good Morning Poems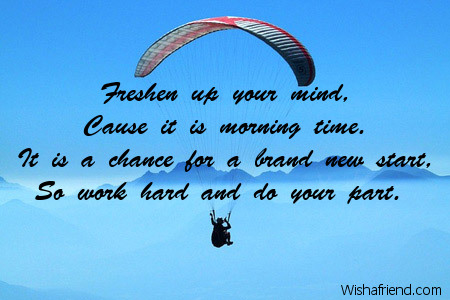 Freshen Up Your Mind
Freshen up your mind,
Cause it is morning time.
It is a chance for a brand new start,
So work hard and do your part.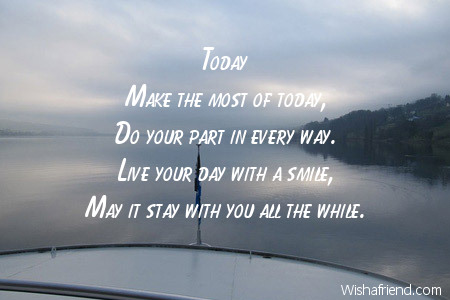 Today
Make the most of today,
Do your part in every way.
Live your day with a smile,
May it stay with you all the while.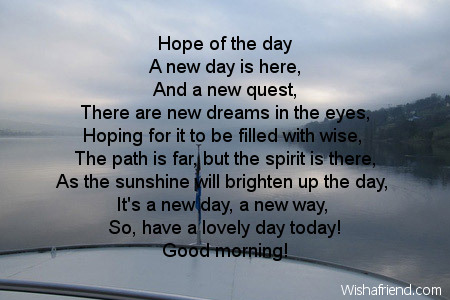 Hope of the day
A new day is here,
And a new quest,
There are new dreams in the eyes,
Hoping for it to be filled with wise,
The path is far, but the spirit is there,
As the sunshine will brighten up the day,
It's a new day, a new way,
So, have a lovely day today!
Good morning!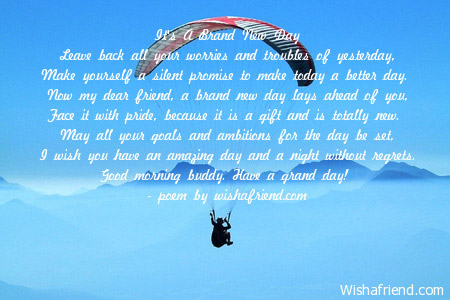 It's A Brand New Day
Leave back all your worries and troubles of yesterday,
Make yourself a silent promise to make today a better day.
Now my dear friend, a brand new day lays ahead of you,
Face it with pride, because it is a gift and is totally new.
May all your goals and ambitions for the day be set,
I wish you have an amazing day and a night without regrets.
Good morning buddy. Have a grand day!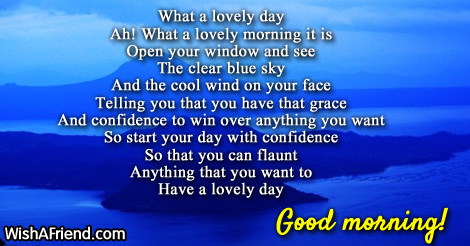 What a lovely day
Ah! What a lovely morning it is
Open your window and see
The clear blue sky
And the cool wind on your face
Telling you that you have that grace
And confidence to win over anything you want
So start your day with confidence
So that you can flaunt
Anything that you want to
Have a lovely day
Good morning!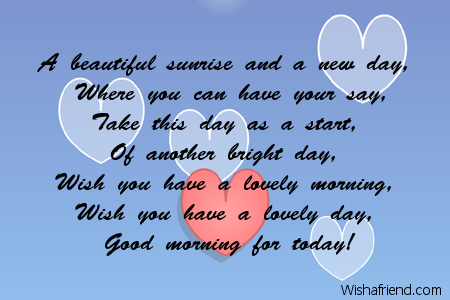 A beautiful day
A beautiful sunrise and a new day,
Where you can have your say,
Take this day as a start,
Of another bright day,
Wish you have a lovely morning,
Wish you have a lovely day,
Good morning for today!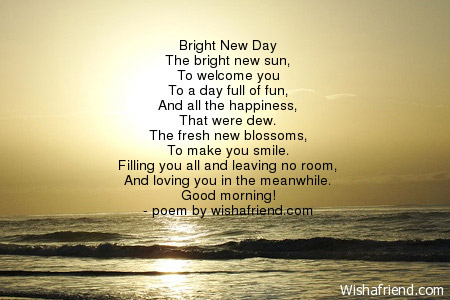 Bright New Day
The bright new sun,
To welcome you
To a day full of fun,
And all the happiness,
That were dew.
The fresh new blossoms,
To make you smile.
Filling you all and leaving no room,
And loving you in the meanwhile.
Good morning!