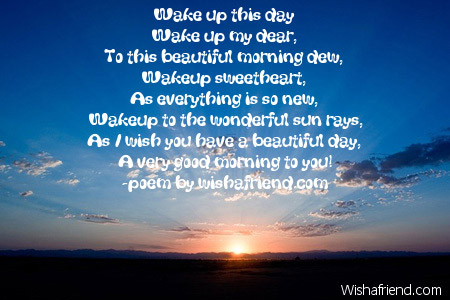 Wake up this day
Wake up my dear,
To this beautiful morning dew,
Wakeup sweetheart,
As everything is so new,
Wakeup to the wonderful sun rays,
As I wish you have a beautiful day,
A very good morning to you!
Other Popular Good Morning Poems for Her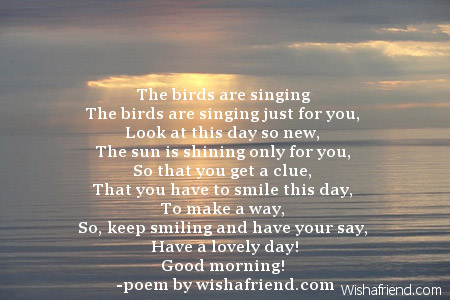 The birds are singing
The birds are singing just for you,
Look at this day so new,
The sun is shining only for you,
So that you get a clue,
That you have to smile this day,
To make a way,
So, keep smiling and have your say,
Have a lovely day!
Good morning!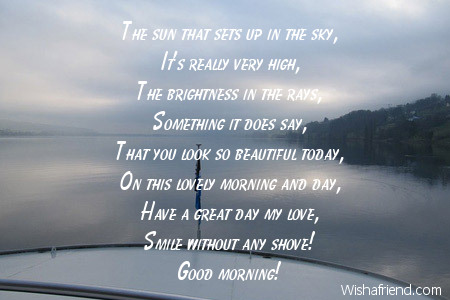 All for you now
The sun that sets up in the sky,
It's really very high,
The brightness in the rays,
Something it does say,
That you look so beautiful today,
On this lovely morning and day,
Have a great day my love,
Smile without any shove! Good morning!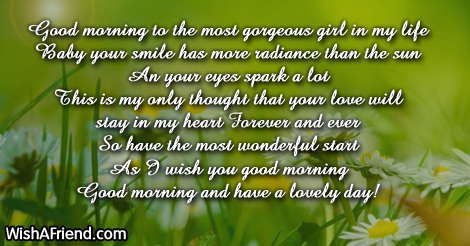 To my sweet angel
Good morning to the most gorgeous girl in my life
Baby your smile has more radiance than the sun
An your eyes spark a lot
This is my only thought that your love will stay in my heart
Forever and ever
So have the most wonderful start
As I wish you good morning
Good morning and have a lovely day!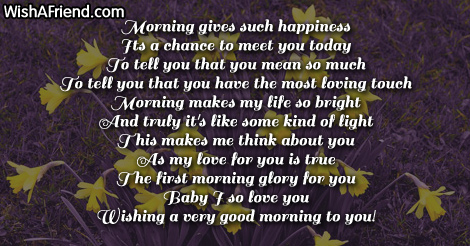 I am so happy in life
Morning gives such happiness
Its a chance to meet you today
To tell you that you mean so much
To tell you that you have the most loving touch
Morning makes my life so bright
And truly it's like some kind of light
This makes me think about you
As my love for you is true
The first morning glory for you
Baby I so love you
Wishing a very good morning to you!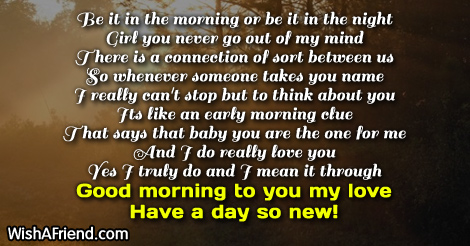 Be in the morning light
Be it in the morning or be it in the night
Girl you never go out of my mind
There is a connection of sort between us
So whenever someone takes you name
I really can't stop but to think about you
Its like an early morning clue
That says that baby you are the one for me
And I do really love you
Yes I truly do and I mean it through
Good morning to you my love
Have a day so new!
You mean to me
What you mean to me,
Is for you to see,
Baby you stay in my heart,
I love you right from the start,
Without you I can't stay a day,
Will love you till the end of time and way!
Missing you early in the morning,
A very good morning!
The bright sun shine
There is a bright sunshine all the way
And the pretty colors of morning today
But your radiance sure has an effect
That sun also loses its spark
Your radiance can brighten up in the dark
So wishing you a lovely morning today
As it's yet another sunny day
Good morning my lovely
Have an amazing day!