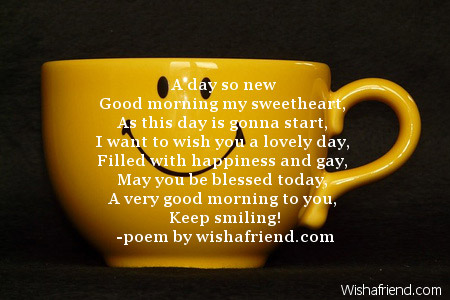 A day so new
Good morning my sweetheart,
As this day is gonna start,
I want to wish you a lovely day,
Filled with happiness and gay,
May you be blessed today,
A very good morning to you,
Keep smiling!
Other Popular Good Morning Poems for Him
A hug for you my dear
A cozy hug for my man to be,
Even in the mornings,
It's you, who I think about or see,
Don't know why I love you so much,
Just longing for your hug and touch,
I miss you so much,
Good morning my dear,
Do smile and cheer!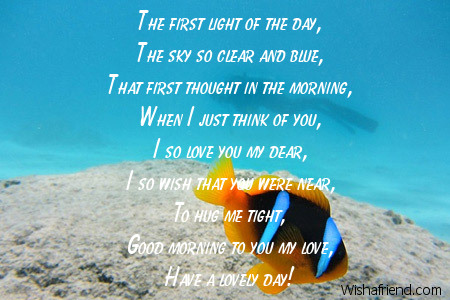 The first ray of light
The first light of the day,
The sky so clear and blue,
That first thought in the morning,
When I just think of you,
I so love you my dear,
I so wish that you were near,
To hug me tight,
Good morning to you my love,
Have a lovely day!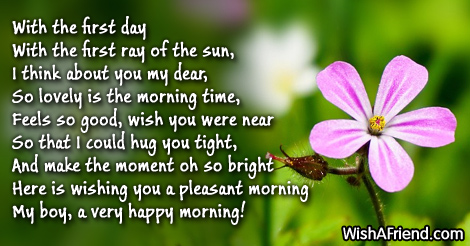 With the first day
With the first ray of the sun,
I think about you my dear,
So lovely is the morning time,
Feels so good, wish you were near
So that I could hug you tight,
And make the moment oh so bright
Here is wishing you a pleasant morning
My boy, a very happy morning!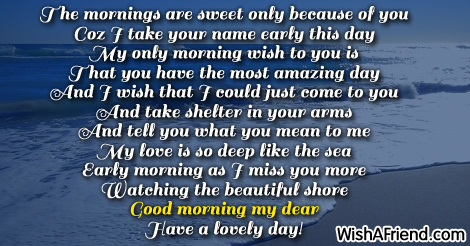 The mornings are so special
The mornings are sweet only because of you
Coz I take your name early this day
My only morning wish to you is
That you have the most amazing day
And I wish that I could just come to you
And take shelter in your arms
And tell you what you mean to me
My love is so deep like the sea
Early morning as I miss you more
Watching the beautiful shore
Good morning my dear
Have a lovely day!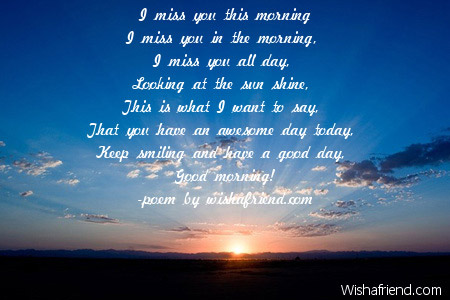 I miss you this morning
I miss you in the morning,
I miss you all day,
Looking at the sun shine,
This is what I want to say,
That you have an awesome day today,
Keep smiling and have a good day,
Good morning!
There are so many days when
There are days when I just remember you
And there are days when I so miss you
In the night you come in my dreams
And in the morning my day starts with you
Your thoughts and ways are pleasant for me
I just wish that you come running to me
And embrace me tight ion your arms
Come and tell me that how much you missed me my love
And tell me that I mean so much to you
In the morning my first wish to you
Have a lovely morning fresh and new
Good morning to you!
This morning to you
My sweet pie you lift my mood,
My sweet pie you make me smile,
So, this morning I want to do the same,
By taking my name,
Start your day with a smile,
Good morning to you,
For this day so new!