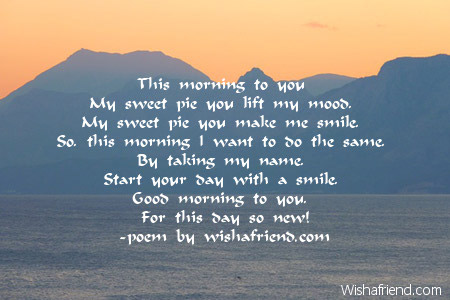 This morning to you
My sweet pie you lift my mood,
My sweet pie you make me smile,
So, this morning I want to do the same,
By taking my name,
Start your day with a smile,
Good morning to you,
For this day so new!
Other Popular Good Morning Poems for Him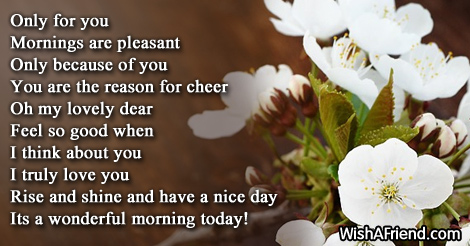 Only for you
Mornings are pleasant
Only because of you
You are the reason for cheer
Oh my lovely dear
Feel so good when I think about you
I truly love you
Rise and shine and have a nice day
Its a wonderful morning today!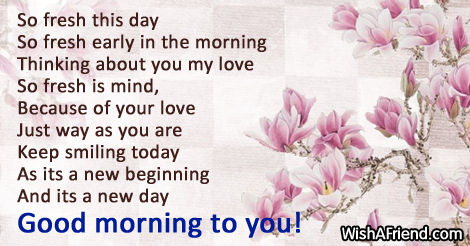 So fresh this day
So fresh early in the morning
Thinking about you my love
So fresh is mind,
Because of your love
Just way as you are
Keep smiling today
As its a new beginning
And its a new day
Good morning to you!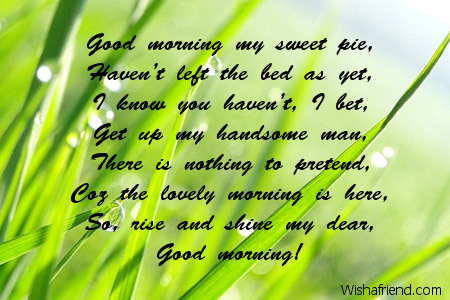 To my love in morning
Good morning my sweet pie,
Haven't left the bed as yet,
I know you haven't, I bet,
Get up my handsome man,
There is nothing to pretend,
Coz the lovely morning is here,
So, rise and shine my dear,
Good morning!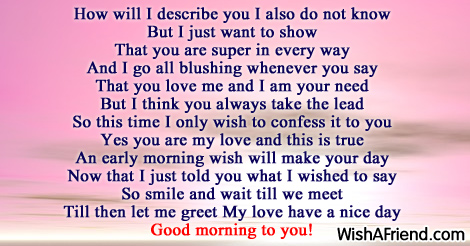 How will I
How will I describe you I also do not know
But I just want to show
That you are super in every way
And I go all blushing whenever you say
That you love me and I am your need
But I think you always take the lead
So this time I only wish to confess it to you
Yes you are my love and this is true
An early morning wish will make your day
Now that I just told you what I wished to say
So smile and wait till we meet
Till then let me greet
My love have a nice day
Good morning to you!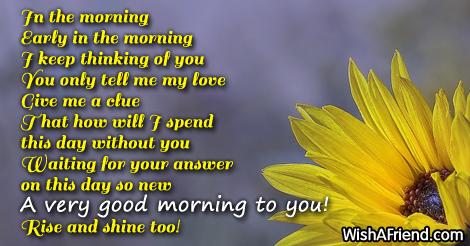 In the morning
Early in the morning
I keep thinking of you
You only tell me my love
Give me a clue
That how will I spend this day without you
Waiting for your answer on this day so new
A very good morning to you!
Rise and shine too!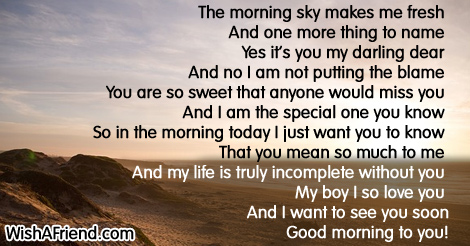 The morning sky
The morning sky makes me fresh
And one more thing to name
Yes it's you my darling dear
And no I am not putting the blame
You are so sweet that anyone would miss you
And I am the special one you know
So in the morning today I just want you to know
That you mean so much to me
And my life is truly incomplete without you
My boy I so love you
And I want to see you soon
Good morning to you!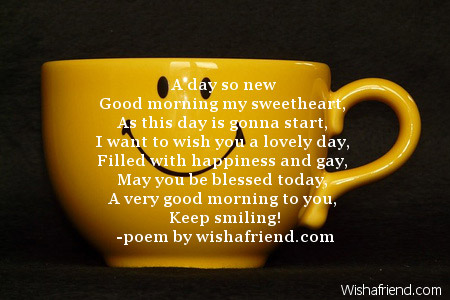 A day so new
Good morning my sweetheart,
As this day is gonna start,
I want to wish you a lovely day,
Filled with happiness and gay,
May you be blessed today,
A very good morning to you,
Keep smiling!