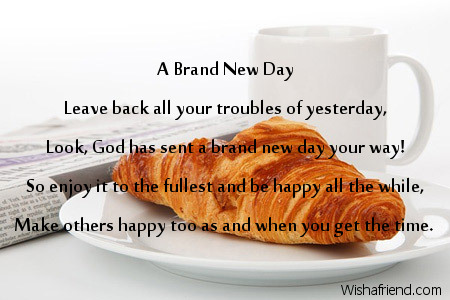 A Brand New Day
Leave back all your troubles of yesterday,
Look, God has sent a brand new day your way!
So enjoy it to the fullest and be happy all the while,
Make others happy too as and when you get the time.
Other Popular Good Morning Poems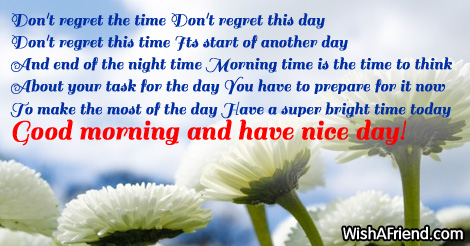 Don't regret the time
Don't regret this day
Don't regret this time
Its start of another day
And end of the night time
Morning time is the time to think
About your task for the day
You have to prepare for it now
To make the most of the day
Have a super bright time today
Good morning and have nice day!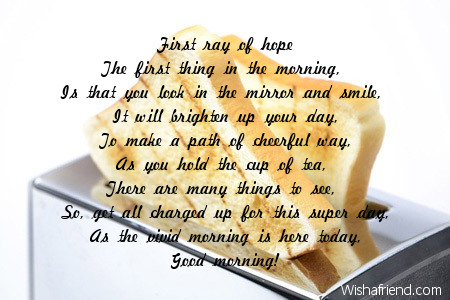 First ray of hope
The first thing in the morning,
Is that you look in the mirror and smile,
It will brighten up your day,
To make a path of cheerful way,
As you hold the cup of tea,
There are many things to see,
So, get all charged up for this super day,
As the vivid morning is here today,
Good morning!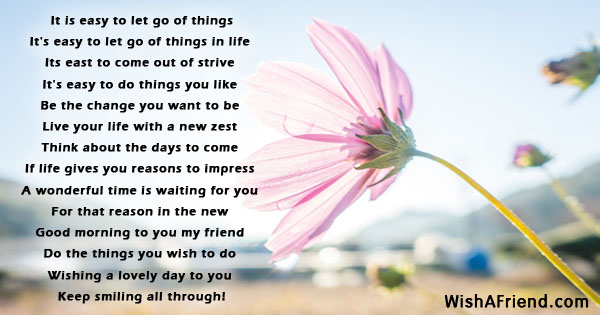 It is easy to let go of things
It's easy to let go of things in life
Its east to come out of strive
It's easy to do things you like
Be the change you want to be
Live your life with a new zest
Think about the days to come
If life gives you reasons to impress
A wonderful time is waiting for you
For that reason in the new
Good morning to you my friend
Do the things you wish to do
Wishing a lovely day to you
Keep smiling all through!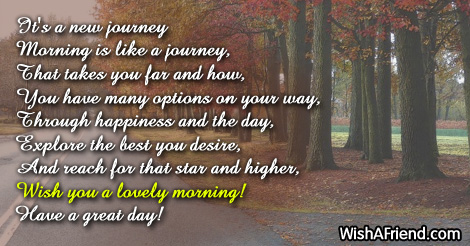 It's a new journey
Morning is like a journey,
That takes you far and how,
You have many options on your way,
Through happiness and the day,
Explore the best you desire,
And reach for that star and higher,
Wish you a lovely morning!
Have a great day!
You don't have many
You don't have many choices,
You don't have all the day
You have to make a start
You have to have a say
So today when you get up
Thinking about your day
You have to make it special
You have to work your way
Wishing you a super morning!
Have a nice day!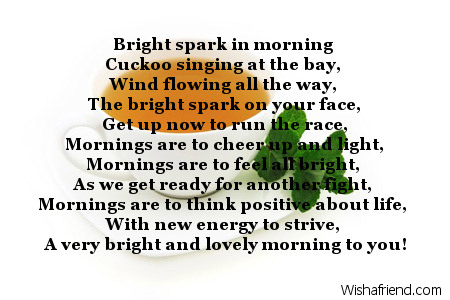 Bright spark in morning
Cuckoo singing at the bay,
Wind flowing all the way,
The bright spark on your face,
Get up now to run the race,
Mornings are to cheer up and light,
Mornings are to feel all bright,
As we get ready for another fight,
Mornings are to think positive about life,
With new energy to strive,
A very bright and lovely morning to you!
The Nature Talking To Me
The birds are singing on the trees,
The big bright sun is smiling at me.
The breeze is asking me to come and play,
The dew drops are wishing me a good day.