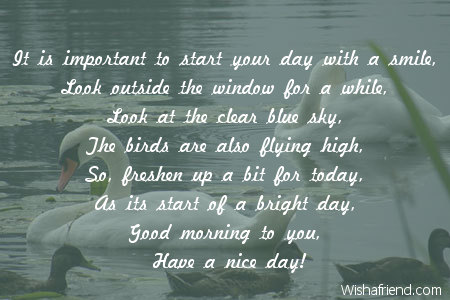 A day for you
It is important to start your day with a smile,
Look outside the window for a while,
Look at the clear blue sky,
The birds are also flying high,
So, freshen up a bit for today,
As its start of a bright day,
Good morning to you,
Have a nice day!
Other Popular Good Morning Poems
The day has just started
The day has just begun,
With positive vibes and fun,
So smile and embrace the same,
Reach out to your aim,
Because each day gives a fair chance to play,
So, go ahead and have a nice day,
Good morning to you,
For everything relaxed and new!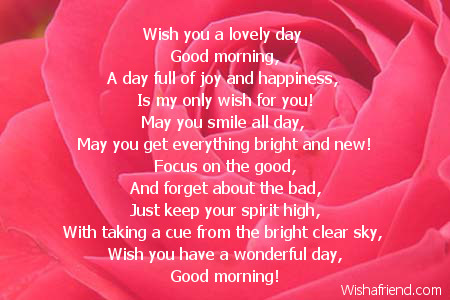 Wish you a lovely day
Good morning,
A day full of joy and happiness,
Is my only wish for you!
May you smile all day,
May you get everything bright and new!
Focus on the good,
And forget about the bad,
Just keep your spirit high,
With taking a cue from the bright clear sky,
Wish you have a wonderful day,
Good morning!
The Nature Talking To Me
The birds are singing on the trees,
The big bright sun is smiling at me.
The breeze is asking me to come and play,
The dew drops are wishing me a good day.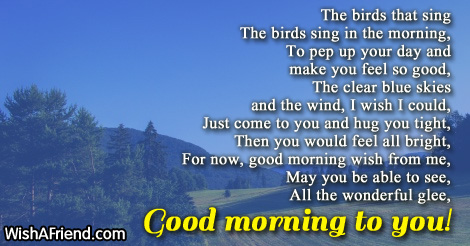 The birds that sing
The birds sing in the morning,
To pep up your day and make you feel so good,
The clear blue skies and the wind,
I wish I could,
Just come to you and hug you tight,
Then you would feel all bright,
For now, good morning wish from me,
May you be able to see,
All the wonderful glee,
Good morning to you!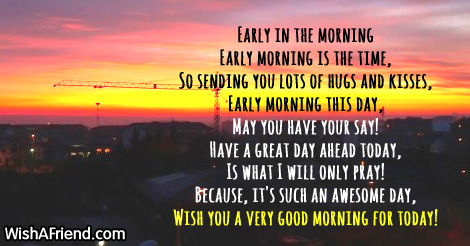 Early in the morning
Early morning is the time,
So sending you lots of hugs and kisses,
Early morning this day,
May you have your say!
Have a great day ahead today,
Is what I will only pray!
Because, it's such an awesome day,
Wish you a very good morning for today!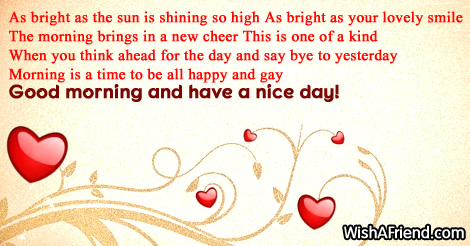 As bright as you can
As bright as the sun is shining so high
As bright as your lovely smile
The morning brings in a new cheer
This is one of a kind
When you think ahead for the day
and say bye to yesterday
Morning is a time to be all happy and gay
Good morning and have a nice day!
Happy morning
A very good morning to the most important person I know,
Don't have many words to show,
But, just know that I care a lot,
You are always in my prayers and thought,
So wish you a good day ahead,
Be prepared for a super day,
Wish you a super good morning for today!