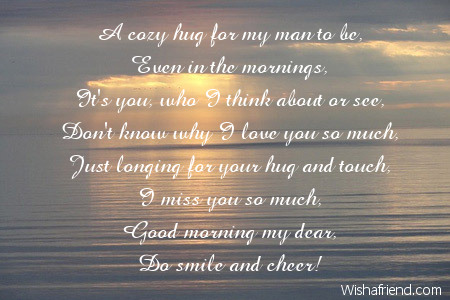 A hug for you my dear
A cozy hug for my man to be,
Even in the mornings,
It's you, who I think about or see,
Don't know why I love you so much,
Just longing for your hug and touch,
I miss you so much,
Good morning my dear,
Do smile and cheer!
Other Popular Good Morning Poems for Him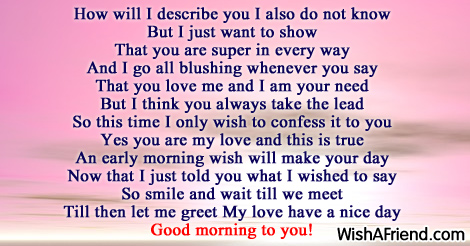 How will I
How will I describe you I also do not know
But I just want to show
That you are super in every way
And I go all blushing whenever you say
That you love me and I am your need
But I think you always take the lead
So this time I only wish to confess it to you
Yes you are my love and this is true
An early morning wish will make your day
Now that I just told you what I wished to say
So smile and wait till we meet
Till then let me greet
My love have a nice day
Good morning to you!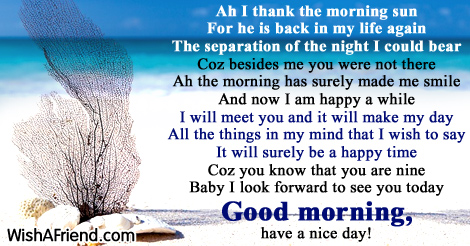 I thank the morning sun
Ah I thank the morning sun
For he is back in my life again
The separation of the night I could bear
Coz besides me you were not there
Ah the morning has surely made me smile
And now I am happy a while
I will meet you and it will make my day
All the things in my mind that I wish to say
It will surely be a happy time
Coz you know that you are nine
Baby I look forward to see you today
Good morning, have a nice day!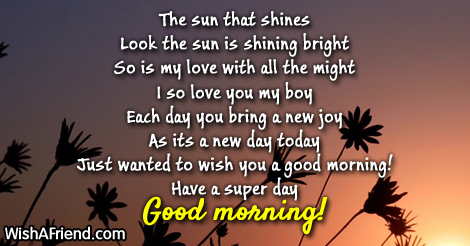 The sun that shines
Look the sun is shining bright
So is my love with all the might
I so love you my boy
Each day you bring a new joy
As its a new day today
Just wanted to wish you a good morning!
Have a super day
Good morning!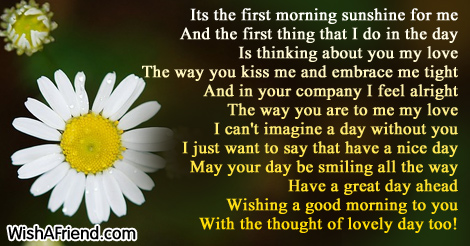 Its the first thing in the morning
Its the first morning sunshine for me
And the first thing that I do in the day
Is thinking about you my love
The way you kiss me and embrace me tight
And in your company I feel alright
The way you are to me my love
I can't imagine a day without you
I just want to say that have a nice day
May your day be smiling all the way
Have a great day ahead
Wishing a good morning to you
With the thought of lovely day too!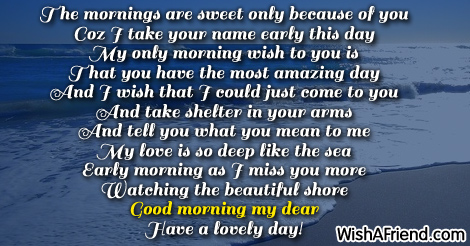 The mornings are so special
The mornings are sweet only because of you
Coz I take your name early this day
My only morning wish to you is
That you have the most amazing day
And I wish that I could just come to you
And take shelter in your arms
And tell you what you mean to me
My love is so deep like the sea
Early morning as I miss you more
Watching the beautiful shore
Good morning my dear
Have a lovely day!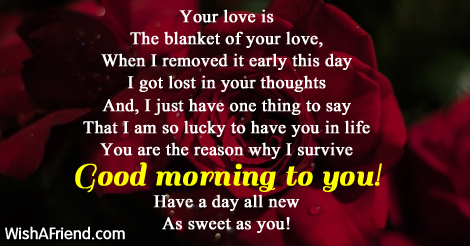 Your love is
The blanket of your love,
When I removed it early this day
I got lost in your thoughts
And, I just have one thing to say
That I am so lucky to have you in life
You are the reason why I survive
Good morning to you!
Have a day all new
As sweet as you!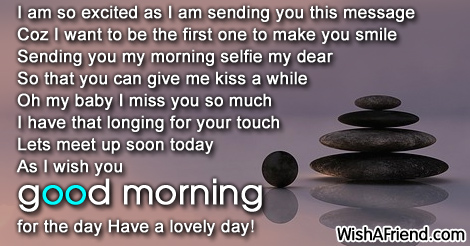 With you I am
I am so excited as I am sending you this message
Coz I want to be the first one to make you smile
Sending you my morning selfie my dear
So that you can give me kiss a while
Oh my baby I miss you so much
I have that longing for your touch
Lets meet up soon today
As I wish you good morning for the day
Have a lovely day!