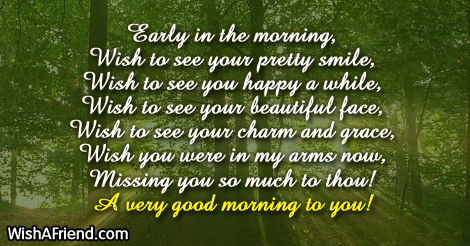 In the morning for you
Early in the morning,
Wish to see your pretty smile,
Wish to see you happy a while,
Wish to see your beautiful face,
Wish to see your charm and grace,
Wish you were in my arms now,
Missing you so much to thou!
A very good morning to you!
Other Popular Good Morning Poems for Her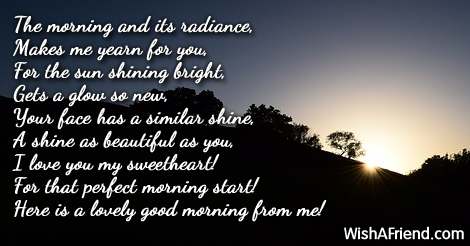 The radiance of morning
The morning and its radiance,
Makes me yearn for you,
For the sun shining bright,
Gets a glow so new,
Your face has a similar shine,
A shine as beautiful as you,
I love you my sweetheart!
For that perfect morning start!
Here is a lovely good morning from me!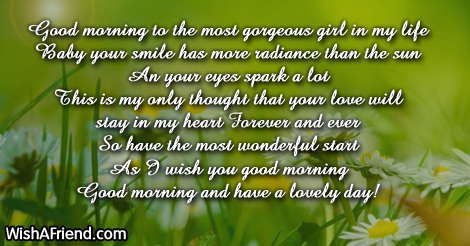 To my sweet angel
Good morning to the most gorgeous girl in my life
Baby your smile has more radiance than the sun
An your eyes spark a lot
This is my only thought that your love will stay in my heart
Forever and ever
So have the most wonderful start
As I wish you good morning
Good morning and have a lovely day!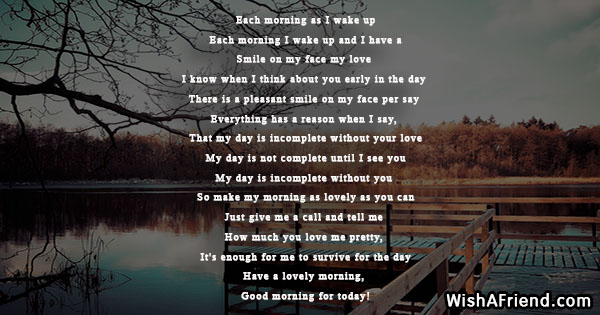 Each morning as I wake up
Each morning I wake up and I have a
Smile on my face my love
I know when I think about you early in the day
There is a pleasant smile on my face per say
Everything has a reason when I say,
That my day is incomplete without your love
My day is not complete until I see you
My day is incomplete without you
So make my morning as lovely as you can
Just give me a call and tell me
How much you love me pretty,
It's enough for me to survive for the day
Have a lovely morning,
Good morning for today!
Too early in the day
Its the early morning mist and the beautiful sky
This makes me think about you my love
If you would have been there besides me
If you would have been there with me
I would have make things better for you
I would have given you that love and need
My love only to tell you this
That in the morning you are truly missed
Love you so much my dear
Without you, I have lost my every cheer
I love you very much
Your love is true and such
Good morning to you!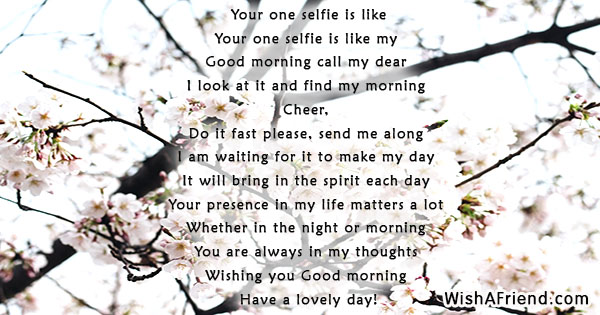 Your one selfie is like
Your one selfie is like my
Good morning call my dear
I look at it and find my morning
Cheer,
Do it fast please, send me along
I am waiting for it to make my day
It will bring in the spirit each day
Your presence in my life matters a lot
Whether in the night or morning
You are always in my thoughts
Wishing you Good morning
Have a lovely day!
The radiant morning
The morning is radiant as you are
So I request you to get up with a smile
Feel so special every while
Morning is a time when I miss you
So sending you a morning message
Just to remember you
Embrace this with a kiss
Early in the morning and this mist
Good morning to you!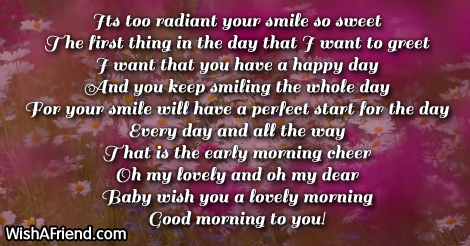 Its so radiant your smile
Its too radiant your smile so sweet
The first thing in the day that I want to greet
I want that you have a happy day
And you keep smiling the whole day
For your smile will have a perfect start for the day
Every day and all the way
That is the early morning cheer
Oh my lovely and oh my dear
Baby wish you a lovely morning
Good morning to you!