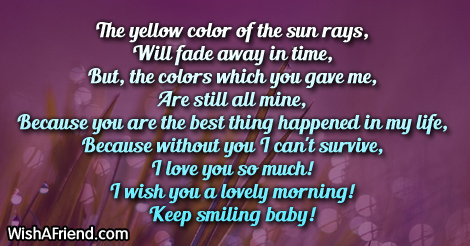 The rays of the sun
The yellow color of the sun rays,
Will fade away in time,
But, the colors which you gave me,
Are still all mine,
Because you are the best thing happened in my life,
Because without you I can't survive,
I love you so much!
I wish you a lovely morning!
Keep smiling baby!
Other Popular Good Morning Poems for Her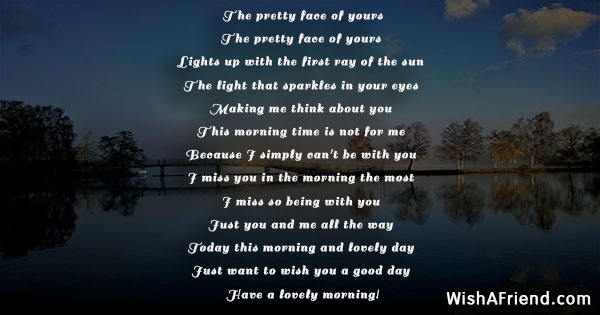 The pretty face of yours
The pretty face of yours
Lights up with the first ray of the sun
The light that sparkles in your eyes
Making me think about you
This morning time is not for me
Because I simply can't be with you
I miss you in the morning the most
I miss so being with you
Just you and me all the way
Today this morning and lovely day
Just want to wish you a good day
Have a lovely morning!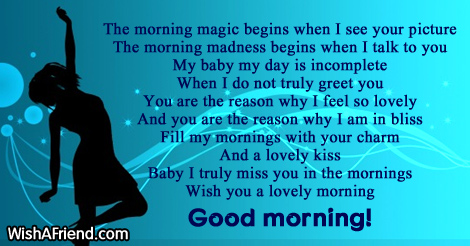 The morning magic begins
The morning magic begins when I see your picture
The morning madness begins when I talk to you
My baby my day is incomplete
When I do not truly greet you
You are the reason why I feel so lovely
And you are the reason why I am in bliss
Fill my mornings with your charm
And a lovely kiss
Baby I truly miss you in the mornings
Wish you a lovely morning
Good morning!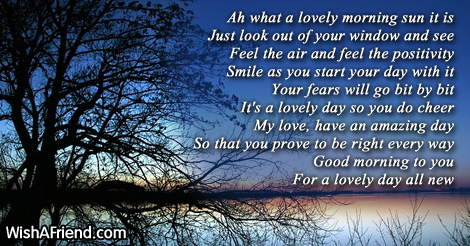 What a lovely morning it is
Ah what a lovely morning sun it is
Just look out of your window and see
Feel the air and feel the positivity
Smile as you start your day with it
Your fears will go bit by bit
It's a lovely day so you do cheer
My love, have an amazing day
So that you prove to be right every way
Good morning to you
For a lovely day all new!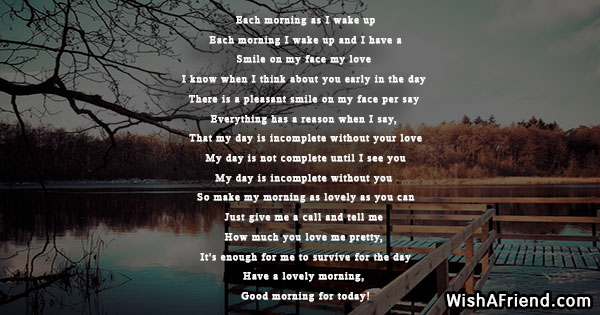 Each morning as I wake up
Each morning I wake up and I have a
Smile on my face my love
I know when I think about you early in the day
There is a pleasant smile on my face per say
Everything has a reason when I say,
That my day is incomplete without your love
My day is not complete until I see you
My day is incomplete without you
So make my morning as lovely as you can
Just give me a call and tell me
How much you love me pretty,
It's enough for me to survive for the day
Have a lovely morning,
Good morning for today!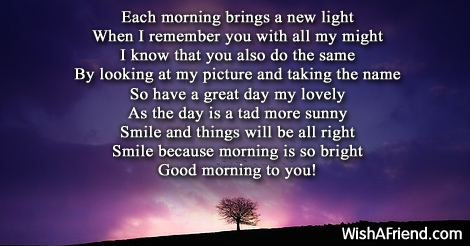 It's a new light to see
Each morning brings a new light
When I remember you with all my might
I know that you also do the same
By looking at my picture and taking the name
So have a great day my lovely
As the day is a tad more sunny
Smile and things will be all right
Smile because morning is so bright
Good morning to you!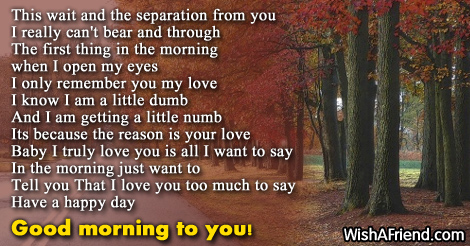 This wait is over for me
This wait and the separation from you
I really can't bear and through
The first thing in the morning when I open my eyes
I only remember you my love
I know I am a little dumb
And I am getting a little numb
Its because the reason is your love
Baby I truly love you is all I want to say
In the morning just want to
Tell you
That I love you too much to say
Have a happy day
Good morning to you!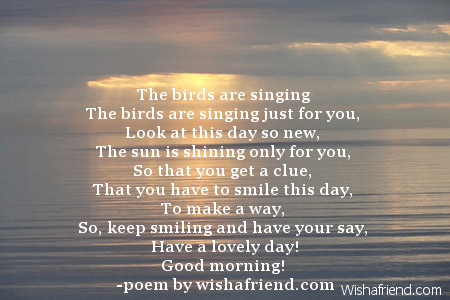 The birds are singing
The birds are singing just for you,
Look at this day so new,
The sun is shining only for you,
So that you get a clue,
That you have to smile this day,
To make a way,
So, keep smiling and have your say,
Have a lovely day!
Good morning!