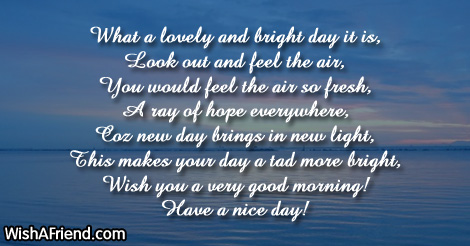 A lovely day
What a lovely and bright day it is,
Look out and feel the air,
You would feel the air so fresh,
A ray of hope everywhere,
Coz new day brings in new light,
This makes your day a tad more bright,
Wish you a very good morning!
Have a nice day!
Other Popular Good Morning Poems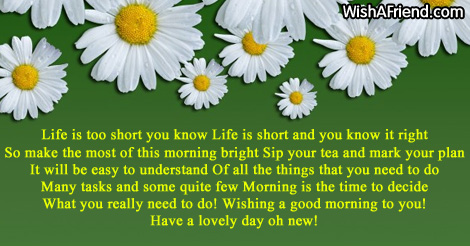 Life is too short you know
Life is short and you know it right
So make the most of this morning bright
Sip your tea and mark your plan
It will be easy to understand
Of all the things that you need to do
Many tasks and some quite few
Morning is the time to decide
What you really need to do!
Wishing a good morning to you!
Have a lovely day oh new!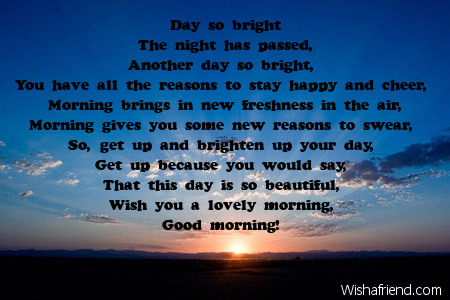 Day so bright
The night has passed,
Another day so bright,
You have all the reasons to stay happy and cheer,
Morning brings in new freshness in the air,
Morning gives you some new reasons to swear,
So, get up and brighten up your day,
Get up because you would say,
That this day is so beautiful,
Wish you a lovely morning,
Good morning!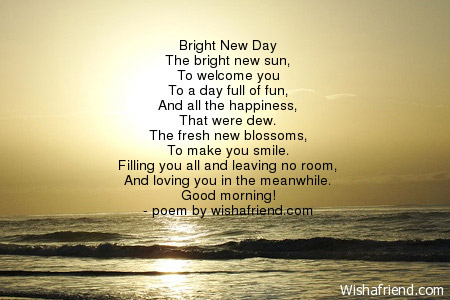 Bright New Day
The bright new sun,
To welcome you
To a day full of fun,
And all the happiness,
That were dew.
The fresh new blossoms,
To make you smile.
Filling you all and leaving no room,
And loving you in the meanwhile.
Good morning!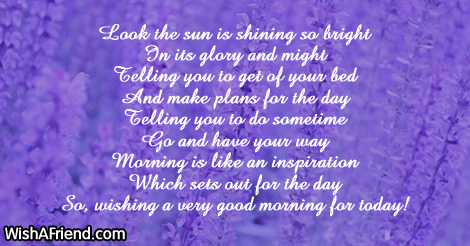 Look at the sun
Look the sun is shining so bright
In its glory and might
Telling you to get of your bed
And make plans for the day
Telling you to do sometime
Go and have your way
Morning is like an inspiration
Which sets out for the day
So, wishing a very good morning for today!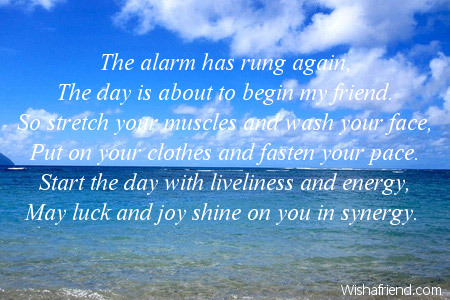 The Alarm Has Rung Again
The alarm has rung again,
The day is about to begin my friend.
So stretch your muscles and wash your face,
Put on your clothes and fasten your pace.
Start the day with liveliness and energy,
May luck and joy shine on you in synergy.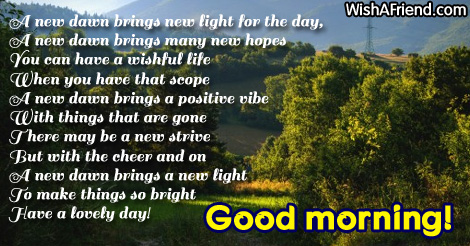 A new dawn
A new dawn brings new light for the day,
A new dawn brings many new hopes
You can have a wishful life
When you have that scope
A new dawn brings a positive vibe
With things that are gone
There may be a new strive
But with the cheer and on
A new dawn brings a new light
To make things so bright
Have a lovely day!
Good morning!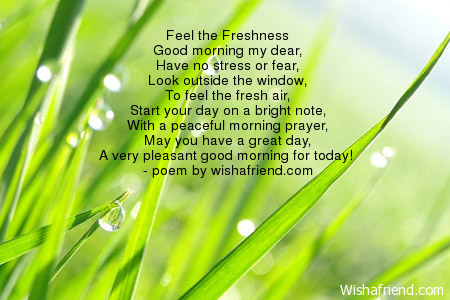 Feel the Freshness
Good morning my dear,
Have no stress or fear,
Look outside the window,
To feel the fresh air,
Start your day on a bright note,
With a peaceful morning prayer,
May you have a great day,
A very pleasant good morning for today!