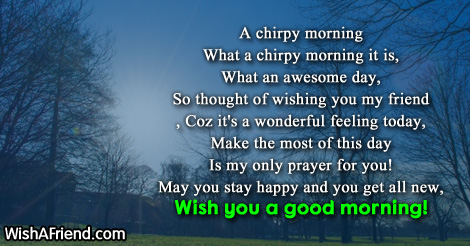 A chirpy morning
What a chirpy morning it is,
What an awesome day,
So thought of wishing you my friend
, Coz it's a wonderful feeling today,
Make the most of this day
Is my only prayer for you!
May you stay happy and you get all new,
Wish you a good morning!
Other Popular Good Morning Poems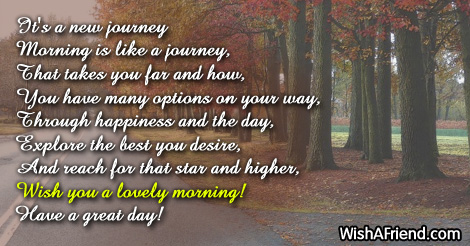 It's a new journey
Morning is like a journey,
That takes you far and how,
You have many options on your way,
Through happiness and the day,
Explore the best you desire,
And reach for that star and higher,
Wish you a lovely morning!
Have a great day!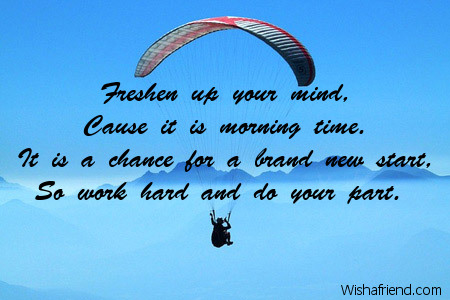 Freshen Up Your Mind
Freshen up your mind,
Cause it is morning time.
It is a chance for a brand new start,
So work hard and do your part.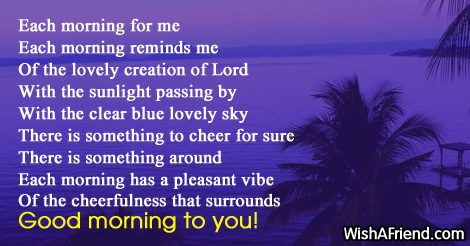 Each morning for me
Each morning reminds me
Of the lovely creation of Lord
With the sunlight passing by
With the clear blue lovely sky
There is something to cheer for sure
There is something around
Each morning has a pleasant vibe
Of the cheerfulness that surrounds
Good morning to you!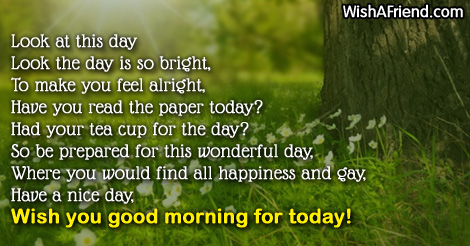 Look at this day
Look the day is so bright,
To make you feel alright,
Have you read the paper today?
Had your tea cup for the day?
So be prepared for this wonderful day,
Where you would find all happiness and gay,
Have a nice day,
Wish you good morning for today!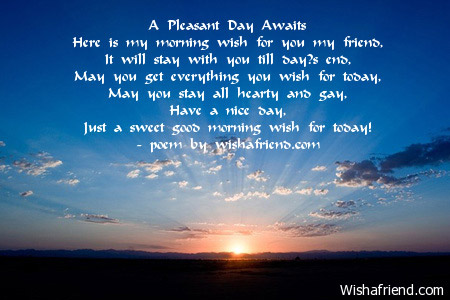 A Pleasant Day Awaits
Here is my morning wish for you my friend,
It will stay with you till day's end,
May you get everything you wish for today,
May you stay all hearty and gay,
Have a nice day,
Just a sweet good morning wish for today!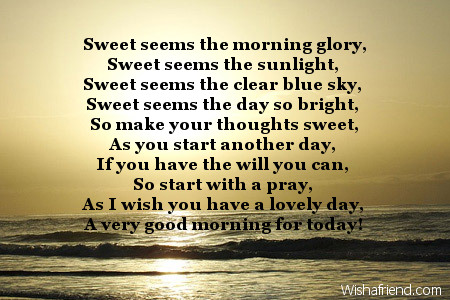 Morning cheer
Sweet seems the morning glory,
Sweet seems the sunlight,
Sweet seems the clear blue sky,
Sweet seems the day so bright,
So make your thoughts sweet,
As you start another day,
If you have the will you can,
So start with a pray,
As I wish you have a lovely day,
A very good morning for today!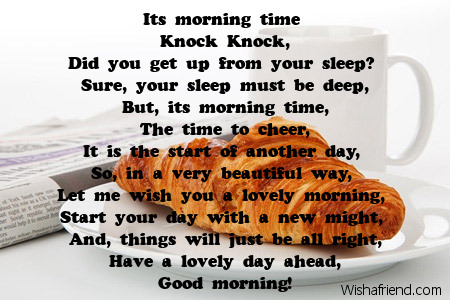 Its morning time
Knock Knock,
Did you get up from your sleep?
Sure, your sleep must be deep,
But, its morning time,
The time to cheer,
It is the start of another day,
So, in a very beautiful way,
Let me wish you a lovely morning,
Start your day with a new might,
And, things will just be all right,
Have a lovely day ahead,
Good morning!