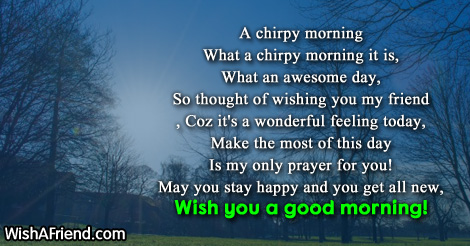 A chirpy morning
What a chirpy morning it is,
What an awesome day,
So thought of wishing you my friend
, Coz it's a wonderful feeling today,
Make the most of this day
Is my only prayer for you!
May you stay happy and you get all new,
Wish you a good morning!
Other Popular Good Morning Poems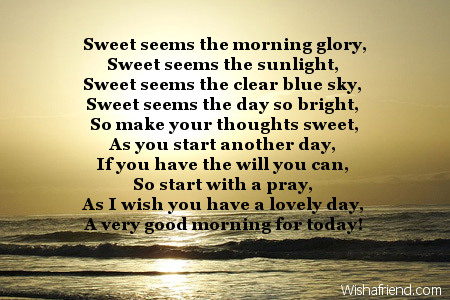 Morning cheer
Sweet seems the morning glory,
Sweet seems the sunlight,
Sweet seems the clear blue sky,
Sweet seems the day so bright,
So make your thoughts sweet,
As you start another day,
If you have the will you can,
So start with a pray,
As I wish you have a lovely day,
A very good morning for today!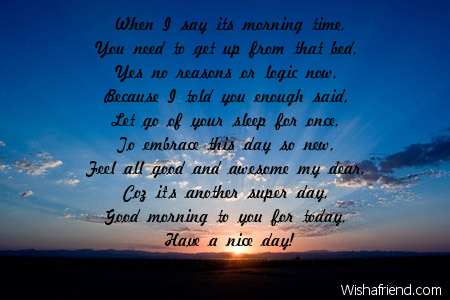 When I wish you
When I say its morning time,
You need to get up from that bed,
Yes no reasons or logic now,
Because I told you enough said,
Let go of your sleep for once,
To embrace this day so new,
Feel all good and awesome my dear,
Coz it's another super day,
Good morning to you for today,
Have a nice day!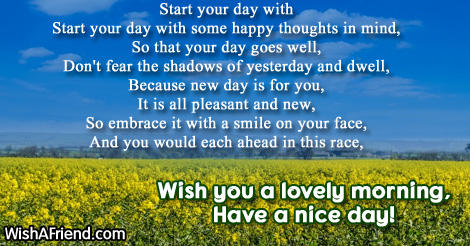 Start your day with
Start your day with some happy thoughts in mind,
So that your day goes well,
Don't fear the shadows of yesterday and dwell,
Because new day is for you,
It is all pleasant and new,
So embrace it with a smile on your face,
And you would each ahead in this race,
Wish you a lovely morning,
Have a nice day!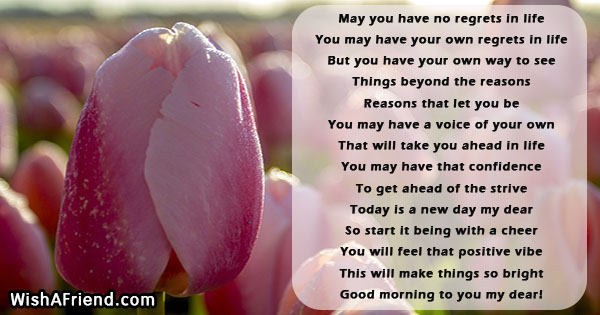 May you have no regrets in life
You may have your own regrets in life
But you have your own way to see
Things beyond the reasons
Reasons that let you be
You may have a voice of your own
That will take you ahead in life
You may have that confidence
To get ahead of the strive
Today is a new day my dear
So start it being with a cheer
You will feel that positive vibe
This will make things so bright
Good morning to you my dear!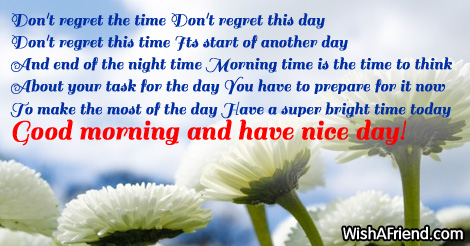 Don't regret the time
Don't regret this day
Don't regret this time
Its start of another day
And end of the night time
Morning time is the time to think
About your task for the day
You have to prepare for it now
To make the most of the day
Have a super bright time today
Good morning and have nice day!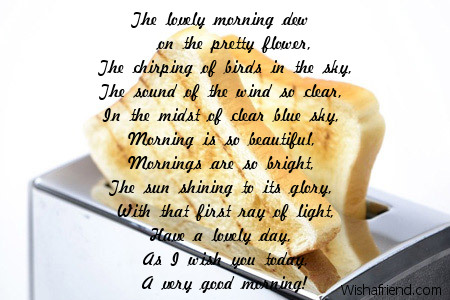 Lovely morning
The lovely morning dew on the pretty flower,
The chirping of birds in the sky,
The sound of the wind so clear,
In the midst of clear blue sky,
Morning is so beautiful,
Mornings are so bright,
The sun shining to its glory,
With that first ray of light,
Have a lovely day,
As I wish you today,
A very good morning!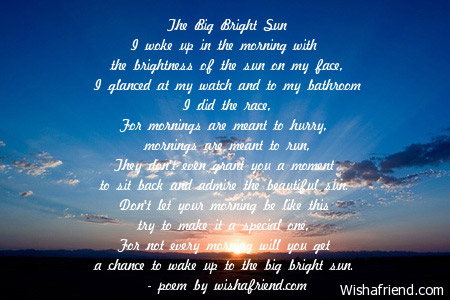 The Big Bright Sun
I woke up in the morning with
the brightness of the sun on my face,
I glanced at my watch and to my bathroom
I did the race,
For mornings are meant to hurry,
mornings are meant to run,
They don't even grant you a moment
to sit back and admire the beautiful sun.
Don't let your morning be like this
try to make it a special one,
For not every morning will you get a chance to wake up to the big bright sun.