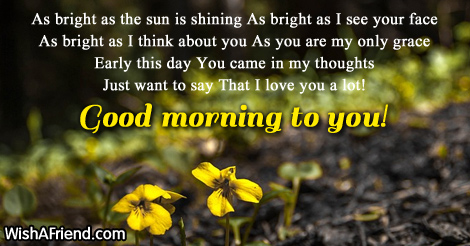 As bright as
As bright as the sun is shining
As bright as I see your face
As bright as I think about you
As you are my only grace
Early this day
You came in my thoughts
Just want to say
That I love you a lot!
Good morning to you!
Other Popular Good Morning Poems for Him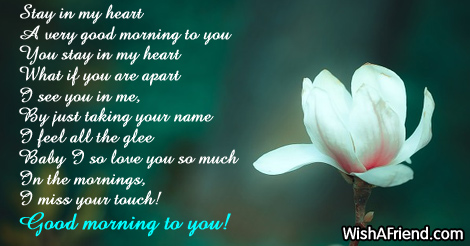 Stay in my heart
A very good morning to you
You stay in my heart
What if you are apart
I see you in me,
By just taking your name
I feel all the glee
Baby I so love you so much
In the mornings,
I miss your touch!
God morning to you!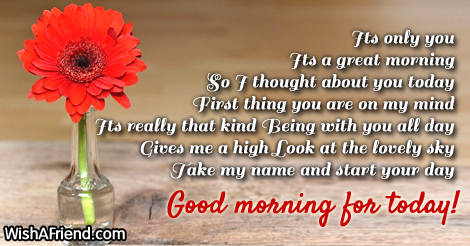 Its only you
Its a great morning
So I thought about you today
First thing you are on my mind
Its really that kind
Being with you all day
Gives me a high
Look at the lovely sky
Take my name and start your day
Good morning for today!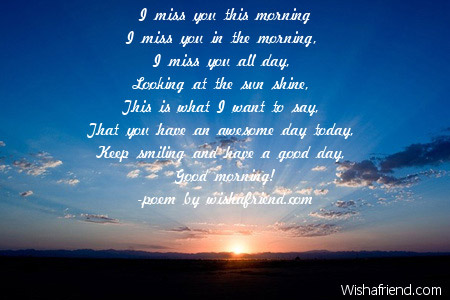 I miss you this morning
I miss you in the morning,
I miss you all day,
Looking at the sun shine,
This is what I want to say,
That you have an awesome day today,
Keep smiling and have a good day,
Good morning!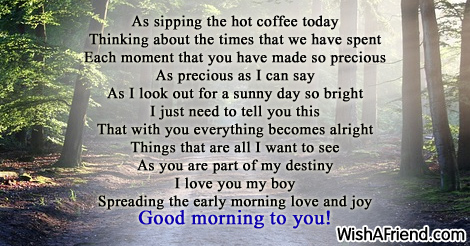 As sipping the coffee
As sipping the hot coffee today
Thinking about the times that we have spent
Each moment that you have made so precious
As precious as I can say
As I look out for a sunny day so bright
I just need to tell you this
That with you everything becomes alright
Things that are all I want to see
As you are part of my destiny
I love you my boy
Spreading the early morning love and joy
Good morning to you!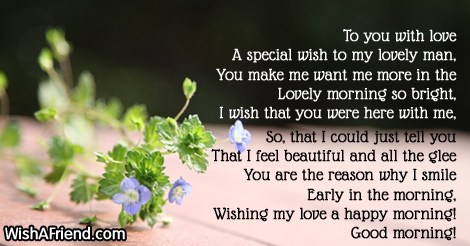 To you with love
A special wish to my lovely man,
You make me want me more in the
Lovely morning so bright,
I wish that you were here with me,
So, that I could just tell you
That I feel beautiful and all the glee
You are the reason why I smile
Early in the morning,
Wishing my love a happy morning!
Good morning!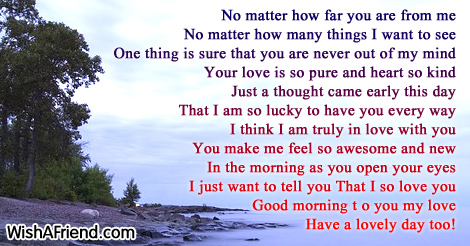 No matter how far you go
No matter how far you are from me
No matter how many things I want to see
One thing is sure that you are never out of my mind
Your love is so pure and heart so kind
Just a thought came early this day
That I am so lucky to have you every way
I think I am truly in love with you
You make me feel so awesome and new
In the morning as you open your eyes
I just want to tell you
That I so love you
Good morning t o you my love
Have a lovely day too!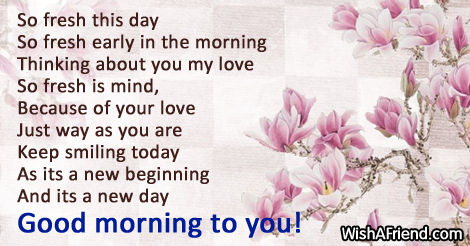 So fresh this day
So fresh early in the morning
Thinking about you my love
So fresh is mind,
Because of your love
Just way as you are
Keep smiling today
As its a new beginning
And its a new day
Good morning to you!