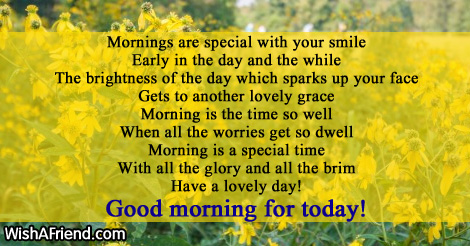 It is so special
Mornings are special with your smile
Early in the day and the while
The brightness of the day which sparks up your face
Gets to another lovely grace
Morning is the time so well
When all the worries get so dwell
Morning is a special time
With all the glory and all the brim
Have a lovely day!
Good morning for today!
Other Popular Good Morning Poems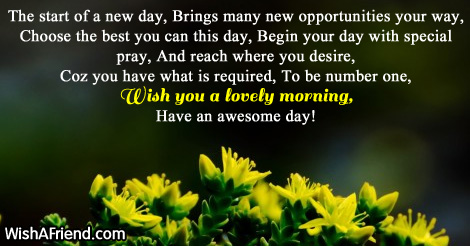 New start for the day
The start of a new day,
Brings many new opportunities your way,
Choose the best you can this day,
Begin your day with special pray,
And reach where you desire,
Coz you have what is required,
To be number one,
Wish you a lovely morning,
Have an awesome day!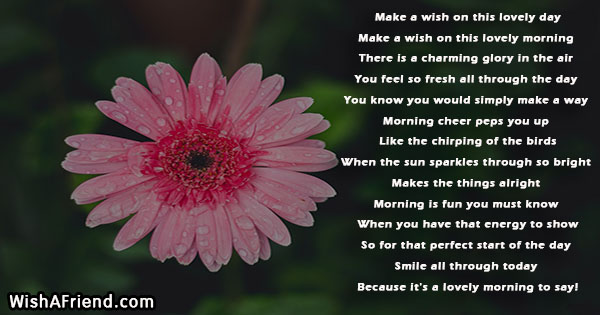 Make a wish on this lovely day
Make a wish on this lovely morning
There is a charming glory in the air
You feel so fresh all through the day
You know you would simply make a way
Morning cheer peps you up
Like the chirping of the birds
When the sun sparkles through so bright
Makes the things alright
Morning is fun you must know
When you have that energy to show
So for that perfect start of the day
Smile all through today
Because it's a lovely morning to say!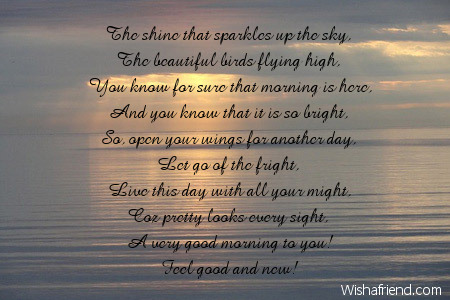 The sun that shines
The shine that sparkles up the sky,
The beautiful birds flying high,
You know for sure that morning is here,
And you know that it is so bright,
So, open your wings for another day,
Let go of the fright,
Live this day with all your might,
Coz pretty looks every sight,
A very good morning to you!
Feel good and new!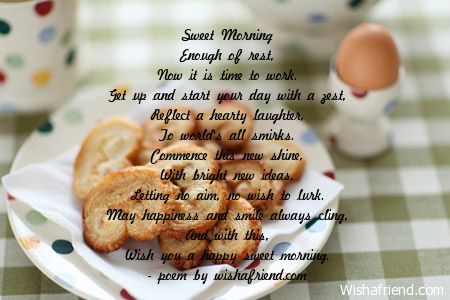 Sweet Morning
Enough of rest,
Now it is time to work.
Get up and start your day with a zest,
Reflect a hearty laughter,
To world's all smirks.
Commence this new shine,
With bright new ideas,
Letting no aim, no wish to lurk.
May happiness and smile always cling,
And with this,
Wish you a happy sweet morning.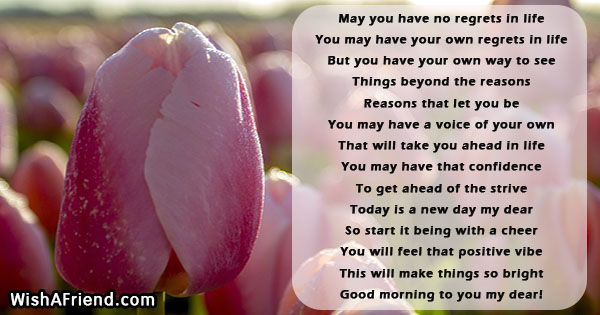 May you have no regrets in life
You may have your own regrets in life
But you have your own way to see
Things beyond the reasons
Reasons that let you be
You may have a voice of your own
That will take you ahead in life
You may have that confidence
To get ahead of the strive
Today is a new day my dear
So start it being with a cheer
You will feel that positive vibe
This will make things so bright
Good morning to you my dear!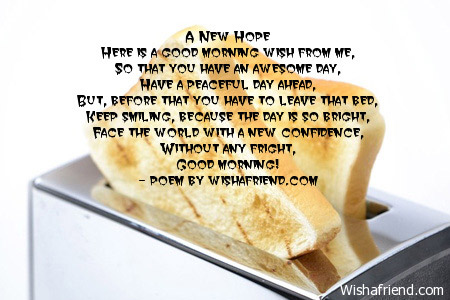 A New Hope
Here is a good morning wish from me,
So that you have an awesome day,
Have a peaceful day ahead,
But, before that you have to leave that bed,
Keep smiling, because the day is so bright,
Face the world with a new confidence,
Without any fright,
Good morning!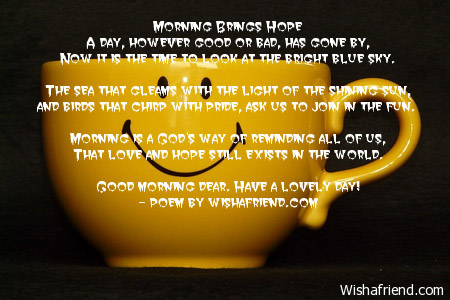 Morning Brings Hope
A day, however good or bad, has gone by,
Now it is the time to look at the bright blue sky.
The sea that gleams with the light of the shining sun,
and birds that chirp with pride, ask us to join in the fun.
Morning is a God's way of reminding all of us,
That love and hope still exists in the world.
Good morning dear. Have a lovely day!