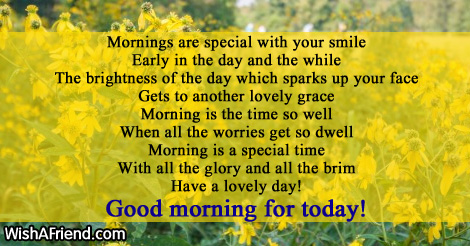 It is so special
Mornings are special with your smile
Early in the day and the while
The brightness of the day which sparks up your face
Gets to another lovely grace
Morning is the time so well
When all the worries get so dwell
Morning is a special time
With all the glory and all the brim
Have a lovely day!
Good morning for today!
Other Popular Good Morning Poems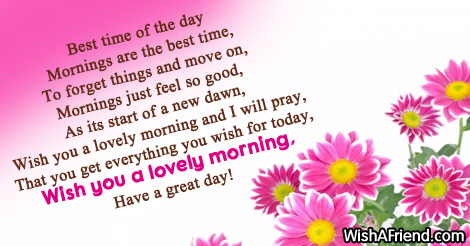 Best time of the day
Mornings are the best time,
To forget things and move on,
Mornings just feel so good,
As its start of a new dawn,
Wish you a lovely morning and I will pray,
That you get everything you wish for today,
Wish you a lovely morning,
Have a great day!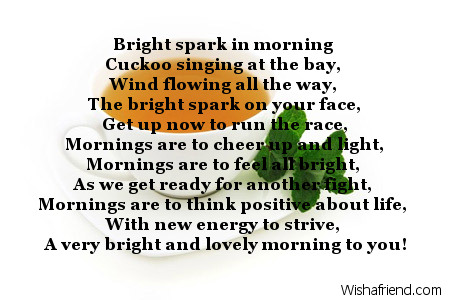 Bright spark in morning
Cuckoo singing at the bay,
Wind flowing all the way,
The bright spark on your face,
Get up now to run the race,
Mornings are to cheer up and light,
Mornings are to feel all bright,
As we get ready for another fight,
Mornings are to think positive about life,
With new energy to strive,
A very bright and lovely morning to you!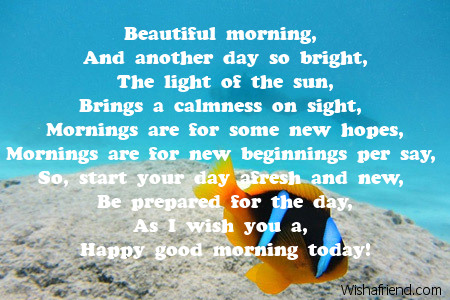 Beautiful morning
Beautiful morning,
And another day so bright,
The light of the sun,
Brings a calmness on sight,
Mornings are for some new hopes,
Mornings are for new beginnings per say,
So, start your day afresh and new,
Be prepared for the day,
As I wish you a,
Happy good morning today!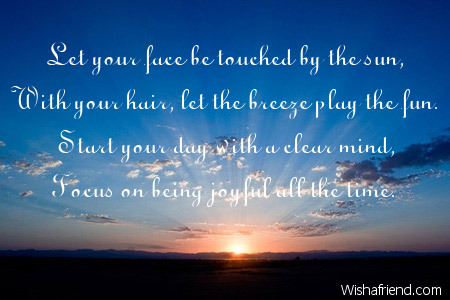 The Morning Nature
Let your face be touched by the sun,
With your hair, let the breeze play the fun.
Start your day with a clear mind,
Focus on being joyful all the time.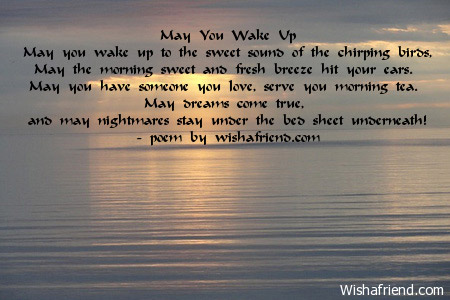 May You Wake Up
May you wake up to the sweet sound of the chirping birds,
May the morning sweet and fresh breeze hit your ears.
May you have someone you love, serve you morning tea.
May dreams come true,
and may nightmares stay under the bed sheet underneath!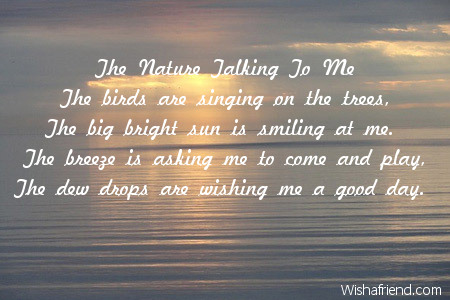 The Nature Talking To Me
The birds are singing on the trees,
The big bright sun is smiling at me.
The breeze is asking me to come and play,
The dew drops are wishing me a good day.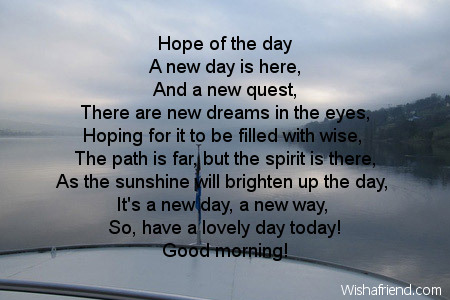 Hope of the day
A new day is here,
And a new quest,
There are new dreams in the eyes,
Hoping for it to be filled with wise,
The path is far, but the spirit is there,
As the sunshine will brighten up the day,
It's a new day, a new way,
So, have a lovely day today!
Good morning!