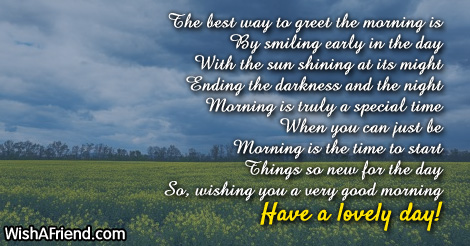 The best way to greet
The best way to greet the morning is
By smiling early in the day
With the sun shining at its might
Ending the darkness and the night
Morning is truly a special time
When you can just be
Morning is the time to start
Things so new for the day
So, wishing you a very good morning
Have a lovely day!
Other Popular Good Morning Poems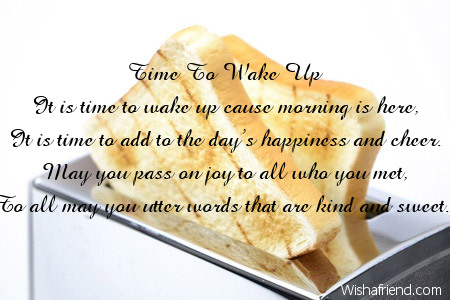 Time To Wake Up
It is time to wake up cause morning is here,
It is time to add to the day's happiness and cheer.
May you pass on joy to all who you met,
To all may you utter words that are kind and sweet.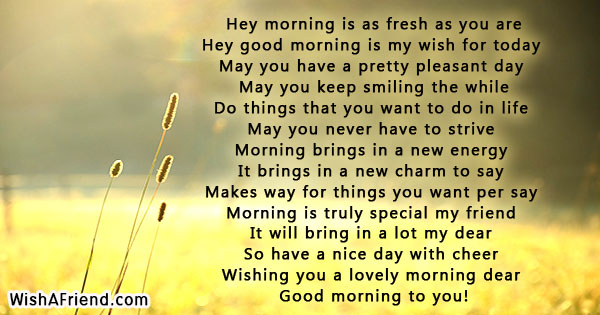 Hey morning is as fresh as you are
Hey good morning is my wish for today
May you have a pretty pleasant day
May you keep smiling the while
Do things that you want to do in life
May you never have to strive
Morning brings in a new energy
It brings in a new charm to say
Makes way for things you want per say
Morning is truly special my friend
It will bring in a lot my dear
So have a nice day with cheer
Wishing you a lovely morning dear
Good morning to you!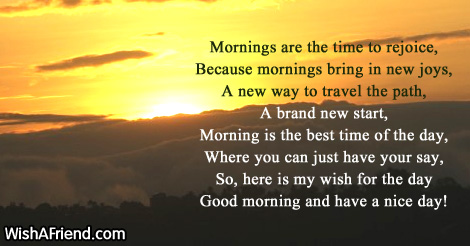 Best time of the day
Mornings are the time to rejoice,
Because mornings bring in new joys,
A new way to travel the path,
A brand new start,
Morning is the best time of the day,
Where you can just have your say,
So, here is my wish for the day
Good morning and have a nice day!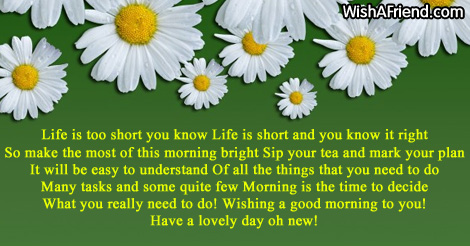 Life is too short you know
Life is short and you know it right
So make the most of this morning bright
Sip your tea and mark your plan
It will be easy to understand
Of all the things that you need to do
Many tasks and some quite few
Morning is the time to decide
What you really need to do!
Wishing a good morning to you!
Have a lovely day oh new!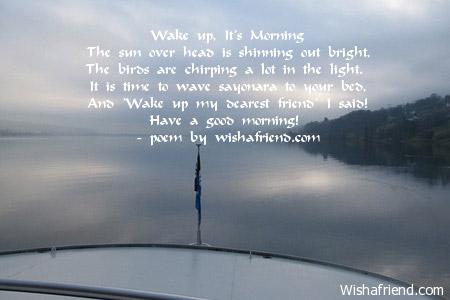 Wake up, It's Morning
The sun over head is shinning out bright,
The birds are chirping a lot in the light.
It is time to wave sayonara to your bed,
And 'Wake up my dearest friend' I said!
Have a good morning!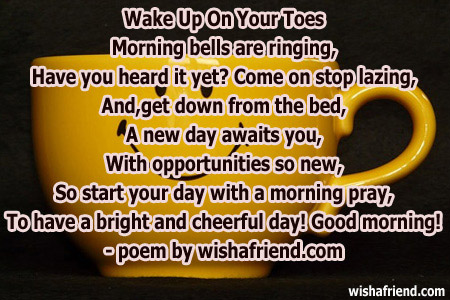 Wake Up On Your Toes
Morning bells are ringing,
Have you heard it yet? Come on stop lazing,
And,get down from the bed,
A new day awaits you,
With opportunities so new,
So start your day with a morning pray,
To have a bright and cheerful day! Good morning!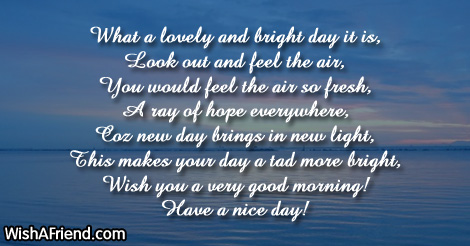 A lovely day
What a lovely and bright day it is,
Look out and feel the air,
You would feel the air so fresh,
A ray of hope everywhere,
Coz new day brings in new light,
This makes your day a tad more bright,
Wish you a very good morning!
Have a nice day!