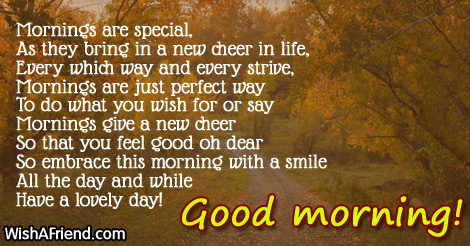 It is truly special
Mornings are special,
As they bring in a new cheer in life,
Every which way and every strive,
Mornings are just perfect way
To do what you wish for or say
Mornings give a new cheer
So that you feel good oh dear
So embrace this morning with a smile
All the day and while
Have a lovely day!
Good morning!
Other Popular Good Morning Poems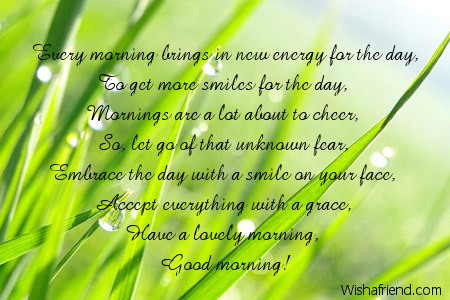 Each morning is new
Every morning brings in new energy for the day,
To get more smiles for the day,
Mornings are a lot about to cheer,
So, let go of that unknown fear,
Embrace the day with a smile on your face,
Accept everything with a grace,
Have a lovely morning,
Good morning!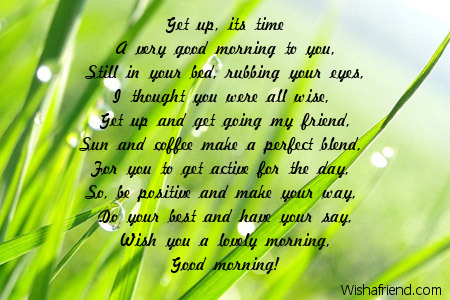 Get up, its time
A very good morning to you,
Still in your bed, rubbing your eyes,
I thought you were all wise,
Get up and get going my friend,
Sun and coffee make a perfect blend,
For you to get active for the day,
So, be positive and make your way,
Do your best and have your say,
Wish you a lovely morning,
Good morning!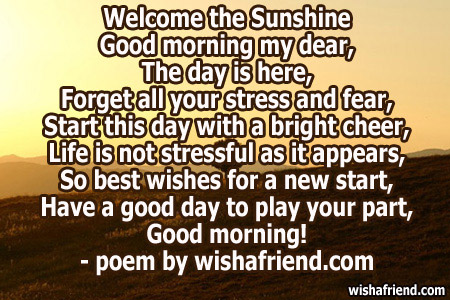 Welcome the Sunshine
Good morning my dear,
The day is here,
Forget all your stress and fear,
Start this day with a bright cheer,
Life is not stressful as it appears,
So best wishes for a new start,
Have a good day to play your part,
Good morning!
Give yourself a break in life
Give yourself a break in life
You deserve to take a lot more
Give yourself some respite
By walking through the morning chore
Make a list of things you will do
Make a lot of things in hew
Feel good as it's just the start
Feel good as you have chance ahead
Morning is such a great time
Morning time brings in a new cheer
Morning time is really bright
Makes you feel so awesome and right
Wishing you a lovely morning!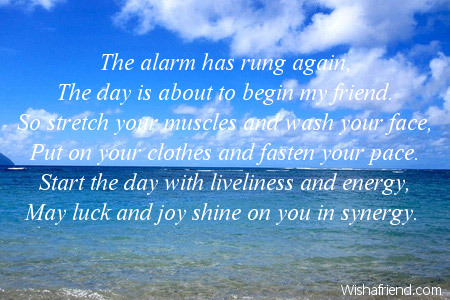 The Alarm Has Rung Again
The alarm has rung again,
The day is about to begin my friend.
So stretch your muscles and wash your face,
Put on your clothes and fasten your pace.
Start the day with liveliness and energy,
May luck and joy shine on you in synergy.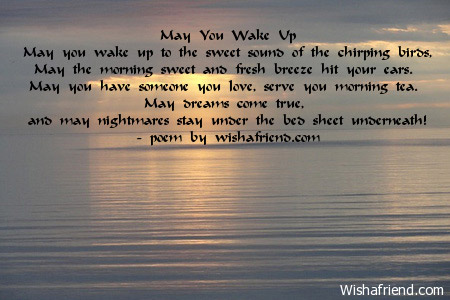 May You Wake Up
May you wake up to the sweet sound of the chirping birds,
May the morning sweet and fresh breeze hit your ears.
May you have someone you love, serve you morning tea.
May dreams come true,
and may nightmares stay under the bed sheet underneath!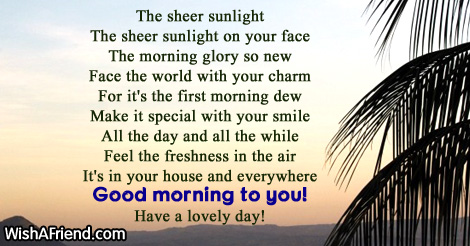 The sheer sunlight
The sheer sunlight on your face
The morning glory so new
Face the world with your charm
For it's the first morning dew
Make it special with your smile
All the day and all the while
Feel the freshness in the air
It's in your house and everywhere
Good morning to you!
Have a lovely day!