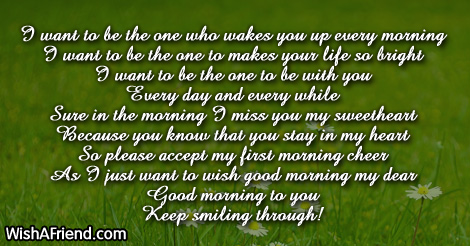 I want to be the one who
I want to be the one who wakes you up every morning
I want to be the one to makes your life so bright
I want to be the one to be with you
Every day and every while
Sure in the morning I miss you my sweetheart
Because you know that you stay in my heart
So please accept my first morning cheer
As I just want to wish good morning my dear
Good morning to you
Keep smiling through!
Other Popular Good Morning Poems for Her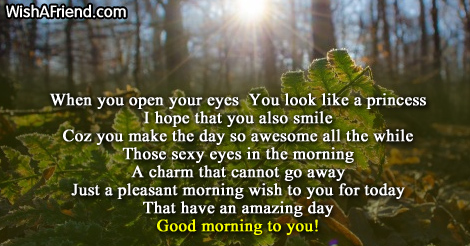 When you open your eyes
When you open your eyes
You look like a princess
I hope that you also smile
Coz you make the day so awesome all the while
Those sexy eyes in the morning
A charm that cannot go away
Just a pleasant morning wish to you for today
That have an amazing day
Good morning to you!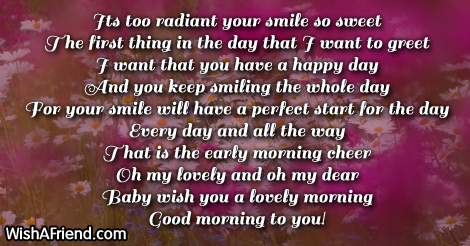 Its so radiant your smile
Its too radiant your smile so sweet
The first thing in the day that I want to greet
I want that you have a happy day
And you keep smiling the whole day
For your smile will have a perfect start for the day
Every day and all the way
That is the early morning cheer
Oh my lovely and oh my dear
Baby wish you a lovely morning
Good morning to you!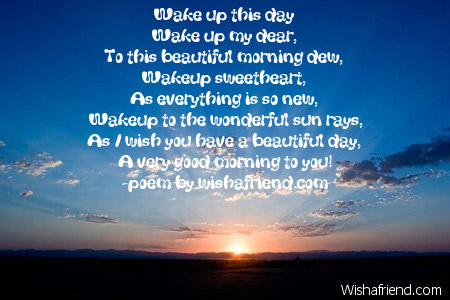 Wake up this day
Wake up my dear,
To this beautiful morning dew,
Wakeup sweetheart,
As everything is so new,
Wakeup to the wonderful sun rays,
As I wish you have a beautiful day,
A very good morning to you!
I only wish
Ah! I wish I could see you now,
The morning is here,
But, you are really far,
I wish that your smile brightens up your day,
And, you go out and have your say,
Have a lovely day my sweetheart,
A wish that you never go apart,
Good morning!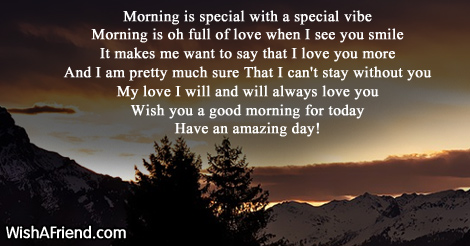 It is so special for you
Morning is special with a special vibe
Morning is oh full of love when I see you smile
It makes me want to say that I love you more
And I am pretty much sure
That I can't stay without you
My love I will and will always love you
Wish you a good morning for today
Have an amazing day!
It does make a difference
It does not make any difference
Whether you add sugar in your morning tea
Coz you are so sweet it makes your day
You are so lovely I also I want to say
The sun also shines so bright looking at you
You are so pretty that I want to tell you
That early in the mornings I miss you
Baby just want to tell you that I love you
Good morning to you
Keep smiling through!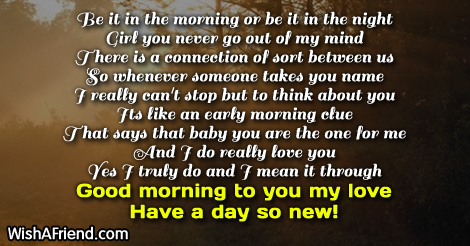 Be in the morning light
Be it in the morning or be it in the night
Girl you never go out of my mind
There is a connection of sort between us
So whenever someone takes you name
I really can't stop but to think about you
Its like an early morning clue
That says that baby you are the one for me
And I do really love you
Yes I truly do and I mean it through
Good morning to you my love
Have a day so new!