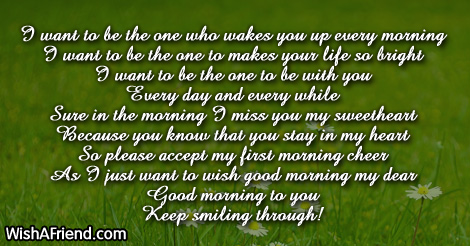 I want to be the one who
I want to be the one who wakes you up every morning
I want to be the one to makes your life so bright
I want to be the one to be with you
Every day and every while
Sure in the morning I miss you my sweetheart
Because you know that you stay in my heart
So please accept my first morning cheer
As I just want to wish good morning my dear
Good morning to you
Keep smiling through!
Other Popular Good Morning Poems for Her
Your love gives me
Your love gives me a reason to smile,
At the start of the day and all the while,
Early in the morning, I remember you so,
And, I just want you to know,
That my love for you will grow with time,
Feeling blessed to call you mine,
Good morning my dear,
Rise and shine to spread the cheer!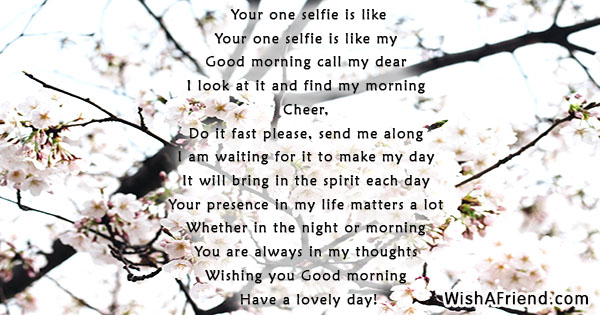 Your one selfie is like
Your one selfie is like my
Good morning call my dear
I look at it and find my morning
Cheer,
Do it fast please, send me along
I am waiting for it to make my day
It will bring in the spirit each day
Your presence in my life matters a lot
Whether in the night or morning
You are always in my thoughts
Wishing you Good morning
Have a lovely day!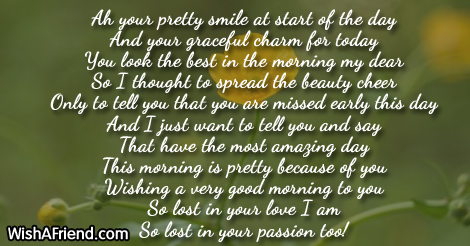 That pretty smile of yours
Ah your pretty smile at start of the day
And your graceful charm for today
You look the best in the morning my dear
So I thought to spread the beauty cheer
Only to tell you that you are missed early this day
And I just want to tell you and say
That have the most amazing day
This morning is pretty because of you
Wishing a very good morning to you
So lost in your love I am
So lost in your passion too!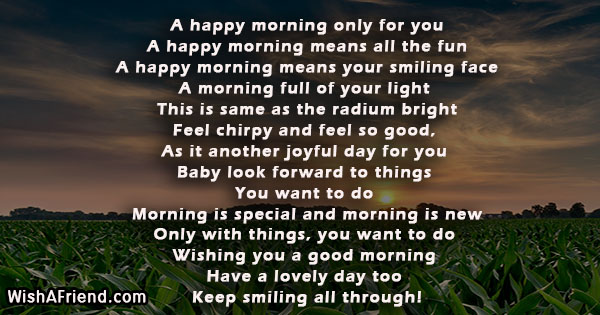 A happy morning only for you
A happy morning means all the fun
A happy morning means your smiling face
A morning full of your light
This is same as the radium bright
Feel chirpy and feel so good,
As it another joyful day for you
Baby look forward to things
You want to do
Morning is special and morning is new
Only with things, you want to do
Wishing you a good morning
Have a lovely day too
Keep smiling all through!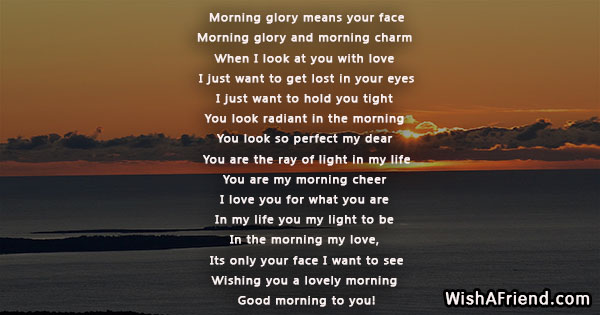 Morning glory means your face
Morning glory and morning charm
When I look at you with love
I just want to get lost in your eyes
I just want to hold you tight
You look radiant in the morning
You look so perfect my dear
You are the ray of light in my life
You are my morning cheer
I love you for what you are
In my life you my light to be
In the morning my love,
Its only your face I want to see
Wishing you a lovely morning
Good morning to you!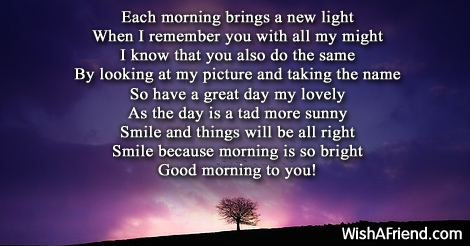 It's a new light to see
Each morning brings a new light
When I remember you with all my might
I know that you also do the same
By looking at my picture and taking the name
So have a great day my lovely
As the day is a tad more sunny
Smile and things will be all right
Smile because morning is so bright
Good morning to you!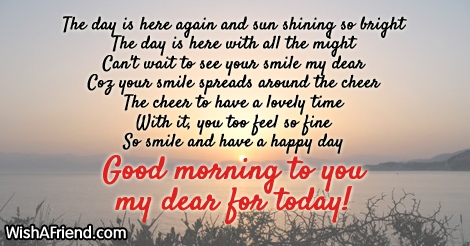 The day is here again
The day is here again and sun shining so bright
The day is here with all the might
Can't wait to see your smile my dear
Coz your smile spreads around the cheer
The cheer to have a lovely time
With it, you too feel so fine
So smile and have a happy day
Good morning to you my dear for today!