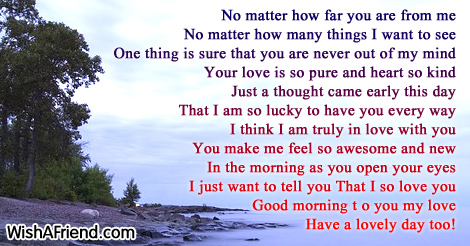 No matter how far you go
No matter how far you are from me
No matter how many things I want to see
One thing is sure that you are never out of my mind
Your love is so pure and heart so kind
Just a thought came early this day
That I am so lucky to have you every way
I think I am truly in love with you
You make me feel so awesome and new
In the morning as you open your eyes
I just want to tell you
That I so love you
Good morning t o you my love
Have a lovely day too!
Other Popular Good Morning Poems for Him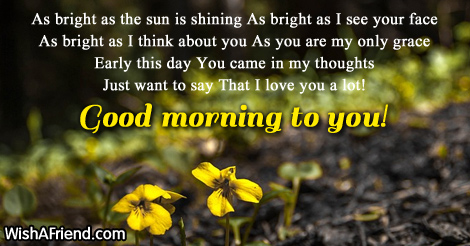 As bright as
As bright as the sun is shining
As bright as I see your face
As bright as I think about you
As you are my only grace
Early this day
You came in my thoughts
Just want to say
That I love you a lot!
Good morning to you!
Without you my love
I know I can't stay away from you for long,
I know that to me,
You truly belong,
Early in the morning, I miss you the most,
In your thoughts I am engrossed,
Sending you warm wishes for this morning,
Have a lovely day,
Good morning!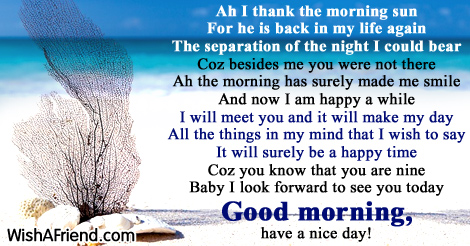 I thank the morning sun
Ah I thank the morning sun
For he is back in my life again
The separation of the night I could bear
Coz besides me you were not there
Ah the morning has surely made me smile
And now I am happy a while
I will meet you and it will make my day
All the things in my mind that I wish to say
It will surely be a happy time
Coz you know that you are nine
Baby I look forward to see you today
Good morning, have a nice day!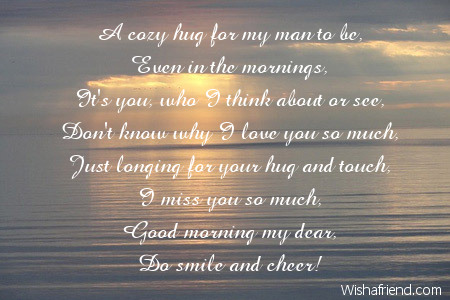 A hug for you my dear
A cozy hug for my man to be,
Even in the mornings,
It's you, who I think about or see,
Don't know why I love you so much,
Just longing for your hug and touch,
I miss you so much,
Good morning my dear,
Do smile and cheer!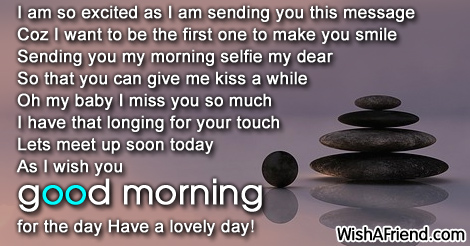 With you I am
I am so excited as I am sending you this message
Coz I want to be the first one to make you smile
Sending you my morning selfie my dear
So that you can give me kiss a while
Oh my baby I miss you so much
I have that longing for your touch
Lets meet up soon today
As I wish you good morning for the day
Have a lovely day!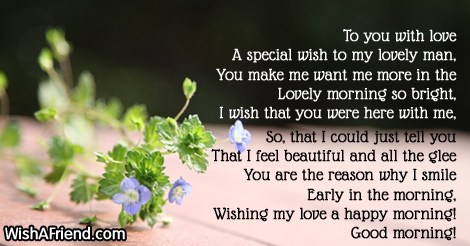 To you with love
A special wish to my lovely man,
You make me want me more in the
Lovely morning so bright,
I wish that you were here with me,
So, that I could just tell you
That I feel beautiful and all the glee
You are the reason why I smile
Early in the morning,
Wishing my love a happy morning!
Good morning!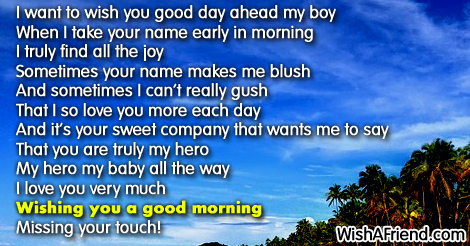 I want to wish you a good day
I want to wish you good day ahead my boy
When I take your name early in morning
I truly find all the joy
Sometimes your name makes me blush
And sometimes I can't really gush
That I so love you more each day
And it's your sweet company that wants me to say
That you are truly my hero
My hero my baby all the way
I love you very much
Wishing you a good morning
Missing your touch!