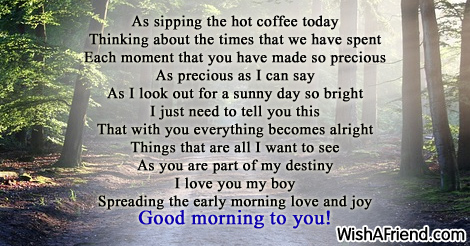 As sipping the coffee
As sipping the hot coffee today
Thinking about the times that we have spent
Each moment that you have made so precious
As precious as I can say
As I look out for a sunny day so bright
I just need to tell you this
That with you everything becomes alright
Things that are all I want to see
As you are part of my destiny
I love you my boy
Spreading the early morning love and joy
Good morning to you!
Other Popular Good Morning Poems for Him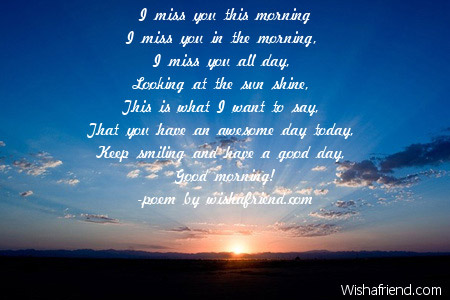 I miss you this morning
I miss you in the morning,
I miss you all day,
Looking at the sun shine,
This is what I want to say,
That you have an awesome day today,
Keep smiling and have a good day,
Good morning!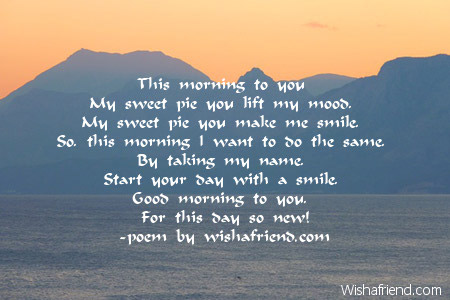 This morning to you
My sweet pie you lift my mood,
My sweet pie you make me smile,
So, this morning I want to do the same,
By taking my name,
Start your day with a smile,
Good morning to you,
For this day so new!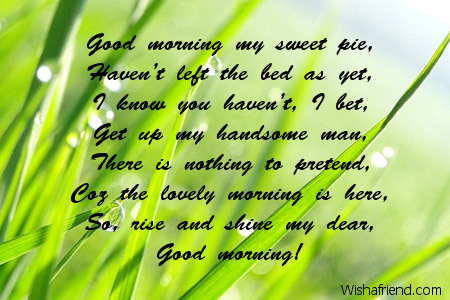 To my love in morning
Good morning my sweet pie,
Haven't left the bed as yet,
I know you haven't, I bet,
Get up my handsome man,
There is nothing to pretend,
Coz the lovely morning is here,
So, rise and shine my dear,
Good morning!
With the first day
With the first ray of the sun,
I think about you my dear,
So lovely is the morning time,
Feels so good, wish you were near
So that I could hug you tight,
And make the moment oh so bright
Here is wishing you a pleasant morning
My boy, a very happy morning!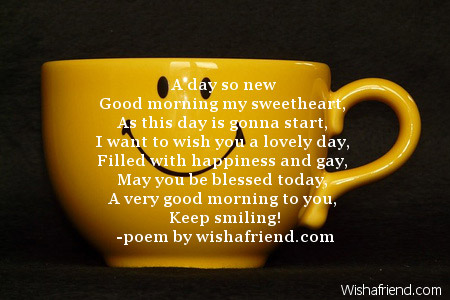 A day so new
Good morning my sweetheart,
As this day is gonna start,
I want to wish you a lovely day,
Filled with happiness and gay,
May you be blessed today,
A very good morning to you,
Keep smiling!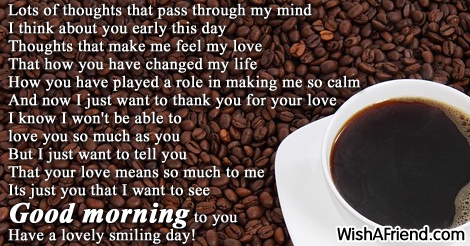 Lots of thoughts in mind
Lots of thoughts that pass through my mind
I think about you early this day
Thoughts that make me feel my love
That how you have changed my life
How you have played a role in making me so calm
And now I just want to thank you for your love
I know I won't be able to love you so much as you
But I just want to tell you
That your love means so much to me
Its just you that I want to see
Good morning to you
Have a lovely smiling day!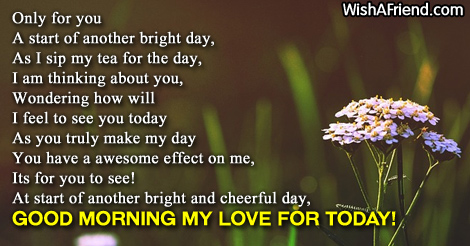 Only for you
A start of another bright day,
As I sip my tea for the day,
I am thinking about you,
Wondering how will I feel to see you today
As you truly make my day
You have a awesome effect on me,
Its for you to see!
At start of another bright and cheerful day,
Good morning my love for today!