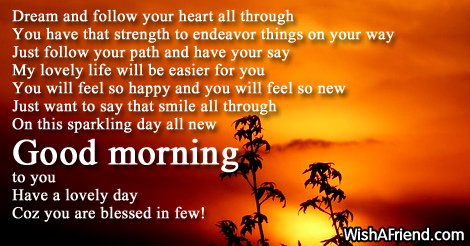 Dream and follow your heart
Dream and follow your heart all through
You have that strength to endeavor things on your way
Just follow your path and have your say
My lovely life will be easier for you
You will feel so happy and you will feel so new
Just want to say that smile all through
On this sparkling day all new
Good morning to you
Have a lovely day
Coz you are blessed in few!
Other Popular Good Morning Poems for Her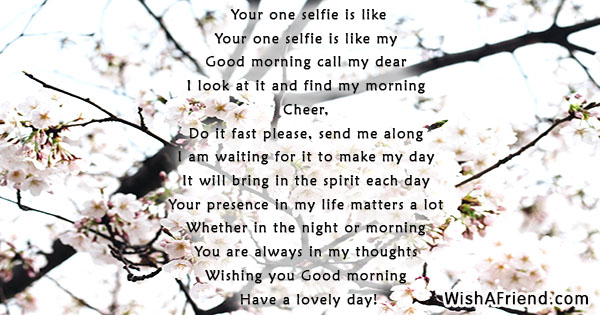 Your one selfie is like
Your one selfie is like my
Good morning call my dear
I look at it and find my morning
Cheer,
Do it fast please, send me along
I am waiting for it to make my day
It will bring in the spirit each day
Your presence in my life matters a lot
Whether in the night or morning
You are always in my thoughts
Wishing you Good morning
Have a lovely day!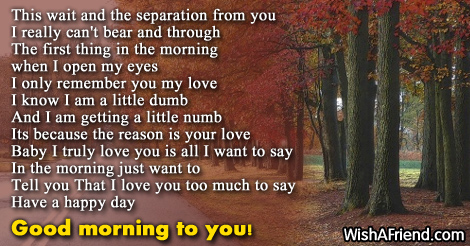 This wait is over for me
This wait and the separation from you
I really can't bear and through
The first thing in the morning when I open my eyes
I only remember you my love
I know I am a little dumb
And I am getting a little numb
Its because the reason is your love
Baby I truly love you is all I want to say
In the morning just want to
Tell you
That I love you too much to say
Have a happy day
Good morning to you!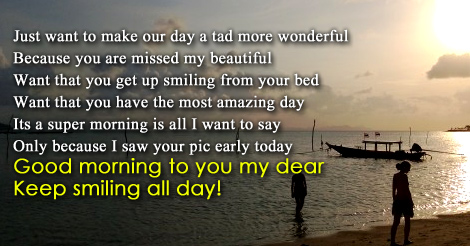 Just want to tell you
Just want to make our day a tad more wonderful
Because you are missed my beautiful
Want that you get up smiling from your bed
Want that you have the most amazing day
Its a super morning is all I want to say
Only because I saw your pic early today
Good morning to you my dear
Keep smiling all day!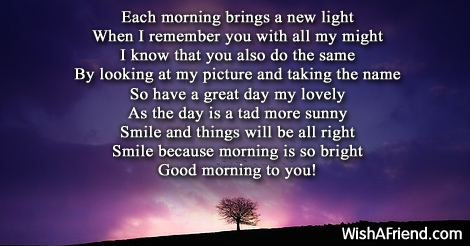 It's a new light to see
Each morning brings a new light
When I remember you with all my might
I know that you also do the same
By looking at my picture and taking the name
So have a great day my lovely
As the day is a tad more sunny
Smile and things will be all right
Smile because morning is so bright
Good morning to you!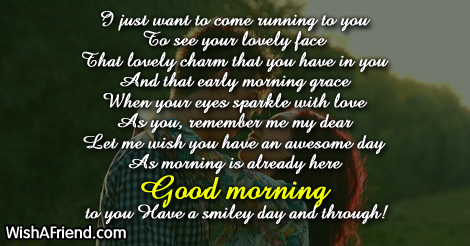 I just want you now
I just want to come running to you
To see your lovely face
That lovely charm that you have in you
And that early morning grace
When your eyes sparkle with love
As you, remember me my dear
Let me wish you have an awesome day
As morning is already here
Good morning to you
Have a smiley day and through!
I only wish
Ah! I wish I could see you now,
The morning is here,
But, you are really far,
I wish that your smile brightens up your day,
And, you go out and have your say,
Have a lovely day my sweetheart,
A wish that you never go apart,
Good morning!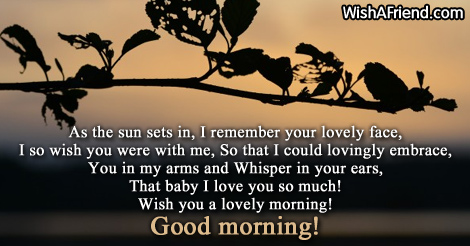 As the sun sets in
As the sun sets in,
I remember your lovely face,
I so wish you were with me,
So that I could lovingly embrace,
You in my arms and
Whisper in your ears,
That baby I love you so much!
Wish you a lovely morning!
Good morning!