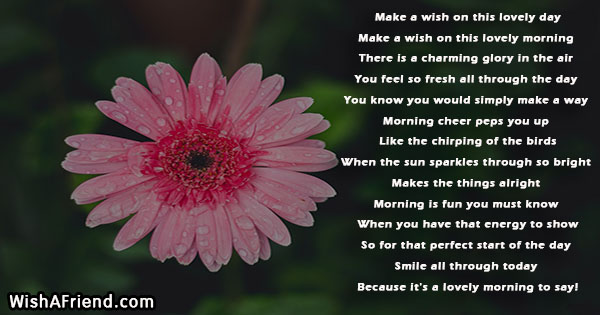 Make a wish on this lovely day
Make a wish on this lovely morning
There is a charming glory in the air
You feel so fresh all through the day
You know you would simply make a way
Morning cheer peps you up
Like the chirping of the birds
When the sun sparkles through so bright
Makes the things alright
Morning is fun you must know
When you have that energy to show
So for that perfect start of the day
Smile all through today
Because it's a lovely morning to say!
Other Popular Good Morning Poems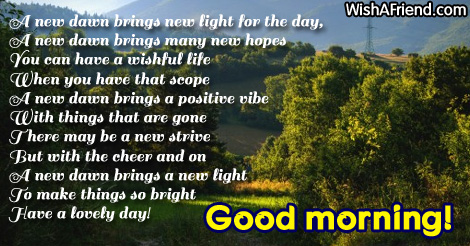 A new dawn
A new dawn brings new light for the day,
A new dawn brings many new hopes
You can have a wishful life
When you have that scope
A new dawn brings a positive vibe
With things that are gone
There may be a new strive
But with the cheer and on
A new dawn brings a new light
To make things so bright
Have a lovely day!
Good morning!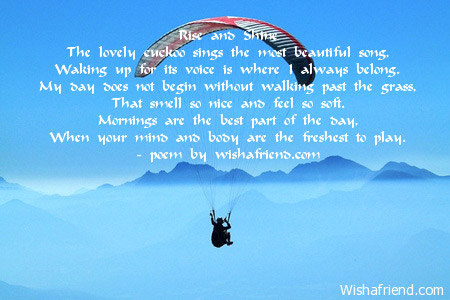 Rise and Shine
The lovely cuckoo sings the most beautiful song,
Waking up for its voice is where I always belong.
My day does not begin without walking past the grass,
That smell so nice and feel so soft.
Mornings are the best part of the day,
When your mind and body are the freshest to play.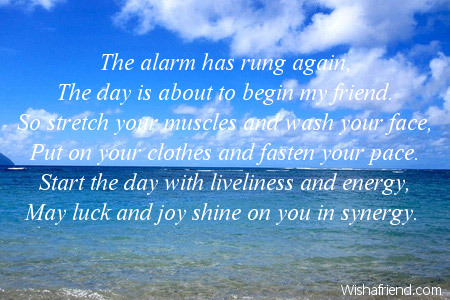 The Alarm Has Rung Again
The alarm has rung again,
The day is about to begin my friend.
So stretch your muscles and wash your face,
Put on your clothes and fasten your pace.
Start the day with liveliness and energy,
May luck and joy shine on you in synergy.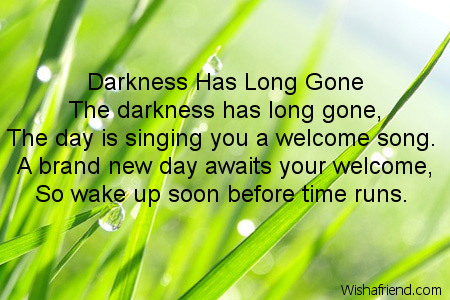 Darkness Has Long Gone
The darkness has long gone,
The day is singing you a welcome song.
A brand new day awaits your welcome,
So wake up soon before time runs.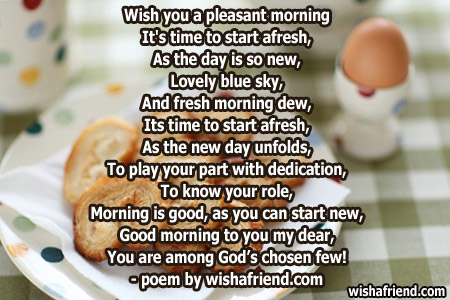 Wish you a pleasant morning
It's time to start afresh,
As the day is so new,
Lovely blue sky,
And fresh morning dew,
Its time to start afresh,
As the new day unfolds,
To play your part with dedication,
To know your role,
Morning is good, as you can start new,
Good morning to you my dear,
You are among God's chosen few!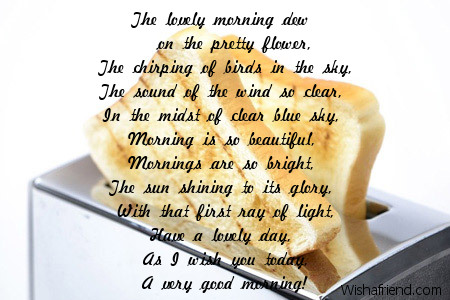 Lovely morning
The lovely morning dew on the pretty flower,
The chirping of birds in the sky,
The sound of the wind so clear,
In the midst of clear blue sky,
Morning is so beautiful,
Mornings are so bright,
The sun shining to its glory,
With that first ray of light,
Have a lovely day,
As I wish you today,
A very good morning!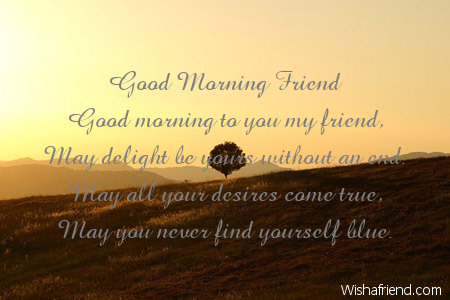 Good Morning Friend
Good morning to you my friend,
May delight be yours without an end.
May all your desires come true,
May you never find yourself blue.