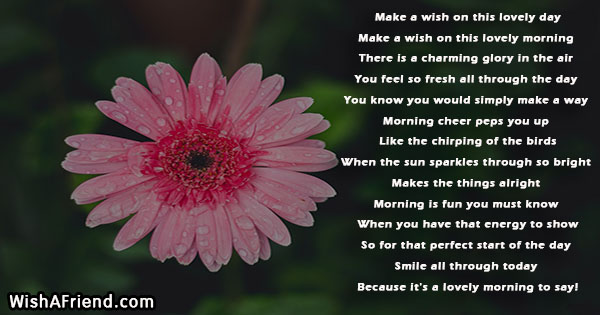 Make a wish on this lovely day
Make a wish on this lovely morning
There is a charming glory in the air
You feel so fresh all through the day
You know you would simply make a way
Morning cheer peps you up
Like the chirping of the birds
When the sun sparkles through so bright
Makes the things alright
Morning is fun you must know
When you have that energy to show
So for that perfect start of the day
Smile all through today
Because it's a lovely morning to say!
Other Popular Good Morning Poems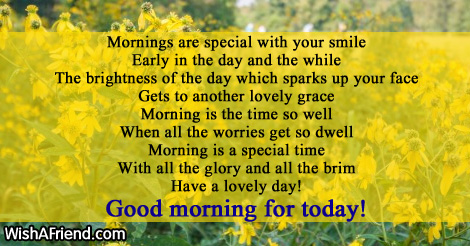 It is so special
Mornings are special with your smile
Early in the day and the while
The brightness of the day which sparks up your face
Gets to another lovely grace
Morning is the time so well
When all the worries get so dwell
Morning is a special time
With all the glory and all the brim
Have a lovely day!
Good morning for today!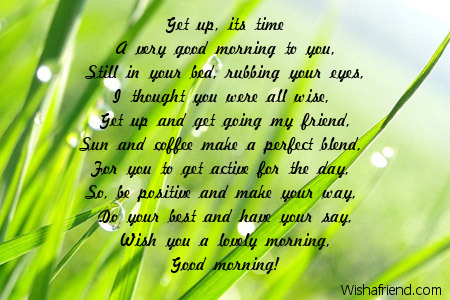 Get up, its time
A very good morning to you,
Still in your bed, rubbing your eyes,
I thought you were all wise,
Get up and get going my friend,
Sun and coffee make a perfect blend,
For you to get active for the day,
So, be positive and make your way,
Do your best and have your say,
Wish you a lovely morning,
Good morning!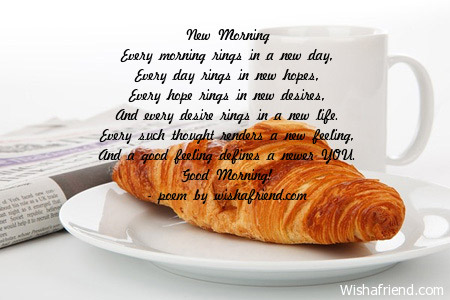 New Morning
Every morning rings in a new day,
Every day rings in new hopes,
Every hope rings in new desires,
And every desire rings in a new life.
Every such thought renders a new feeling,
And a good feeling defines a newer YOU.
Good Morning!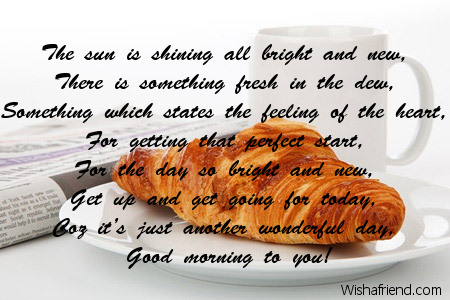 The sun that is bright
The sun is shining all bright and new,
There is something fresh in the dew,
Something which states the feeling of the heart,
For getting that perfect start,
For the day so bright and new,
Get up and get going for today,
Coz it's just another wonderful day,
Good morning to you!
Give yourself a break in life
Give yourself a break in life
You deserve to take a lot more
Give yourself some respite
By walking through the morning chore
Make a list of things you will do
Make a lot of things in hew
Feel good as it's just the start
Feel good as you have chance ahead
Morning is such a great time
Morning time brings in a new cheer
Morning time is really bright
Makes you feel so awesome and right
Wishing you a lovely morning!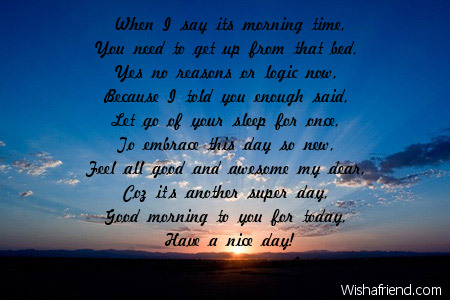 When I wish you
When I say its morning time,
You need to get up from that bed,
Yes no reasons or logic now,
Because I told you enough said,
Let go of your sleep for once,
To embrace this day so new,
Feel all good and awesome my dear,
Coz it's another super day,
Good morning to you for today,
Have a nice day!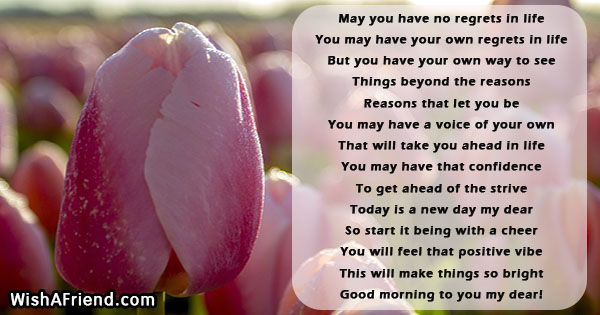 May you have no regrets in life
You may have your own regrets in life
But you have your own way to see
Things beyond the reasons
Reasons that let you be
You may have a voice of your own
That will take you ahead in life
You may have that confidence
To get ahead of the strive
Today is a new day my dear
So start it being with a cheer
You will feel that positive vibe
This will make things so bright
Good morning to you my dear!