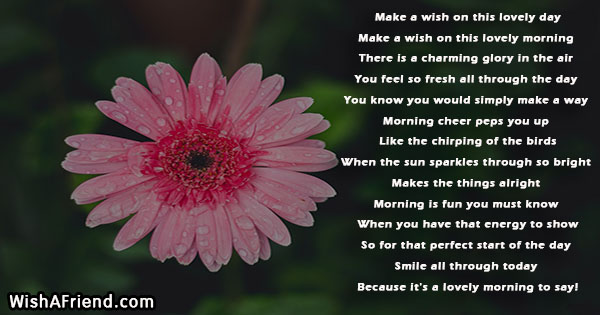 Make a wish on this lovely day
Make a wish on this lovely morning
There is a charming glory in the air
You feel so fresh all through the day
You know you would simply make a way
Morning cheer peps you up
Like the chirping of the birds
When the sun sparkles through so bright
Makes the things alright
Morning is fun you must know
When you have that energy to show
So for that perfect start of the day
Smile all through today
Because it's a lovely morning to say!
Other Popular Good Morning Poems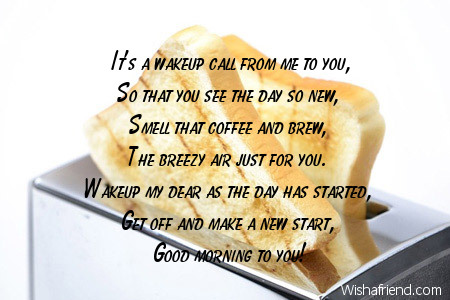 A Wake-up call
It's a wakeup call from me to you,
So that you see the day so new,
Smell that coffee and brew,
The breezy air just for you.
Wakeup my dear as the day has started,
Get off and make a new start,
Good morning to you!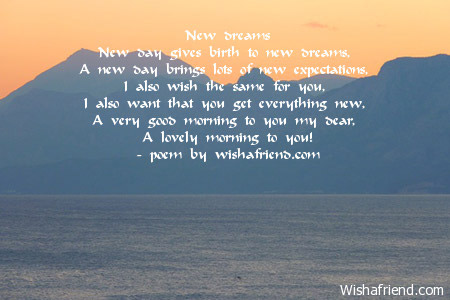 New dreams
New day gives birth to new dreams,
A new day brings lots of new expectations,
I also wish the same for you,
I also want that you get everything new,
A very good morning to you my dear,
A lovely morning to you!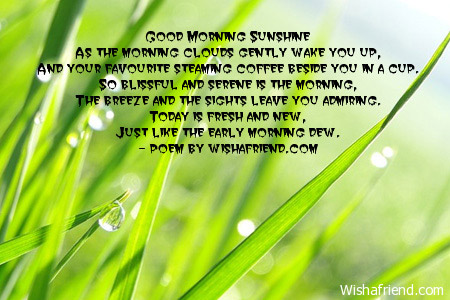 Good Morning Sunshine
As the morning clouds gently wake you up,
And your favourite steaming coffee beside you in a cup.
So blissful and serene is the morning,
The breeze and the sights leave you admiring.
Today is fresh and new,
Just like the early morning dew.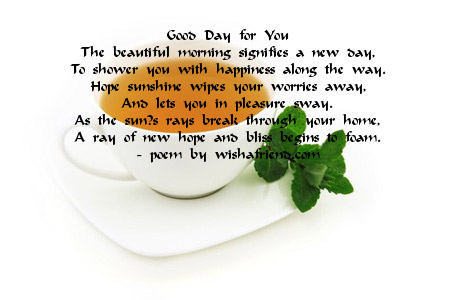 Good Day for You
The beautiful morning signifies a new day,
To shower you with happiness along the way.
Hope sunshine wipes your worries away,
And lets you in pleasure sway.
As the sun's rays break through your home,
A ray of new hope and bliss begins to foam.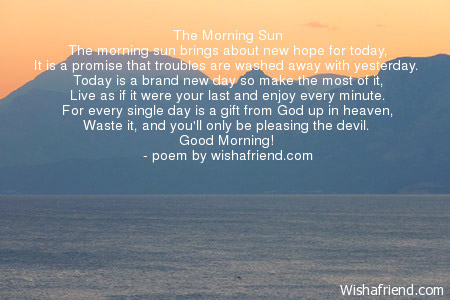 The Morning Sun
The morning sun brings about new hope for today,
It is a promise that troubles are washed away with yesterday.
Today is a brand new day so make the most of it,
Live as if it were your last and enjoy every minute.
For every single day is a gift from God up in heaven,
Waste it, and you'll only be pleasing the devil.
Good Morning!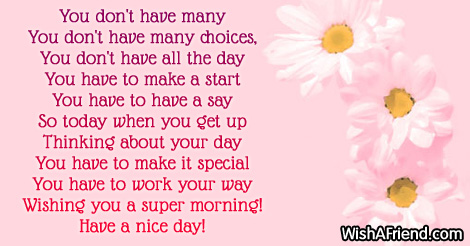 You don't have many
You don't have many choices,
You don't have all the day
You have to make a start
You have to have a say
So today when you get up
Thinking about your day
You have to make it special
You have to work your way
Wishing you a super morning!
Have a nice day!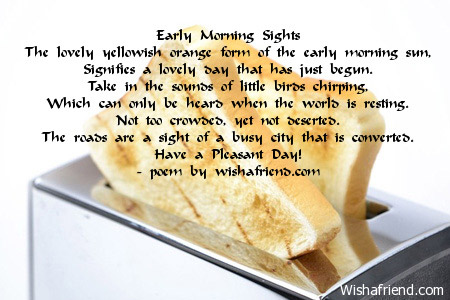 Early Morning Sights
The lovely yellowish orange form of the early morning sun,
Signifies a lovely day that has just begun.
Take in the sounds of little birds chirping,
Which can only be heard when the world is resting.
Not too crowded, yet not deserted.
The roads are a sight of a busy city that is converted.
Have a Pleasant Day!