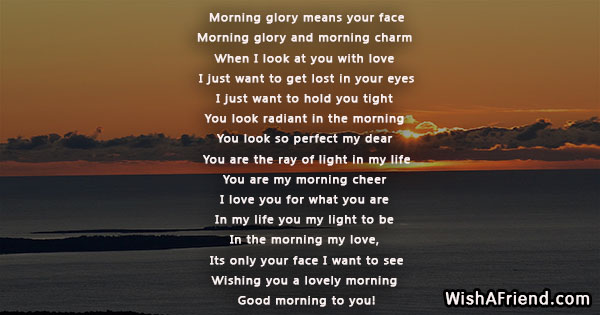 Morning glory means your face
Morning glory and morning charm
When I look at you with love
I just want to get lost in your eyes
I just want to hold you tight
You look radiant in the morning
You look so perfect my dear
You are the ray of light in my life
You are my morning cheer
I love you for what you are
In my life you my light to be
In the morning my love,
Its only your face I want to see
Wishing you a lovely morning
Good morning to you!
Other Popular Good Morning Poems for Her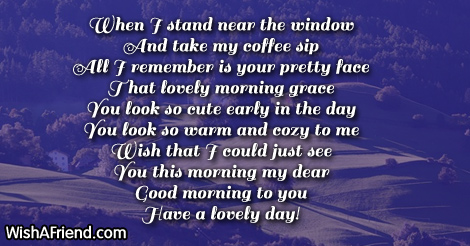 When I stand near the window
When I stand near the window
And take my coffee sip
All I remember is your pretty face
That lovely morning grace
You look so cute early in the day
You look so warm and cozy to me
Wish that I could just see
You this morning my dear
Good morning to you
Have a lovely day!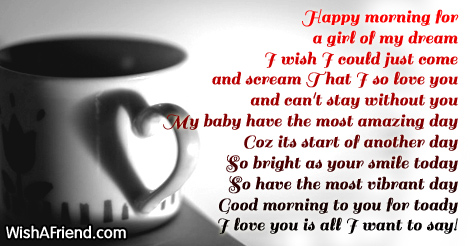 Happy mornings are here for you
Happy morning for a girl of my dream
I wish I could just come and scream
That I so love you and can't stay without you
My baby have the most amazing day
Coz its start of another day
So bright as your smile today
So have the most vibrant day
Good morning to you for toady
I love you is all I want to say!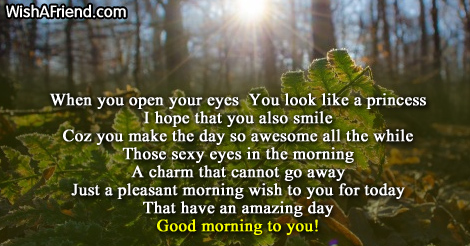 When you open your eyes
When you open your eyes
You look like a princess
I hope that you also smile
Coz you make the day so awesome all the while
Those sexy eyes in the morning
A charm that cannot go away
Just a pleasant morning wish to you for today
That have an amazing day
Good morning to you!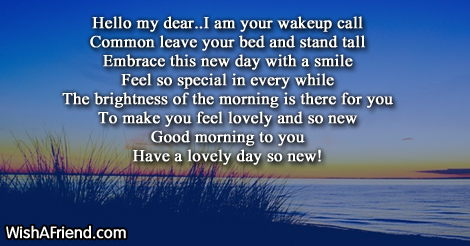 Hello I am your call
Hello my dear..I am your wakeup call
Common leave your bed and stand tall
Embrace this new day with a smile
Feel so special in every while
The brightness of the morning is there for you
To make you feel lovely and so new
Good morning to you
Have a lovely day so new!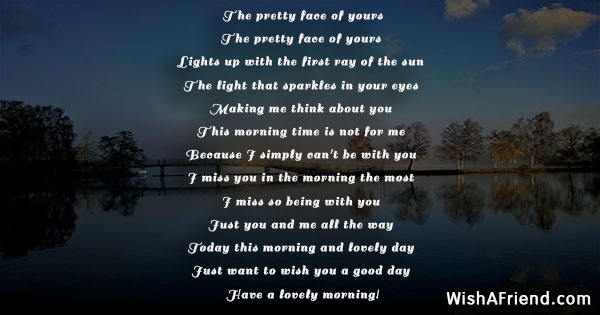 The pretty face of yours
The pretty face of yours
Lights up with the first ray of the sun
The light that sparkles in your eyes
Making me think about you
This morning time is not for me
Because I simply can't be with you
I miss you in the morning the most
I miss so being with you
Just you and me all the way
Today this morning and lovely day
Just want to wish you a good day
Have a lovely morning!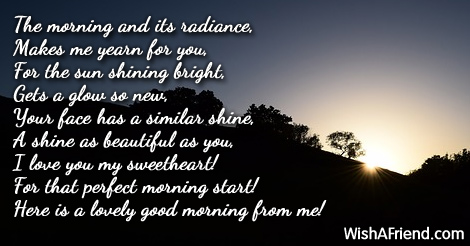 The radiance of morning
The morning and its radiance,
Makes me yearn for you,
For the sun shining bright,
Gets a glow so new,
Your face has a similar shine,
A shine as beautiful as you,
I love you my sweetheart!
For that perfect morning start!
Here is a lovely good morning from me!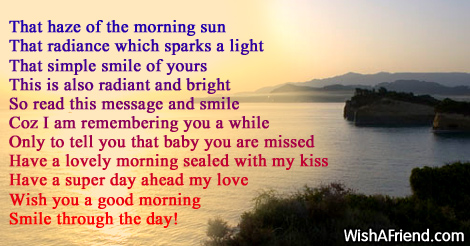 That haze in the morning
That haze of the morning sun
That radiance which sparks a light
That simple smile of yours
This is also radiant and bright
So read this message and smile
Coz I am remembering you a while
Only to tell you that baby you are missed
Have a lovely morning sealed with my kiss
Have a super day ahead my love
Wish you a good morning
Smile through the day!