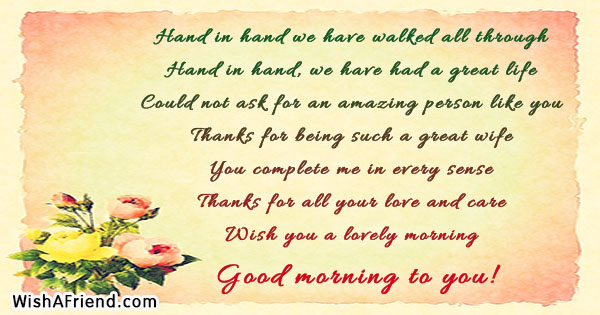 Hand in hand we have walked all through
Hand in hand, we have had a great life
Could not ask for an amazing person like you
Thanks for being such a great wife
You complete me in every sense
Thanks for all your love and care
Wish you a lovely morning
Good morning to you!
Other Popular Good Morning Messages For Wife
There is no one proof for your undying love in life
And I need no evidence to strive
One thing that is more than enough for me
Is the way you are always there for me
Just want to say a wonderful thank you
Early this morning to you
Wish you good morning!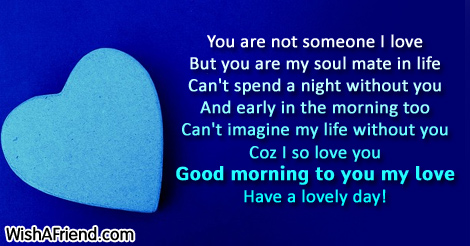 You are not someone I love
But you are my soul mate in life
Can't spend a night without you
And early in the morning too
Can't imagine my life without you
Coz I so love you
Good morning to you my love
Have a lovely day!
My heart is always with you
Early in the day when I look at you
You look so pretty oh my lovely
I feel like hugging you tight
When I see you early morning
I feel a different delight,
I love you so much
Wishing you a lovely morning
Good morning!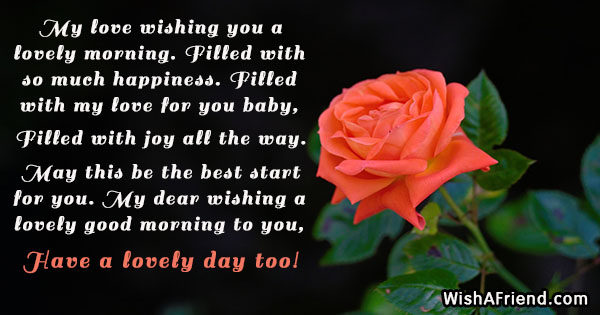 My love wishing you a lovely morning
Filled with so much happiness
Filled with my love for you baby
Filled with joy all the way
May this be the best start for you
My dear wishing a lovely good morning to you
Have a lovely day too!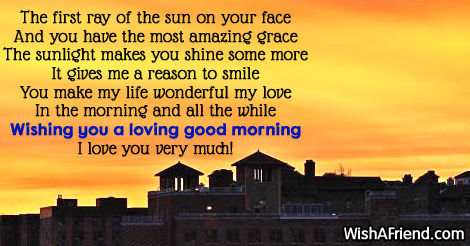 The first ray of the sun on your face
And you have the most amazing grace
The sunlight makes you shine some more
It gives me a reason to smile
You make my life wonderful my love
In the morning and all the while
Wishing you a loving good morning
I love you very much!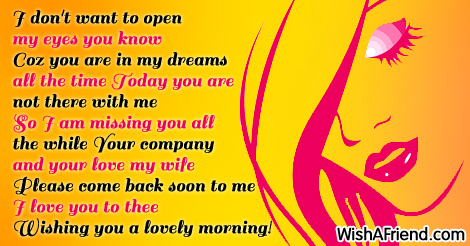 I don't want to open my eyes you know
Coz you are in my dreams all the time
Today you are not there with me
So I am missing you all the while
Your company and your love my wife
Please come back soon to me
I love you to thee
Wishing you a lovely morning!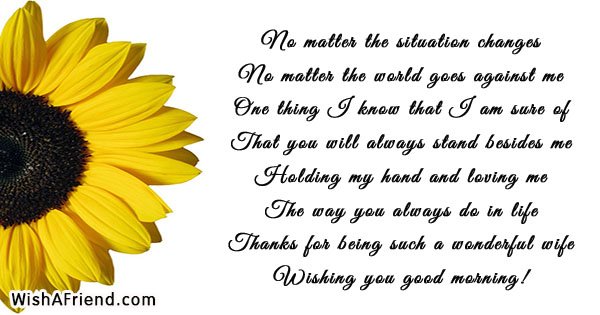 No matter the situation changes
No matter the world goes against me
One thing I know that I am sure of
That you will always stand besides me
Holding my hand and loving me
The way you always do in life
Thanks for being such a wonderful wife
Wishing you good morning!