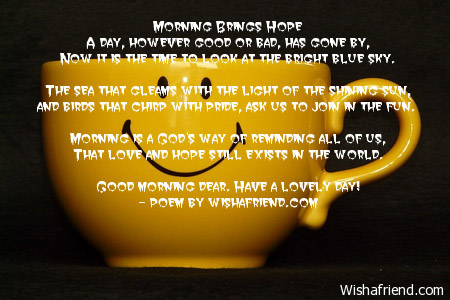 Morning Brings Hope
A day, however good or bad, has gone by,
Now it is the time to look at the bright blue sky.
The sea that gleams with the light of the shining sun,
and birds that chirp with pride, ask us to join in the fun.
Morning is a God's way of reminding all of us,
That love and hope still exists in the world.
Good morning dear. Have a lovely day!
Other Popular Good Morning Poems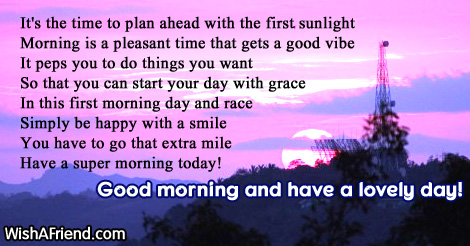 It is a great time
It's the time to plan ahead with the first sunlight
Morning is a pleasant time that gets a good vibe
It peps you to do things you want
So that you can start your day with grace
In this first morning day and race
Simply be happy with a smile
You have to go that extra mile
Have a super morning today!
Good morning and have a lovely day!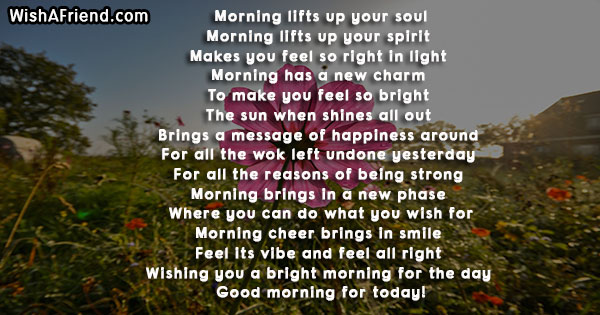 Morning lifts up your soul
Morning lifts up your spirit
Makes you feel so right in light
Morning has a new charm
To make you feel so bright
The sun when shines all out
Brings a message of happiness around
For all the wok left undone yesterday
For all the reasons of being strong
Morning brings in a new phase
Where you can do what you wish for
Morning cheer brings in smile
Feel its vibe and feel all right
Wishing you a bright morning for the day
Good morning for today!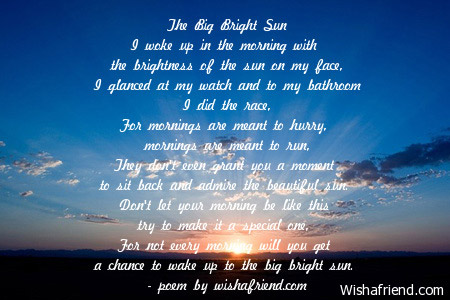 The Big Bright Sun
I woke up in the morning with
the brightness of the sun on my face,
I glanced at my watch and to my bathroom
I did the race,
For mornings are meant to hurry,
mornings are meant to run,
They don't even grant you a moment
to sit back and admire the beautiful sun.
Don't let your morning be like this
try to make it a special one,
For not every morning will you get a chance to wake up to the big bright sun.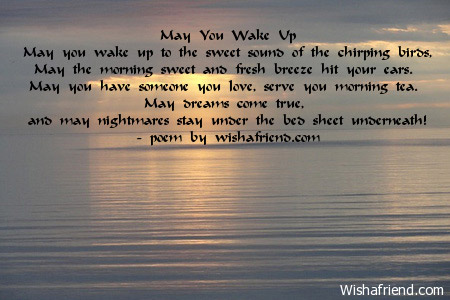 May You Wake Up
May you wake up to the sweet sound of the chirping birds,
May the morning sweet and fresh breeze hit your ears.
May you have someone you love, serve you morning tea.
May dreams come true,
and may nightmares stay under the bed sheet underneath!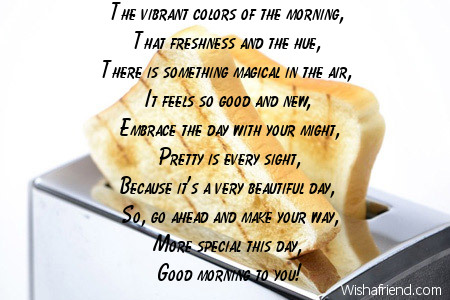 The colors of morning
The vibrant colors of the morning,
That freshness and the hue,
There is something magical in the air,
It feels so good and new,
Embrace the day with your might,
Pretty is every sight,
Because it's a very beautiful day,
So, go ahead and make your way,
More special this day,
Good morning to you!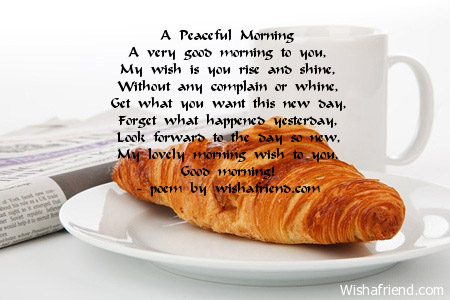 A Peaceful Morning
A very good morning to you,
My wish is you rise and shine,
Without any complain or whine,
Get what you want this new day,
Forget what happened yesterday,
Look forward to the day so new,
My lovely morning wish to you,
Good morning!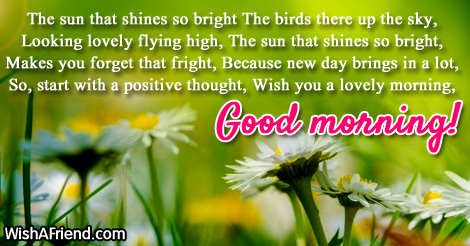 The sun that shines so bright
The birds there up the sky,
Looking lovely flying high,
The sun that shines so bright,
Makes you forget that fright,
Because new day brings in a lot,
So, start with a positive thought,
Wish you a lovely morning,
Good morning!