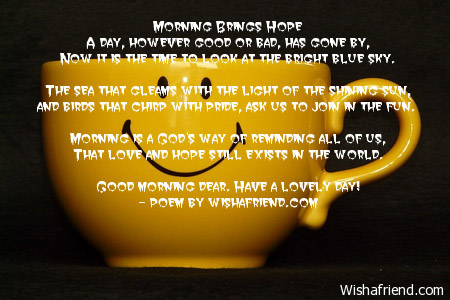 Morning Brings Hope
A day, however good or bad, has gone by,
Now it is the time to look at the bright blue sky.
The sea that gleams with the light of the shining sun,
and birds that chirp with pride, ask us to join in the fun.
Morning is a God's way of reminding all of us,
That love and hope still exists in the world.
Good morning dear. Have a lovely day!
Other Popular Good Morning Poems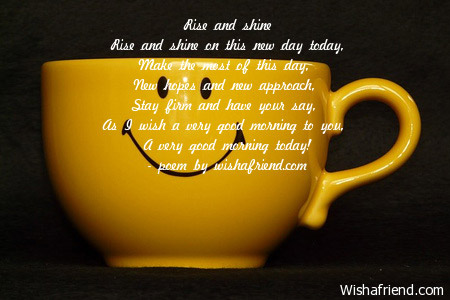 Rise and shine
Rise and shine on this new day today,
Make the most of this day,
New hopes and new approach,
Stay firm and have your say,
As I wish a very good morning to you,
A very good morning today!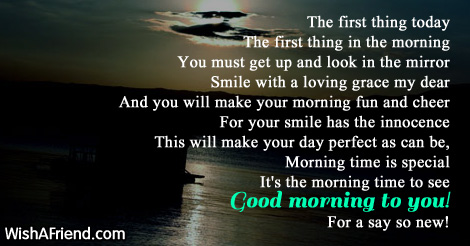 The first thing today
The first thing in the morning
You must get up and look in the mirror
Smile with a loving grace my dear
And you will make your morning fun and cheer
For your smile has the innocence
This will make your day perfect as can be,
Morning time is special
It's the morning time to see
Good morning to you!
For a say so new!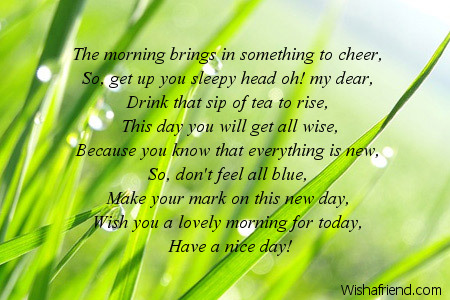 Something to cheer
The morning brings in something to cheer,
So, get up you sleepy head oh! my dear,
Drink that sip of tea to rise,
This day you will get all wise,
Because you know that everything is new,
So, don't feel all blue,
Make your mark on this new day,
Wish you a lovely morning for today,
Have a nice day!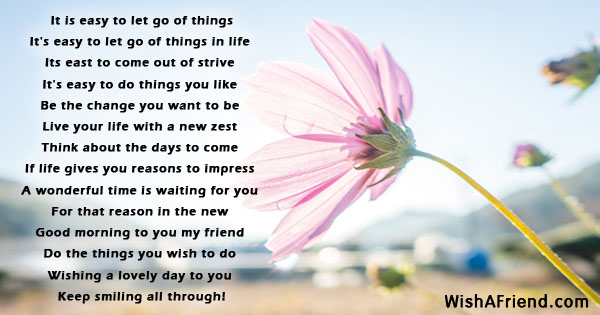 It is easy to let go of things
It's easy to let go of things in life
Its east to come out of strive
It's easy to do things you like
Be the change you want to be
Live your life with a new zest
Think about the days to come
If life gives you reasons to impress
A wonderful time is waiting for you
For that reason in the new
Good morning to you my friend
Do the things you wish to do
Wishing a lovely day to you
Keep smiling all through!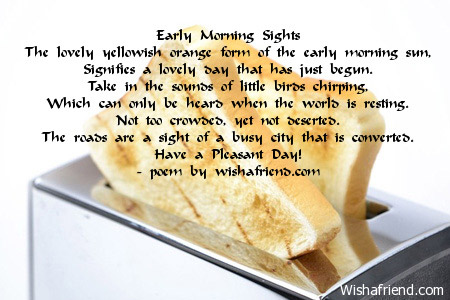 Early Morning Sights
The lovely yellowish orange form of the early morning sun,
Signifies a lovely day that has just begun.
Take in the sounds of little birds chirping,
Which can only be heard when the world is resting.
Not too crowded, yet not deserted.
The roads are a sight of a busy city that is converted.
Have a Pleasant Day!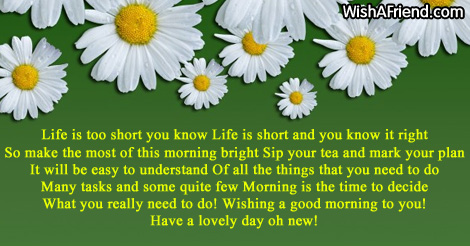 Life is too short you know
Life is short and you know it right
So make the most of this morning bright
Sip your tea and mark your plan
It will be easy to understand
Of all the things that you need to do
Many tasks and some quite few
Morning is the time to decide
What you really need to do!
Wishing a good morning to you!
Have a lovely day oh new!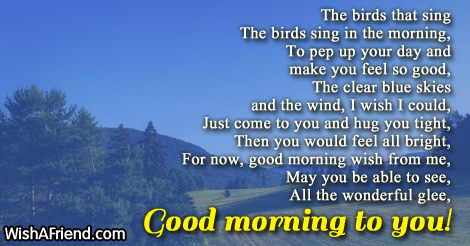 The birds that sing
The birds sing in the morning,
To pep up your day and make you feel so good,
The clear blue skies and the wind,
I wish I could,
Just come to you and hug you tight,
Then you would feel all bright,
For now, good morning wish from me,
May you be able to see,
All the wonderful glee,
Good morning to you!