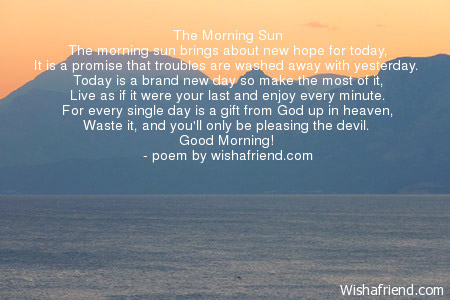 The Morning Sun
The morning sun brings about new hope for today,
It is a promise that troubles are washed away with yesterday.
Today is a brand new day so make the most of it,
Live as if it were your last and enjoy every minute.
For every single day is a gift from God up in heaven,
Waste it, and you'll only be pleasing the devil.
Good Morning!
Other Popular Good Morning Poems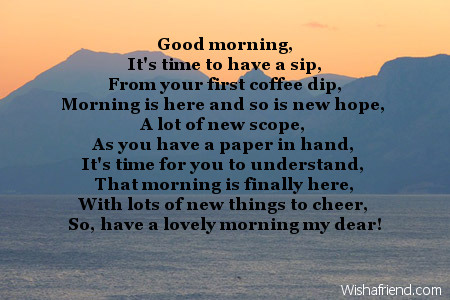 Morning fun
Good morning,
It's time to have a sip,
From your first coffee dip,
Morning is here and so is new hope,
A lot of new scope,
As you have a paper in hand,
It's time for you to understand,
That morning is finally here,
With lots of new things to cheer,
So, have a lovely morning my dear!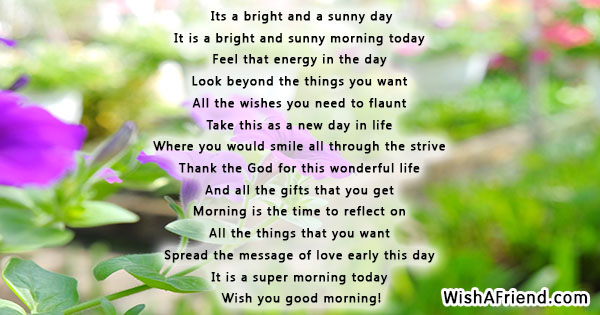 Its a bright and a sunny day
It is a bright and sunny morning today
Feel that energy in the day
Look beyond the things you want
All the wishes you need to flaunt
Take this as a new day in life
Where you would smile all through the strive
Thank the God for this wonderful life
And all the gifts that you get
Morning is the time to reflect on
All the things that you want
Spread the message of love early this day
It is a super morning today
Wish you good morning!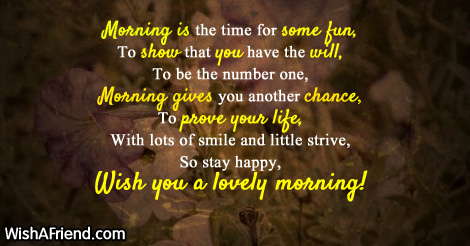 Time for some fun
Morning is the time for some fun,
To show that you have the will,
To be the number one,
Morning gives you another chance,
To prove your life,
With lots of smile and little strive,
So stay happy,
Wish you a lovely morning!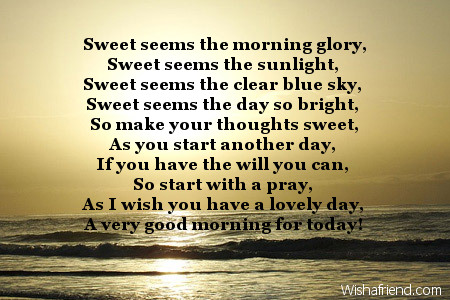 Morning cheer
Sweet seems the morning glory,
Sweet seems the sunlight,
Sweet seems the clear blue sky,
Sweet seems the day so bright,
So make your thoughts sweet,
As you start another day,
If you have the will you can,
So start with a pray,
As I wish you have a lovely day,
A very good morning for today!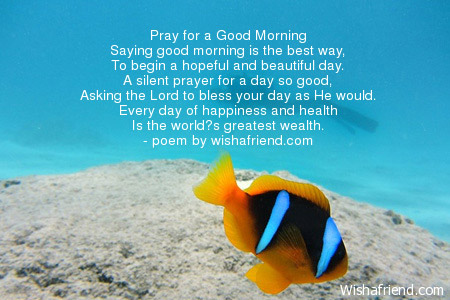 Pray for a Good Morning
Saying good morning is the best way,
To begin a hopeful and beautiful day.
A silent prayer for a day so good,
Asking the Lord to bless your day as He would.
Every day of happiness and health
Is the world's greatest wealth.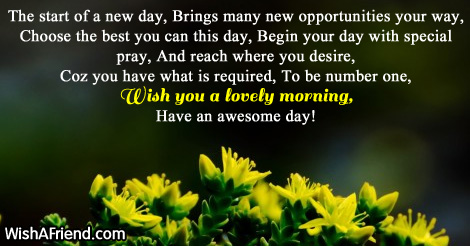 New start for the day
The start of a new day,
Brings many new opportunities your way,
Choose the best you can this day,
Begin your day with special pray,
And reach where you desire,
Coz you have what is required,
To be number one,
Wish you a lovely morning,
Have an awesome day!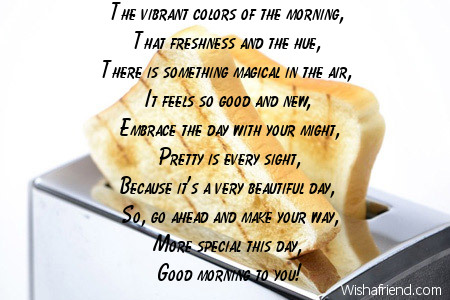 The colors of morning
The vibrant colors of the morning,
That freshness and the hue,
There is something magical in the air,
It feels so good and new,
Embrace the day with your might,
Pretty is every sight,
Because it's a very beautiful day,
So, go ahead and make your way,
More special this day,
Good morning to you!