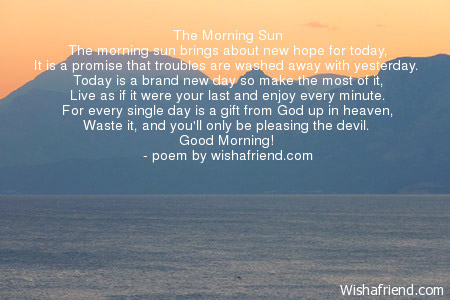 The Morning Sun
The morning sun brings about new hope for today,
It is a promise that troubles are washed away with yesterday.
Today is a brand new day so make the most of it,
Live as if it were your last and enjoy every minute.
For every single day is a gift from God up in heaven,
Waste it, and you'll only be pleasing the devil.
Good Morning!
Other Popular Good Morning Poems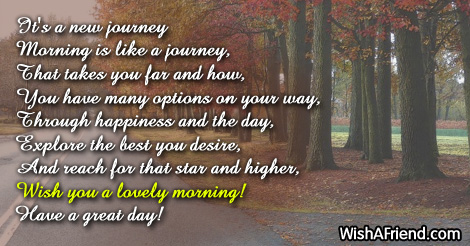 It's a new journey
Morning is like a journey,
That takes you far and how,
You have many options on your way,
Through happiness and the day,
Explore the best you desire,
And reach for that star and higher,
Wish you a lovely morning!
Have a great day!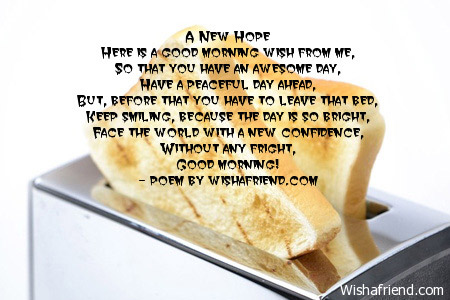 A New Hope
Here is a good morning wish from me,
So that you have an awesome day,
Have a peaceful day ahead,
But, before that you have to leave that bed,
Keep smiling, because the day is so bright,
Face the world with a new confidence,
Without any fright,
Good morning!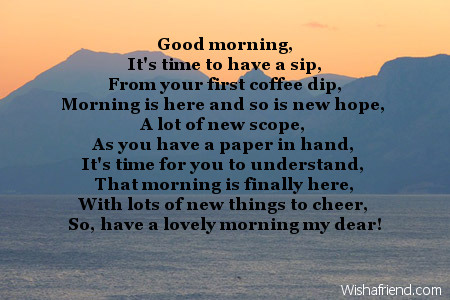 Morning fun
Good morning,
It's time to have a sip,
From your first coffee dip,
Morning is here and so is new hope,
A lot of new scope,
As you have a paper in hand,
It's time for you to understand,
That morning is finally here,
With lots of new things to cheer,
So, have a lovely morning my dear!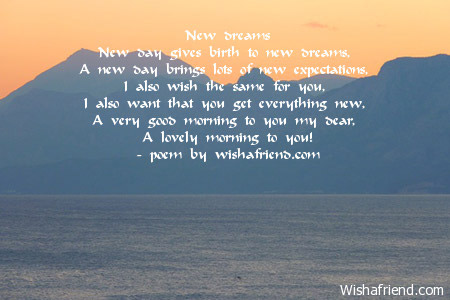 New dreams
New day gives birth to new dreams,
A new day brings lots of new expectations,
I also wish the same for you,
I also want that you get everything new,
A very good morning to you my dear,
A lovely morning to you!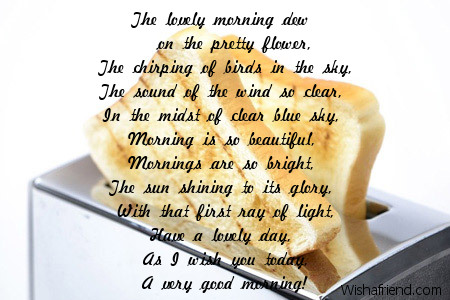 Lovely morning
The lovely morning dew on the pretty flower,
The chirping of birds in the sky,
The sound of the wind so clear,
In the midst of clear blue sky,
Morning is so beautiful,
Mornings are so bright,
The sun shining to its glory,
With that first ray of light,
Have a lovely day,
As I wish you today,
A very good morning!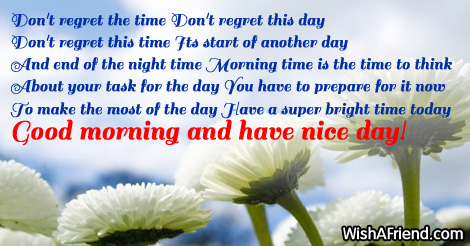 Don't regret the time
Don't regret this day
Don't regret this time
Its start of another day
And end of the night time
Morning time is the time to think
About your task for the day
You have to prepare for it now
To make the most of the day
Have a super bright time today
Good morning and have nice day!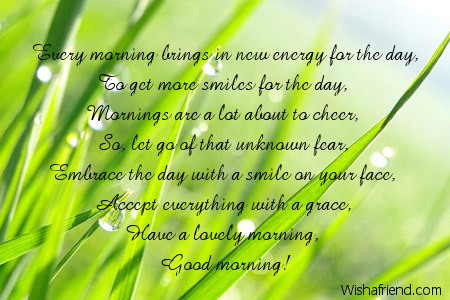 Each morning is new
Every morning brings in new energy for the day,
To get more smiles for the day,
Mornings are a lot about to cheer,
So, let go of that unknown fear,
Embrace the day with a smile on your face,
Accept everything with a grace,
Have a lovely morning,
Good morning!