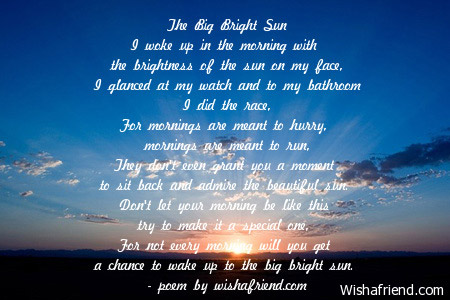 The Big Bright Sun
I woke up in the morning with
the brightness of the sun on my face,
I glanced at my watch and to my bathroom
I did the race,
For mornings are meant to hurry,
mornings are meant to run,
They don't even grant you a moment
to sit back and admire the beautiful sun.
Don't let your morning be like this
try to make it a special one,
For not every morning will you get a chance to wake up to the big bright sun.
Other Popular Good Morning Poems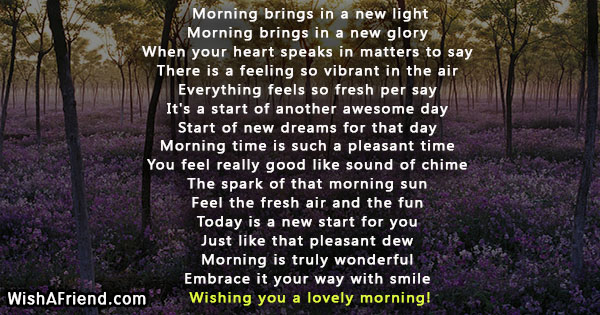 Morning brings in a new light
Morning brings in a new glory
When your heart speaks in matters to say
There is a feeling so vibrant in the air
Everything feels so fresh per say
It's a start of another awesome day
Start of new dreams for that day
Morning time is such a pleasant time
You feel really good like sound of chime
The spark of that morning sun
Feel the fresh air and the fun
Today is a new start for you
Just like that pleasant dew
Morning is truly wonderful
Embrace it your way with smile
Wishing you a lovely morning!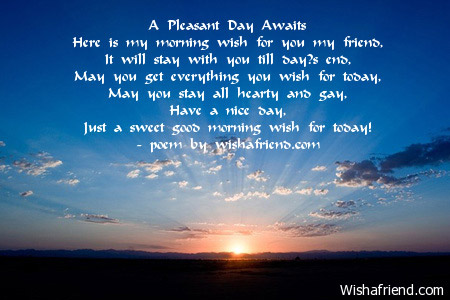 A Pleasant Day Awaits
Here is my morning wish for you my friend,
It will stay with you till day's end,
May you get everything you wish for today,
May you stay all hearty and gay,
Have a nice day,
Just a sweet good morning wish for today!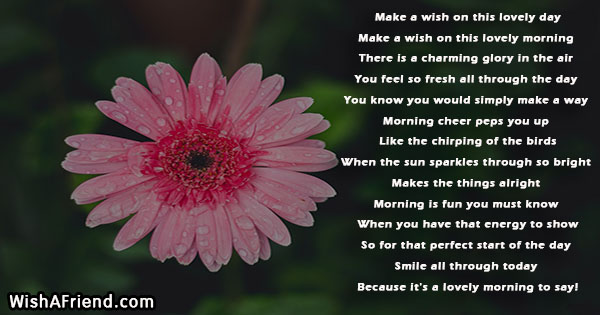 Make a wish on this lovely day
Make a wish on this lovely morning
There is a charming glory in the air
You feel so fresh all through the day
You know you would simply make a way
Morning cheer peps you up
Like the chirping of the birds
When the sun sparkles through so bright
Makes the things alright
Morning is fun you must know
When you have that energy to show
So for that perfect start of the day
Smile all through today
Because it's a lovely morning to say!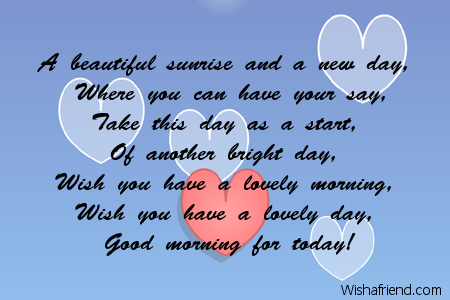 A beautiful day
A beautiful sunrise and a new day,
Where you can have your say,
Take this day as a start,
Of another bright day,
Wish you have a lovely morning,
Wish you have a lovely day,
Good morning for today!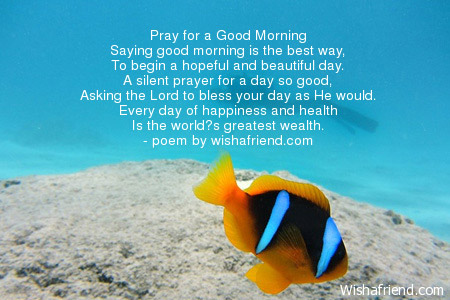 Pray for a Good Morning
Saying good morning is the best way,
To begin a hopeful and beautiful day.
A silent prayer for a day so good,
Asking the Lord to bless your day as He would.
Every day of happiness and health
Is the world's greatest wealth.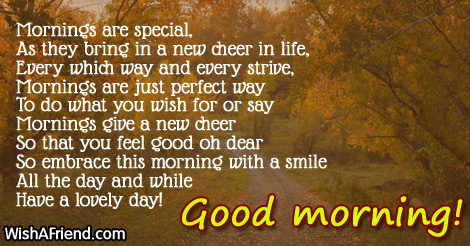 It is truly special
Mornings are special,
As they bring in a new cheer in life,
Every which way and every strive,
Mornings are just perfect way
To do what you wish for or say
Mornings give a new cheer
So that you feel good oh dear
So embrace this morning with a smile
All the day and while
Have a lovely day!
Good morning!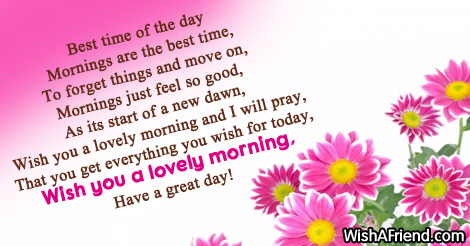 Best time of the day
Mornings are the best time,
To forget things and move on,
Mornings just feel so good,
As its start of a new dawn,
Wish you a lovely morning and I will pray,
That you get everything you wish for today,
Wish you a lovely morning,
Have a great day!