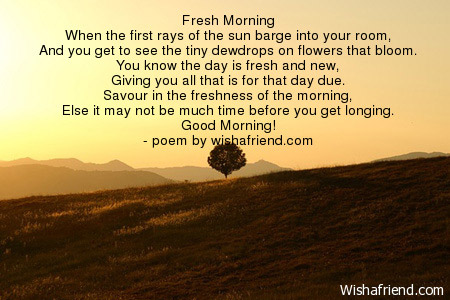 Fresh Morning
When the first rays of the sun barge into your room,
And you get to see the tiny dewdrops on flowers that bloom.
You know the day is fresh and new,
Giving you all that is for that day due.
Savour in the freshness of the morning,
Else it may not be much time before you get longing.
Good Morning!
Other Popular Good Morning Poems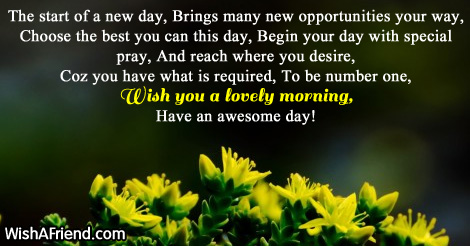 New start for the day
The start of a new day,
Brings many new opportunities your way,
Choose the best you can this day,
Begin your day with special pray,
And reach where you desire,
Coz you have what is required,
To be number one,
Wish you a lovely morning,
Have an awesome day!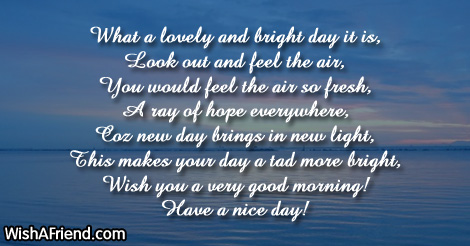 A lovely day
What a lovely and bright day it is,
Look out and feel the air,
You would feel the air so fresh,
A ray of hope everywhere,
Coz new day brings in new light,
This makes your day a tad more bright,
Wish you a very good morning!
Have a nice day!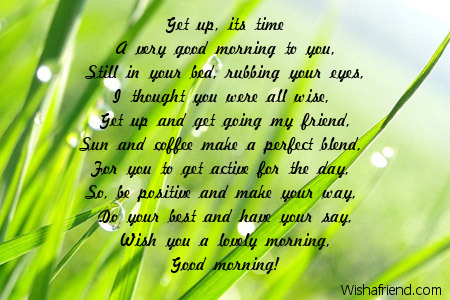 Get up, its time
A very good morning to you,
Still in your bed, rubbing your eyes,
I thought you were all wise,
Get up and get going my friend,
Sun and coffee make a perfect blend,
For you to get active for the day,
So, be positive and make your way,
Do your best and have your say,
Wish you a lovely morning,
Good morning!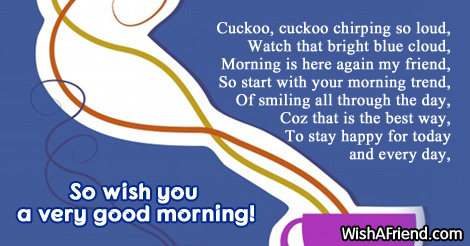 Chirping of birds
Cuckoo, cuckoo chirping so loud,
Watch that bright blue cloud,
Morning is here again my friend,
So start with your morning trend,
Of smiling all through the day,
Coz that is the best way,
To stay happy for today and every day,
So wish you a very good morning!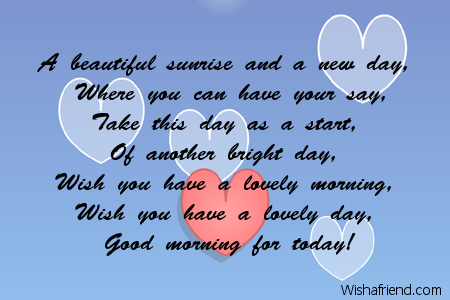 A beautiful day
A beautiful sunrise and a new day,
Where you can have your say,
Take this day as a start,
Of another bright day,
Wish you have a lovely morning,
Wish you have a lovely day,
Good morning for today!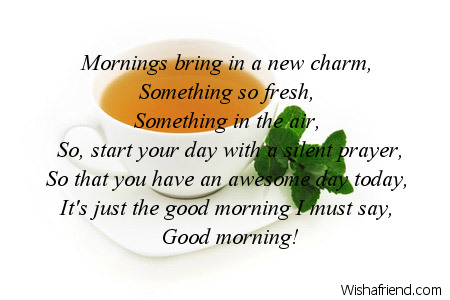 A New charm each day
Mornings bring in a new charm,
Something so fresh,
Something in the air,
So, start your day with a silent prayer,
So that you have an awesome day today,
It's just the good morning I must say,
Good morning!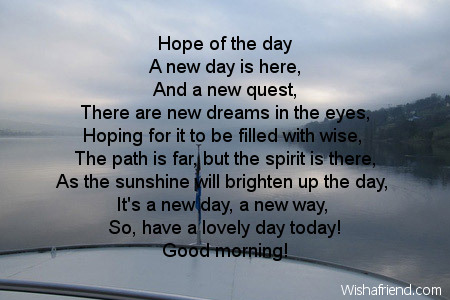 Hope of the day
A new day is here,
And a new quest,
There are new dreams in the eyes,
Hoping for it to be filled with wise,
The path is far, but the spirit is there,
As the sunshine will brighten up the day,
It's a new day, a new way,
So, have a lovely day today!
Good morning!