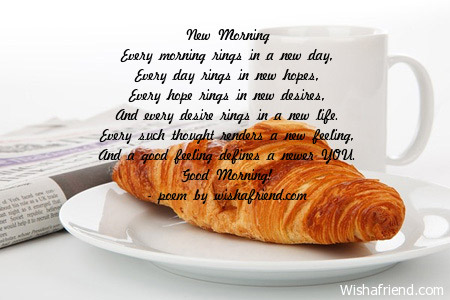 New Morning
Every morning rings in a new day,
Every day rings in new hopes,
Every hope rings in new desires,
And every desire rings in a new life.
Every such thought renders a new feeling,
And a good feeling defines a newer YOU.
Good Morning!
Other Popular Good Morning Poems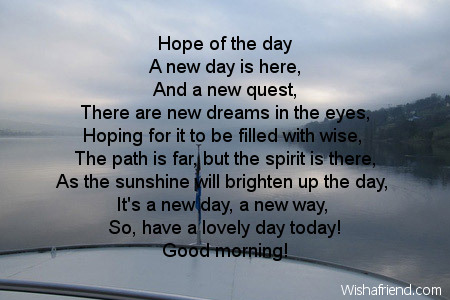 Hope of the day
A new day is here,
And a new quest,
There are new dreams in the eyes,
Hoping for it to be filled with wise,
The path is far, but the spirit is there,
As the sunshine will brighten up the day,
It's a new day, a new way,
So, have a lovely day today!
Good morning!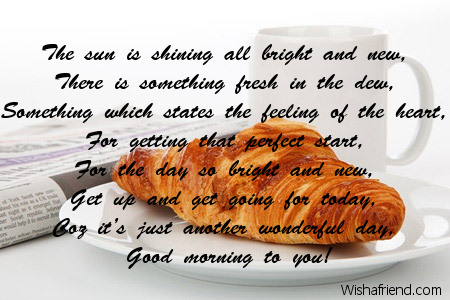 The sun that is bright
The sun is shining all bright and new,
There is something fresh in the dew,
Something which states the feeling of the heart,
For getting that perfect start,
For the day so bright and new,
Get up and get going for today,
Coz it's just another wonderful day,
Good morning to you!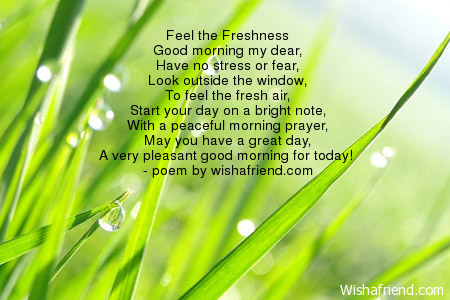 Feel the Freshness
Good morning my dear,
Have no stress or fear,
Look outside the window,
To feel the fresh air,
Start your day on a bright note,
With a peaceful morning prayer,
May you have a great day,
A very pleasant good morning for today!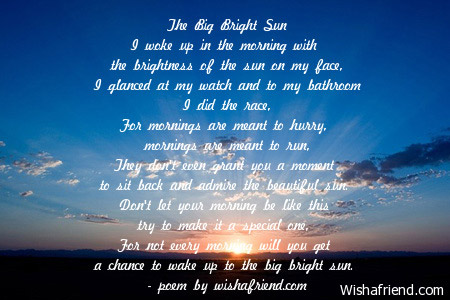 The Big Bright Sun
I woke up in the morning with
the brightness of the sun on my face,
I glanced at my watch and to my bathroom
I did the race,
For mornings are meant to hurry,
mornings are meant to run,
They don't even grant you a moment
to sit back and admire the beautiful sun.
Don't let your morning be like this
try to make it a special one,
For not every morning will you get a chance to wake up to the big bright sun.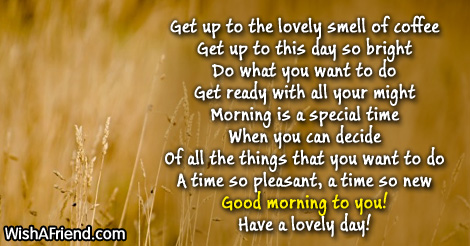 Get up and smell
Get up to the lovely smell of coffee
Get up to this day so bright
Do what you want to do
Get ready with all your might
Morning is a special time
When you can decide
Of all the things that you want to do
A time so pleasant, a time so new
Good morning to you!
Have a lovely day!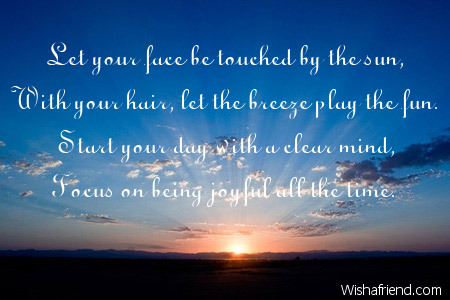 The Morning Nature
Let your face be touched by the sun,
With your hair, let the breeze play the fun.
Start your day with a clear mind,
Focus on being joyful all the time.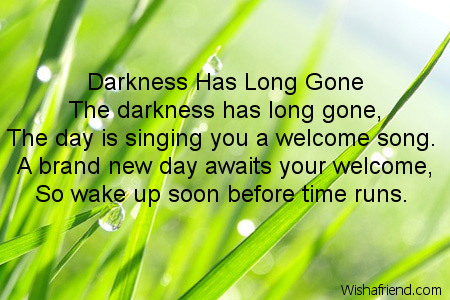 Darkness Has Long Gone
The darkness has long gone,
The day is singing you a welcome song.
A brand new day awaits your welcome,
So wake up soon before time runs.