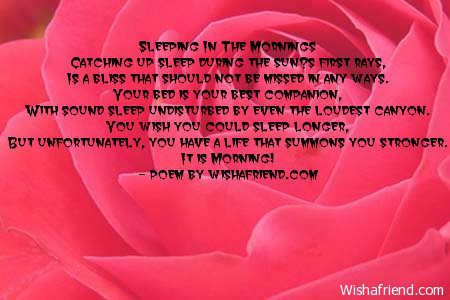 Sleeping In The Mornings
Catching up sleep during the sun's first rays,
Is a bliss that should not be missed in any ways.
Your bed is your best companion,
With sound sleep undisturbed by even the loudest canyon.
You wish you could sleep longer,
But unfortunately, you have a life that summons you stronger.
It is Morning!
Other Popular Good Morning Poems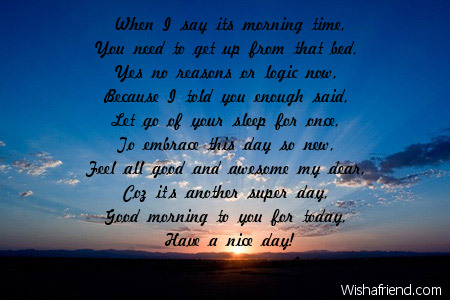 When I wish you
When I say its morning time,
You need to get up from that bed,
Yes no reasons or logic now,
Because I told you enough said,
Let go of your sleep for once,
To embrace this day so new,
Feel all good and awesome my dear,
Coz it's another super day,
Good morning to you for today,
Have a nice day!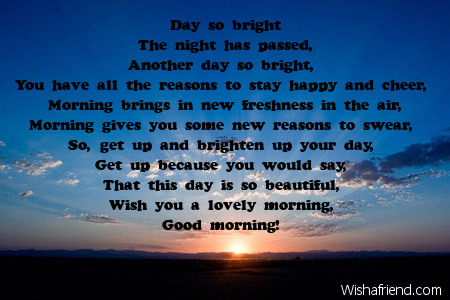 Day so bright
The night has passed,
Another day so bright,
You have all the reasons to stay happy and cheer,
Morning brings in new freshness in the air,
Morning gives you some new reasons to swear,
So, get up and brighten up your day,
Get up because you would say,
That this day is so beautiful,
Wish you a lovely morning,
Good morning!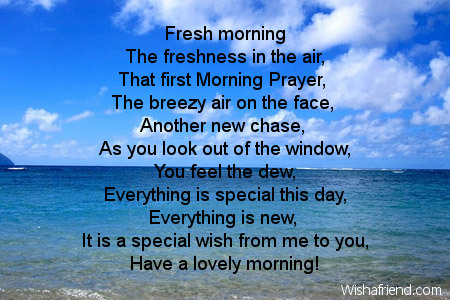 Fresh morning
The freshness in the air,
That first Morning Prayer,
The breezy air on the face,
Another new chase,
As you look out of the window,
You feel the dew,
Everything is special this day,
Everything is new,
It is a special wish from me to you,
Have a lovely morning!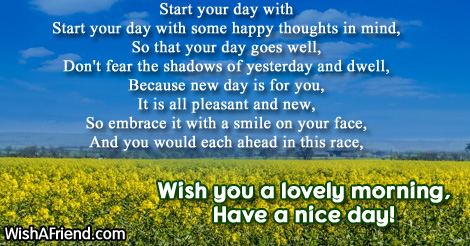 Start your day with
Start your day with some happy thoughts in mind,
So that your day goes well,
Don't fear the shadows of yesterday and dwell,
Because new day is for you,
It is all pleasant and new,
So embrace it with a smile on your face,
And you would each ahead in this race,
Wish you a lovely morning,
Have a nice day!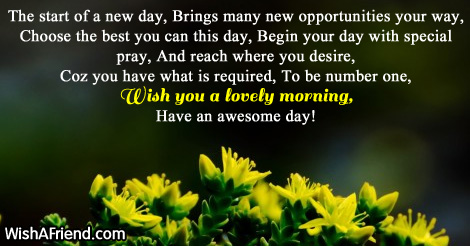 New start for the day
The start of a new day,
Brings many new opportunities your way,
Choose the best you can this day,
Begin your day with special pray,
And reach where you desire,
Coz you have what is required,
To be number one,
Wish you a lovely morning,
Have an awesome day!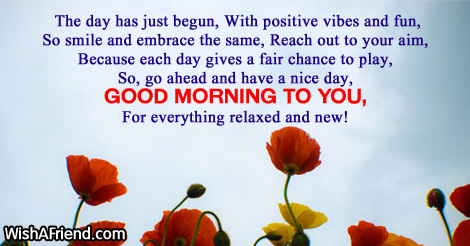 The day has just started
The day has just begun,
With positive vibes and fun,
So smile and embrace the same,
Reach out to your aim,
Because each day gives a fair chance to play,
So, go ahead and have a nice day,
Good morning to you,
For everything relaxed and new!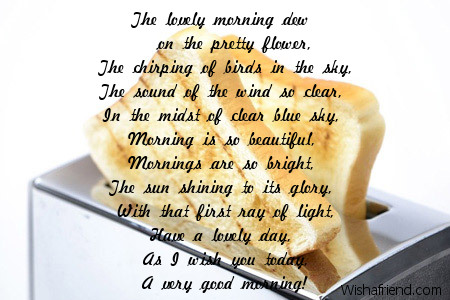 Lovely morning
The lovely morning dew on the pretty flower,
The chirping of birds in the sky,
The sound of the wind so clear,
In the midst of clear blue sky,
Morning is so beautiful,
Mornings are so bright,
The sun shining to its glory,
With that first ray of light,
Have a lovely day,
As I wish you today,
A very good morning!