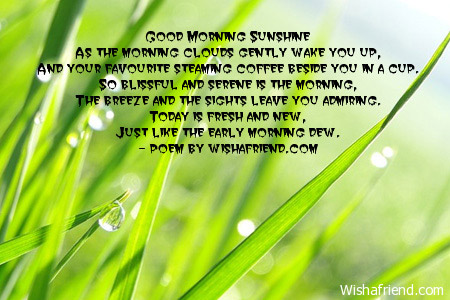 Good Morning Sunshine
As the morning clouds gently wake you up,
And your favourite steaming coffee beside you in a cup.
So blissful and serene is the morning,
The breeze and the sights leave you admiring.
Today is fresh and new,
Just like the early morning dew.
Other Popular Good Morning Poems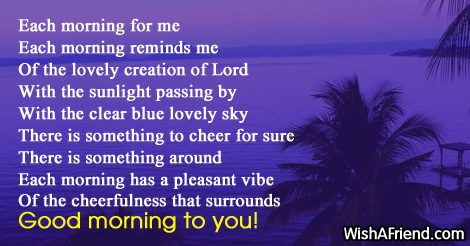 Each morning for me
Each morning reminds me
Of the lovely creation of Lord
With the sunlight passing by
With the clear blue lovely sky
There is something to cheer for sure
There is something around
Each morning has a pleasant vibe
Of the cheerfulness that surrounds
Good morning to you!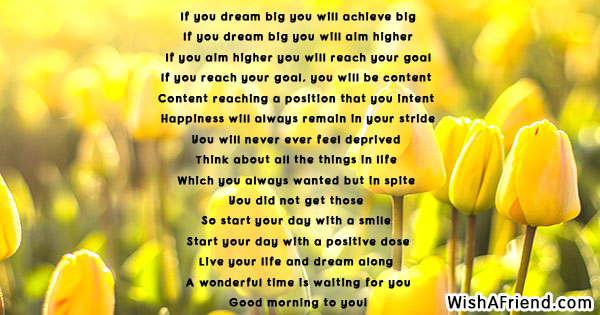 If you dream big you will achieve big
If you dream big you will aim higher
If you aim higher you will reach your goal
If you reach your goal, you will be content
Content reaching a position that you intent
Happiness will always remain in your stride
You will never ever feel deprived
Think about all the things in life
Which you always wanted but in spite
You did not get those
So start your day with a smile
Start your day with a positive dose
Live your life and dream along
A wonderful time is waiting for you
Good morning to you!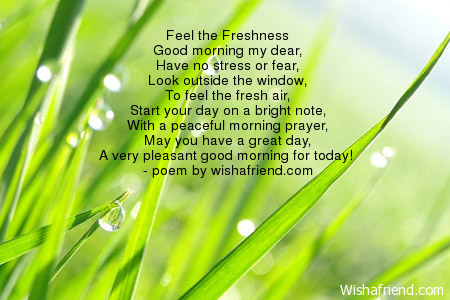 Feel the Freshness
Good morning my dear,
Have no stress or fear,
Look outside the window,
To feel the fresh air,
Start your day on a bright note,
With a peaceful morning prayer,
May you have a great day,
A very pleasant good morning for today!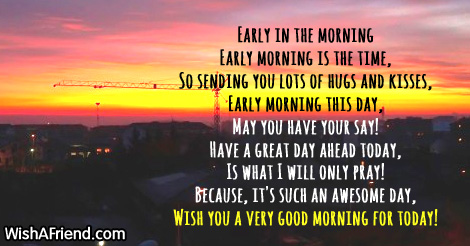 Early in the morning
Early morning is the time,
So sending you lots of hugs and kisses,
Early morning this day,
May you have your say!
Have a great day ahead today,
Is what I will only pray!
Because, it's such an awesome day,
Wish you a very good morning for today!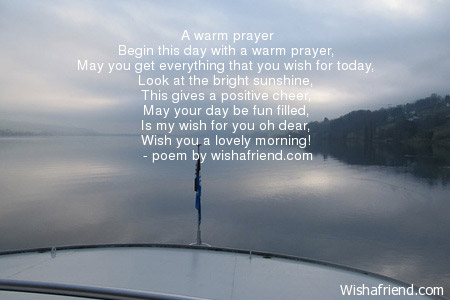 A warm prayer
Begin this day with a warm prayer,
May you get everything that you wish for today,
Look at the bright sunshine,
This gives a positive cheer,
May your day be fun filled,
Is my wish for you oh dear,
Wish you a lovely morning!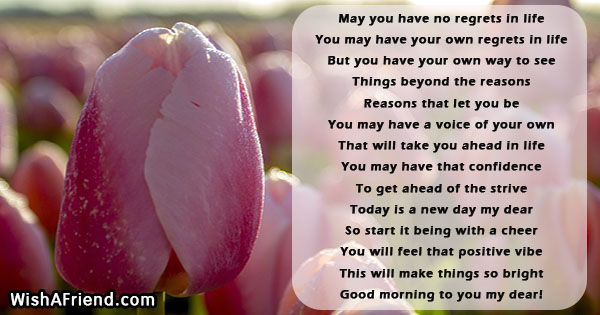 May you have no regrets in life
You may have your own regrets in life
But you have your own way to see
Things beyond the reasons
Reasons that let you be
You may have a voice of your own
That will take you ahead in life
You may have that confidence
To get ahead of the strive
Today is a new day my dear
So start it being with a cheer
You will feel that positive vibe
This will make things so bright
Good morning to you my dear!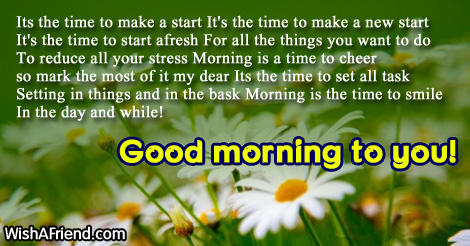 Its the time to make a start
It's the time to make a new start
It's the time to start afresh
For all the things you want to do
To reduce all your stress
Morning is a time to cheer
so mark the most of it my dear
Its the time to set all task
Setting in things and in the bask
Morning is the time to smile
In the day and while!
Good morning to you!