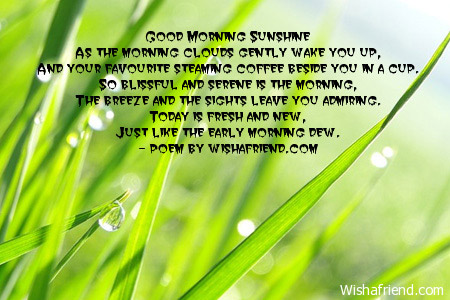 Good Morning Sunshine
As the morning clouds gently wake you up,
And your favourite steaming coffee beside you in a cup.
So blissful and serene is the morning,
The breeze and the sights leave you admiring.
Today is fresh and new,
Just like the early morning dew.
Other Popular Good Morning Poems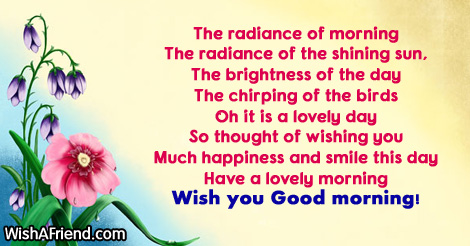 The radiance of morning
The radiance of the shining sun,
The brightness of the day
The chirping of the birds
Oh it is a lovely day
So thought of wishing you
Much happiness and smile this day
Have a lovely morning
Wish you Good morning!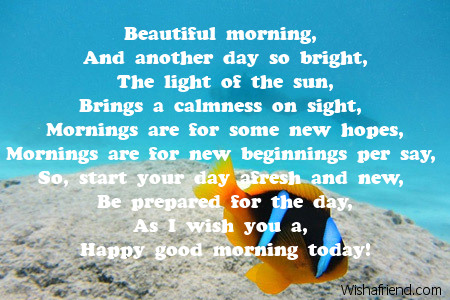 Beautiful morning
Beautiful morning,
And another day so bright,
The light of the sun,
Brings a calmness on sight,
Mornings are for some new hopes,
Mornings are for new beginnings per say,
So, start your day afresh and new,
Be prepared for the day,
As I wish you a,
Happy good morning today!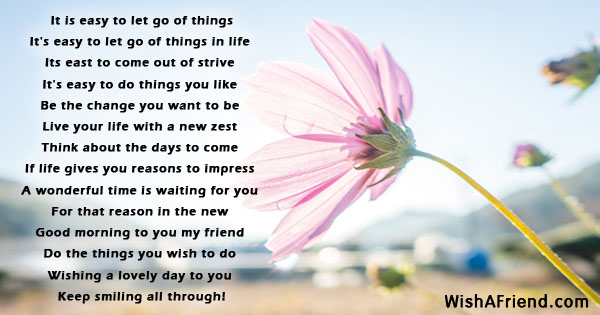 It is easy to let go of things
It's easy to let go of things in life
Its east to come out of strive
It's easy to do things you like
Be the change you want to be
Live your life with a new zest
Think about the days to come
If life gives you reasons to impress
A wonderful time is waiting for you
For that reason in the new
Good morning to you my friend
Do the things you wish to do
Wishing a lovely day to you
Keep smiling all through!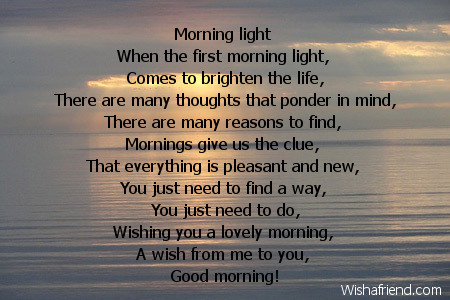 Morning light
When the first morning light, Comes to brighten the life,
There are many thoughts that ponder in mind,
There are many reasons to find,
Mornings give us the clue,
That everything is pleasant and new,
You just need to find a way,
You just need to do,
Wishing you a lovely morning,
A wish from me to you,
Good morning!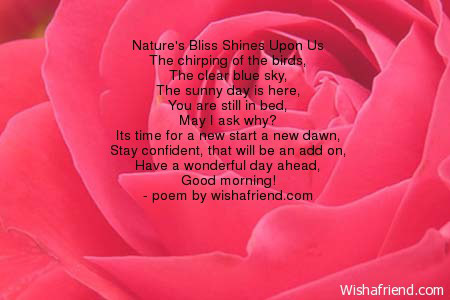 Nature's Bliss Shines Upon Us
The chirping of the birds,
The clear blue sky,
The sunny day is here,
You are still in bed,
May I ask why?
Its time for a new start a new dawn,
Stay confident, that will be an add on,
Have a wonderful day ahead,
Good morning!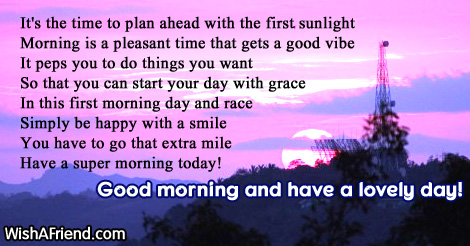 It is a great time
It's the time to plan ahead with the first sunlight
Morning is a pleasant time that gets a good vibe
It peps you to do things you want
So that you can start your day with grace
In this first morning day and race
Simply be happy with a smile
You have to go that extra mile
Have a super morning today!
Good morning and have a lovely day!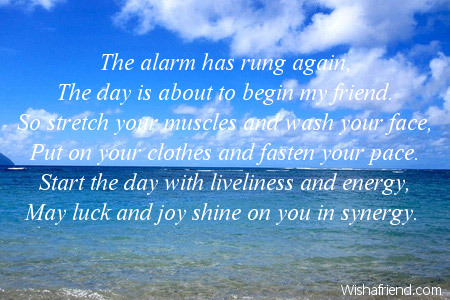 The Alarm Has Rung Again
The alarm has rung again,
The day is about to begin my friend.
So stretch your muscles and wash your face,
Put on your clothes and fasten your pace.
Start the day with liveliness and energy,
May luck and joy shine on you in synergy.