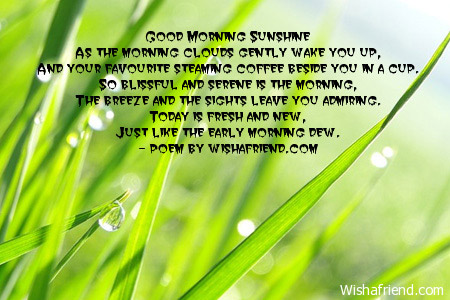 Good Morning Sunshine
As the morning clouds gently wake you up,
And your favourite steaming coffee beside you in a cup.
So blissful and serene is the morning,
The breeze and the sights leave you admiring.
Today is fresh and new,
Just like the early morning dew.
Other Popular Good Morning Poems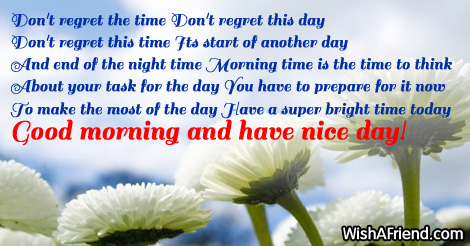 Don't regret the time
Don't regret this day
Don't regret this time
Its start of another day
And end of the night time
Morning time is the time to think
About your task for the day
You have to prepare for it now
To make the most of the day
Have a super bright time today
Good morning and have nice day!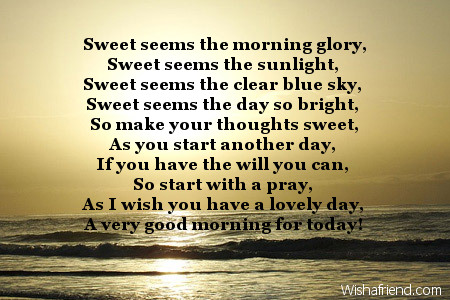 Morning cheer
Sweet seems the morning glory,
Sweet seems the sunlight,
Sweet seems the clear blue sky,
Sweet seems the day so bright,
So make your thoughts sweet,
As you start another day,
If you have the will you can,
So start with a pray,
As I wish you have a lovely day,
A very good morning for today!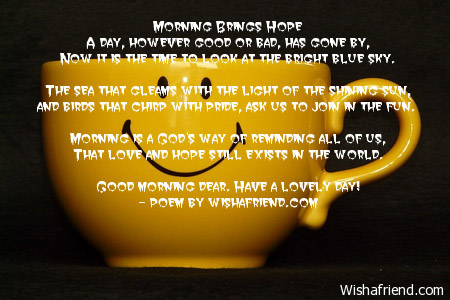 Morning Brings Hope
A day, however good or bad, has gone by,
Now it is the time to look at the bright blue sky.
The sea that gleams with the light of the shining sun,
and birds that chirp with pride, ask us to join in the fun.
Morning is a God's way of reminding all of us,
That love and hope still exists in the world.
Good morning dear. Have a lovely day!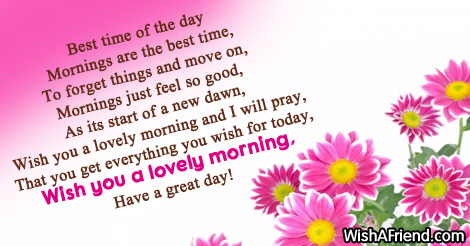 Best time of the day
Mornings are the best time,
To forget things and move on,
Mornings just feel so good,
As its start of a new dawn,
Wish you a lovely morning and I will pray,
That you get everything you wish for today,
Wish you a lovely morning,
Have a great day!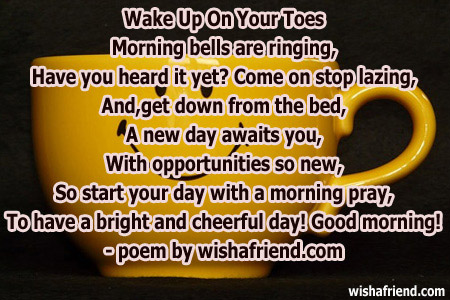 Wake Up On Your Toes
Morning bells are ringing,
Have you heard it yet? Come on stop lazing,
And,get down from the bed,
A new day awaits you,
With opportunities so new,
So start your day with a morning pray,
To have a bright and cheerful day! Good morning!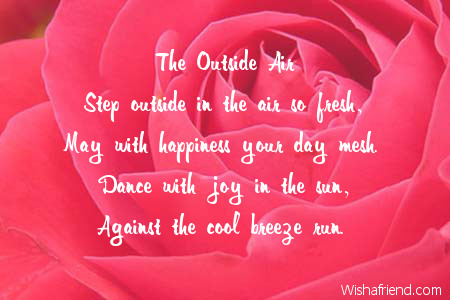 The Outside Air
Step outside in the air so fresh,
May with happiness your day mesh.
Dance with joy in the sun,
Against the cool breeze run.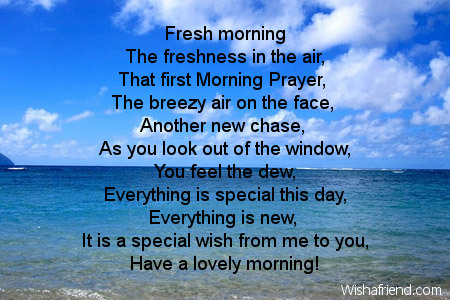 Fresh morning
The freshness in the air,
That first Morning Prayer,
The breezy air on the face,
Another new chase,
As you look out of the window,
You feel the dew,
Everything is special this day,
Everything is new,
It is a special wish from me to you,
Have a lovely morning!