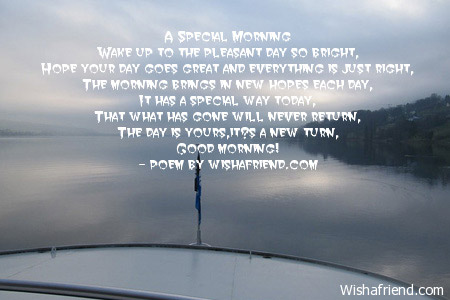 A Special Morning
Wake up to the pleasant day so bright,
Hope your day goes great and everything is just right,
The morning brings in new hopes each day,
It has a special way today,
That what has gone will never return,
The day is yours,it's a new turn,
Good morning!
Other Popular Good Morning Poems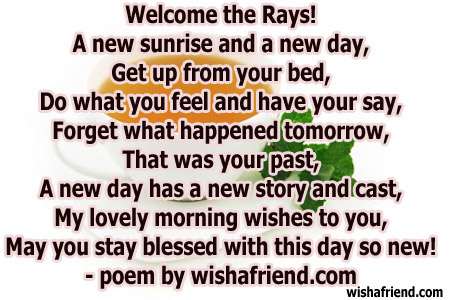 Welcome the Rays!
A new sunrise and a new day,
Get up from your bed,
Do what you feel and have your say,
Forget what happened tomorrow,
That was your past,
A new day has a new story and cast,
My lovely morning wishes to you,
May you stay blessed with this day so new!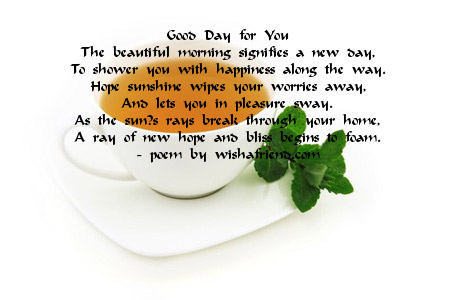 Good Day for You
The beautiful morning signifies a new day,
To shower you with happiness along the way.
Hope sunshine wipes your worries away,
And lets you in pleasure sway.
As the sun's rays break through your home,
A ray of new hope and bliss begins to foam.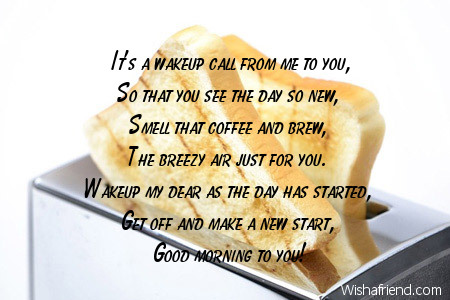 A Wake-up call
It's a wakeup call from me to you,
So that you see the day so new,
Smell that coffee and brew,
The breezy air just for you.
Wakeup my dear as the day has started,
Get off and make a new start,
Good morning to you!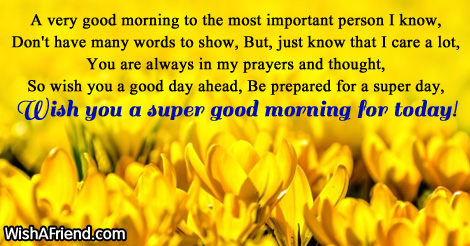 Happy morning
A very good morning to the most important person I know,
Don't have many words to show,
But, just know that I care a lot,
You are always in my prayers and thought,
So wish you a good day ahead,
Be prepared for a super day,
Wish you a super good morning for today!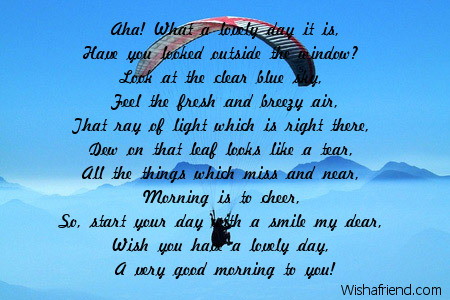 What a lovely day it is
Aha! What a lovely day it is,
Have you looked outside the window?
Look at the clear blue sky,
Feel the fresh and breezy air,
That ray of light which is right there,
Dew on that leaf looks like a tear,
All the things which miss and near,
Morning is to cheer,
So, start your day with a smile my dear,
Wish you have a lovely day,
A very good morning to you!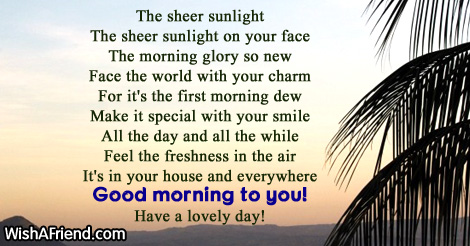 The sheer sunlight
The sheer sunlight on your face
The morning glory so new
Face the world with your charm
For it's the first morning dew
Make it special with your smile
All the day and all the while
Feel the freshness in the air
It's in your house and everywhere
Good morning to you!
Have a lovely day!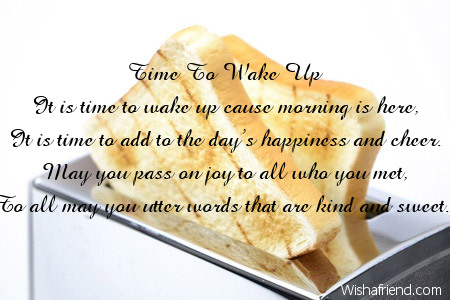 Time To Wake Up
It is time to wake up cause morning is here,
It is time to add to the day's happiness and cheer.
May you pass on joy to all who you met,
To all may you utter words that are kind and sweet.