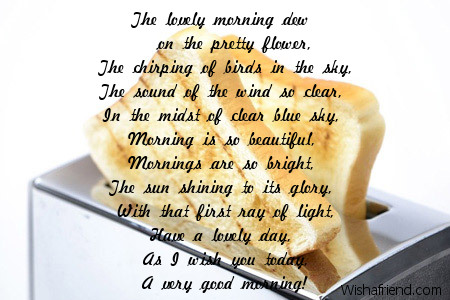 Lovely morning
The lovely morning dew on the pretty flower,
The chirping of birds in the sky,
The sound of the wind so clear,
In the midst of clear blue sky,
Morning is so beautiful,
Mornings are so bright,
The sun shining to its glory,
With that first ray of light,
Have a lovely day,
As I wish you today,
A very good morning!
Other Popular Good Morning Poems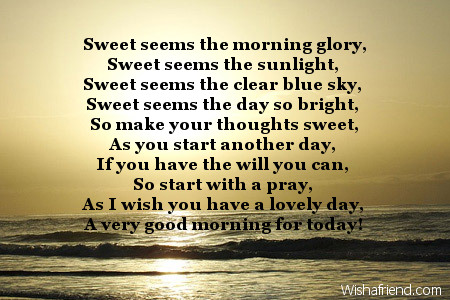 Morning cheer
Sweet seems the morning glory,
Sweet seems the sunlight,
Sweet seems the clear blue sky,
Sweet seems the day so bright,
So make your thoughts sweet,
As you start another day,
If you have the will you can,
So start with a pray,
As I wish you have a lovely day,
A very good morning for today!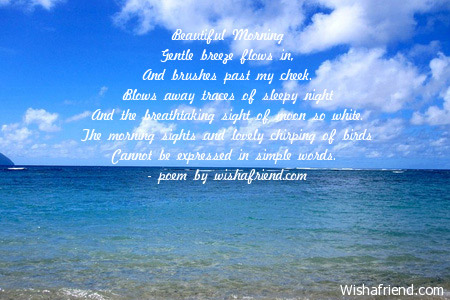 Beautiful Morning
Gentle breeze flows in,
And brushes past my cheek.
Blows away traces of sleepy night
And the breathtaking sight of moon so white.
The morning sights and lovely chirping of birds
Cannot be expressed in simple words.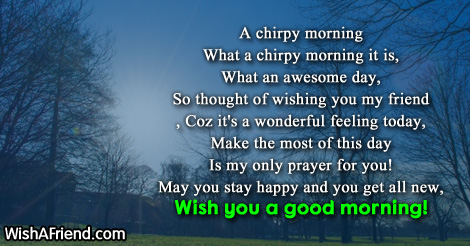 A chirpy morning
What a chirpy morning it is,
What an awesome day,
So thought of wishing you my friend
, Coz it's a wonderful feeling today,
Make the most of this day
Is my only prayer for you!
May you stay happy and you get all new,
Wish you a good morning!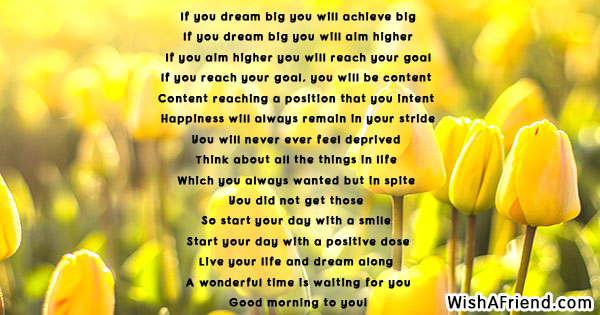 If you dream big you will achieve big
If you dream big you will aim higher
If you aim higher you will reach your goal
If you reach your goal, you will be content
Content reaching a position that you intent
Happiness will always remain in your stride
You will never ever feel deprived
Think about all the things in life
Which you always wanted but in spite
You did not get those
So start your day with a smile
Start your day with a positive dose
Live your life and dream along
A wonderful time is waiting for you
Good morning to you!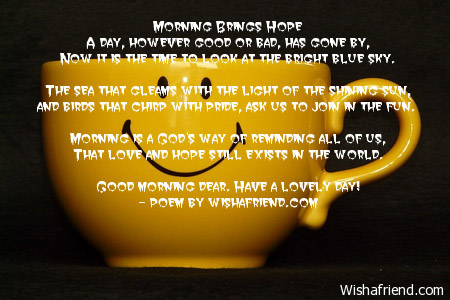 Morning Brings Hope
A day, however good or bad, has gone by,
Now it is the time to look at the bright blue sky.
The sea that gleams with the light of the shining sun,
and birds that chirp with pride, ask us to join in the fun.
Morning is a God's way of reminding all of us,
That love and hope still exists in the world.
Good morning dear. Have a lovely day!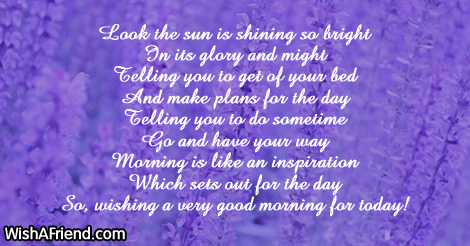 Look at the sun
Look the sun is shining so bright
In its glory and might
Telling you to get of your bed
And make plans for the day
Telling you to do sometime
Go and have your way
Morning is like an inspiration
Which sets out for the day
So, wishing a very good morning for today!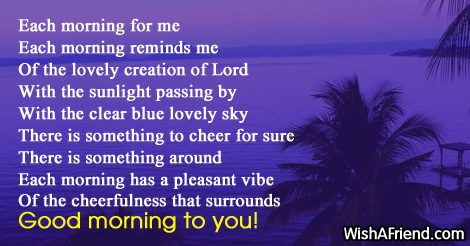 Each morning for me
Each morning reminds me
Of the lovely creation of Lord
With the sunlight passing by
With the clear blue lovely sky
There is something to cheer for sure
There is something around
Each morning has a pleasant vibe
Of the cheerfulness that surrounds
Good morning to you!