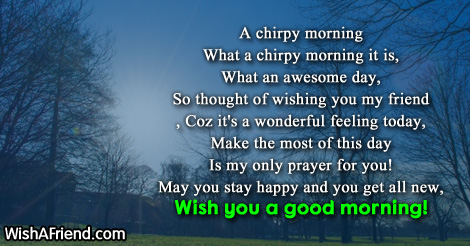 A chirpy morning
What a chirpy morning it is,
What an awesome day,
So thought of wishing you my friend
, Coz it's a wonderful feeling today,
Make the most of this day
Is my only prayer for you!
May you stay happy and you get all new,
Wish you a good morning!
Other Popular Good Morning Poems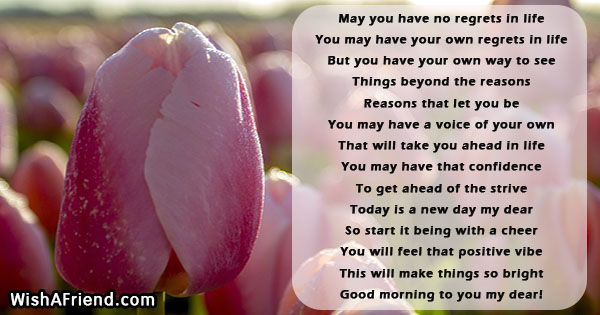 May you have no regrets in life
You may have your own regrets in life
But you have your own way to see
Things beyond the reasons
Reasons that let you be
You may have a voice of your own
That will take you ahead in life
You may have that confidence
To get ahead of the strive
Today is a new day my dear
So start it being with a cheer
You will feel that positive vibe
This will make things so bright
Good morning to you my dear!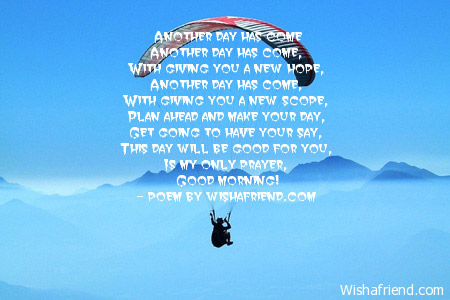 Another day has come
Another day has come,
With giving you a new hope,
Another day has come,
With giving you a new scope,
Plan ahead and make your day,
Get going to have your say,
This day will be good for you,
Is my only prayer,
Good morning!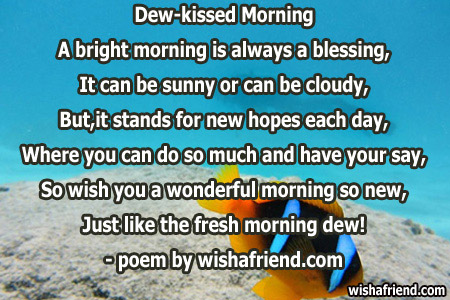 Dew-kissed Morning
A bright morning is always a blessing,
It can be sunny or can be cloudy,
But,it stands for new hopes each day,
Where you can do so much and have your say,
So wish you a wonderful morning so new,
Just like the fresh morning dew!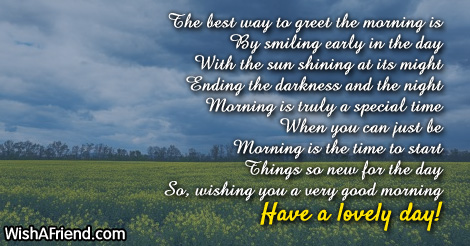 The best way to greet
The best way to greet the morning is
By smiling early in the day
With the sun shining at its might
Ending the darkness and the night
Morning is truly a special time
When you can just be
Morning is the time to start
Things so new for the day
So, wishing you a very good morning
Have a lovely day!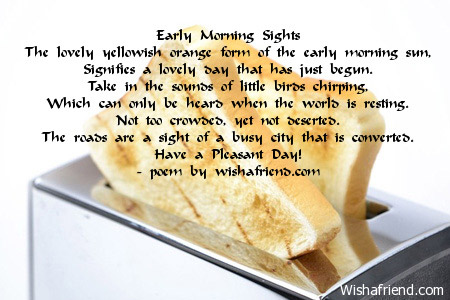 Early Morning Sights
The lovely yellowish orange form of the early morning sun,
Signifies a lovely day that has just begun.
Take in the sounds of little birds chirping,
Which can only be heard when the world is resting.
Not too crowded, yet not deserted.
The roads are a sight of a busy city that is converted.
Have a Pleasant Day!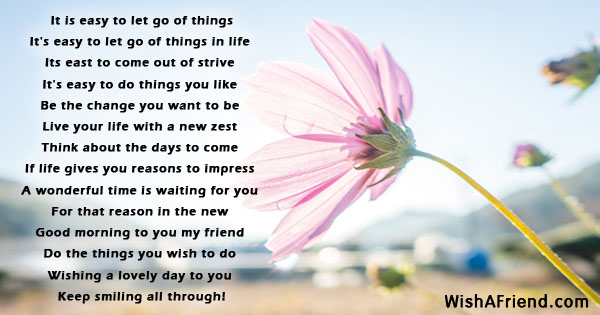 It is easy to let go of things
It's easy to let go of things in life
Its east to come out of strive
It's easy to do things you like
Be the change you want to be
Live your life with a new zest
Think about the days to come
If life gives you reasons to impress
A wonderful time is waiting for you
For that reason in the new
Good morning to you my friend
Do the things you wish to do
Wishing a lovely day to you
Keep smiling all through!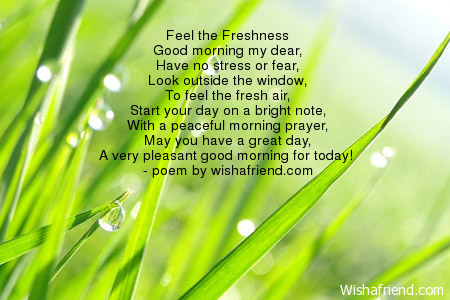 Feel the Freshness
Good morning my dear,
Have no stress or fear,
Look outside the window,
To feel the fresh air,
Start your day on a bright note,
With a peaceful morning prayer,
May you have a great day,
A very pleasant good morning for today!