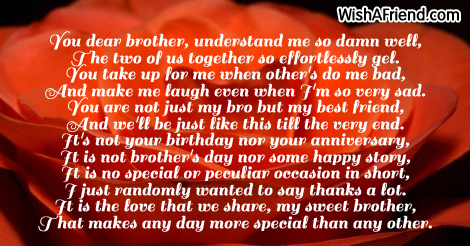 No Special Occasion
You dear brother, understand me so damn well,
The two of us together so effortlessly gel.
You take up for me when other's do me bad,
And make me laugh even when I'm so very sad.
You are not just my bro but my best friend,
And we'll be just like this till the very end.
It's not your birthday nor your anniversary,
It is not brother's day nor some happy story,
It is no special or peculiar occasion in short,
I just randomly wanted to say thanks a lot.
It is the love that we share, my sweet brother,
That makes any day more special than any other.