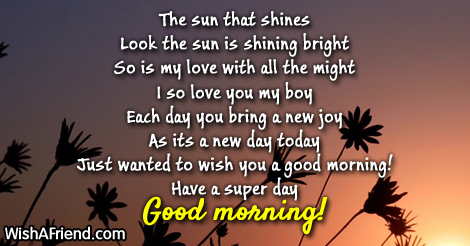 The sun that shines
Look the sun is shining bright
So is my love with all the might
I so love you my boy
Each day you bring a new joy
As its a new day today
Just wanted to wish you a good morning!
Have a super day
Good morning!
Other Popular Good Morning Poems for Him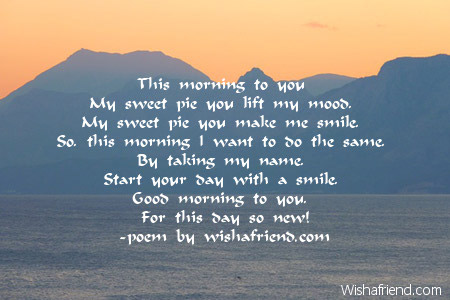 This morning to you
My sweet pie you lift my mood,
My sweet pie you make me smile,
So, this morning I want to do the same,
By taking my name,
Start your day with a smile,
Good morning to you,
For this day so new!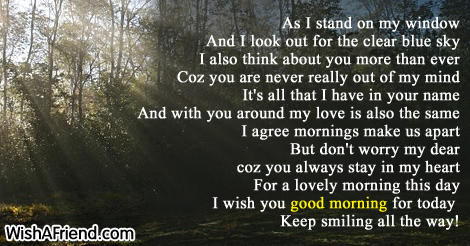 As I stand on my window
As I stand on my window
And I look out for the clear blue sky
I also think about you more than ever
Coz you are never really out of my mind
It's all that I have in your name
And with you around my love is also the same
I agree mornings make us apart
But don't worry my dear coz you always stay in my heart
For a lovely morning this day
I wish you good morning for today
Keep smiling all the way!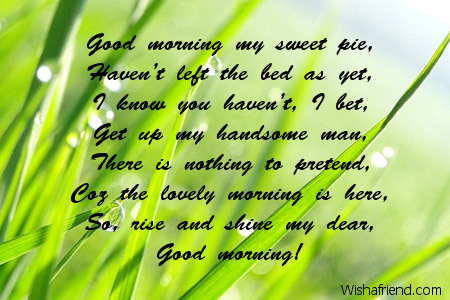 To my love in morning
Good morning my sweet pie,
Haven't left the bed as yet,
I know you haven't, I bet,
Get up my handsome man,
There is nothing to pretend,
Coz the lovely morning is here,
So, rise and shine my dear,
Good morning!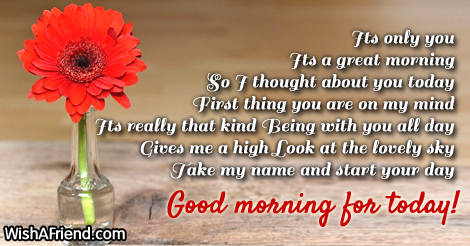 Its only you
Its a great morning
So I thought about you today
First thing you are on my mind
Its really that kind
Being with you all day
Gives me a high
Look at the lovely sky
Take my name and start your day
Good morning for today!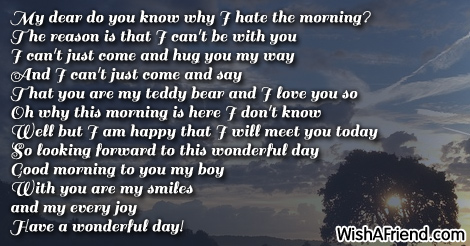 Do you know why
My dear do you know why I hate the morning?
The reason is that I can't be with you
I can't just come and hug you my way
And I can't just come and say
That you are my teddy bear and I love you so
Oh why this morning is here I don't know
Well but I am happy that I will meet you today
So looking forward to this wonderful day
Good morning to you my boy
With you are my smiles and my every joy
Have a wonderful day!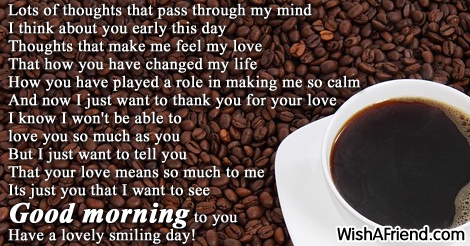 Lots of thoughts in mind
Lots of thoughts that pass through my mind
I think about you early this day
Thoughts that make me feel my love
That how you have changed my life
How you have played a role in making me so calm
And now I just want to thank you for your love
I know I won't be able to love you so much as you
But I just want to tell you
That your love means so much to me
Its just you that I want to see
Good morning to you
Have a lovely smiling day!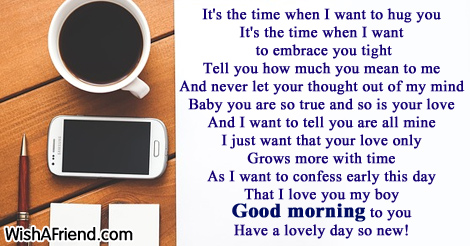 It's that time when
It's the time when I want to hug you
It's the time when I want to embrace you tight
Tell you how much you mean to me
And never let your thought out of my mind
Baby you are so true and so is your love
And I want to tell you are all mine
I just want that your love only
Grows more with time
As I want to confess early this day
That I love you my boy
Good morning to you
Have a lovely day so new!