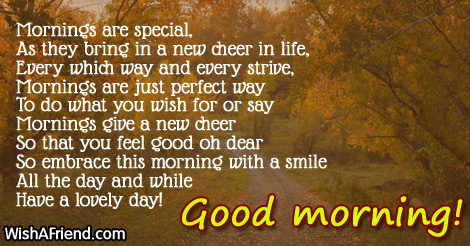 It is truly special
Mornings are special,
As they bring in a new cheer in life,
Every which way and every strive,
Mornings are just perfect way
To do what you wish for or say
Mornings give a new cheer
So that you feel good oh dear
So embrace this morning with a smile
All the day and while
Have a lovely day!
Good morning!
Other Popular Good Morning Poems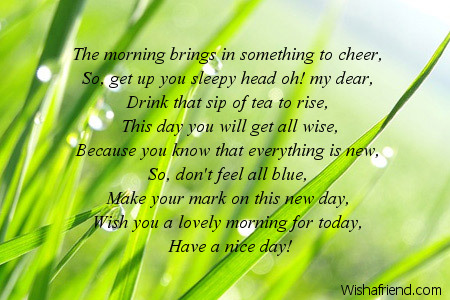 Something to cheer
The morning brings in something to cheer,
So, get up you sleepy head oh! my dear,
Drink that sip of tea to rise,
This day you will get all wise,
Because you know that everything is new,
So, don't feel all blue,
Make your mark on this new day,
Wish you a lovely morning for today,
Have a nice day!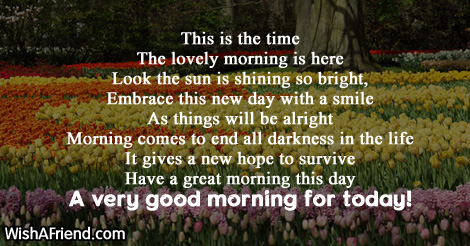 This is the time
The lovely morning is here
Look the sun is shining so bright,
Embrace this new day with a smile
As things will be alright
Morning comes to end all darkness in the life
It gives a new hope to survive
Have a great morning this day
A very good morning for today!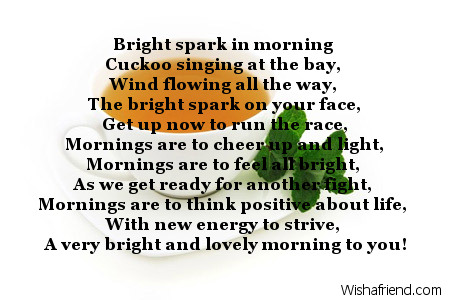 Bright spark in morning
Cuckoo singing at the bay,
Wind flowing all the way,
The bright spark on your face,
Get up now to run the race,
Mornings are to cheer up and light,
Mornings are to feel all bright,
As we get ready for another fight,
Mornings are to think positive about life,
With new energy to strive,
A very bright and lovely morning to you!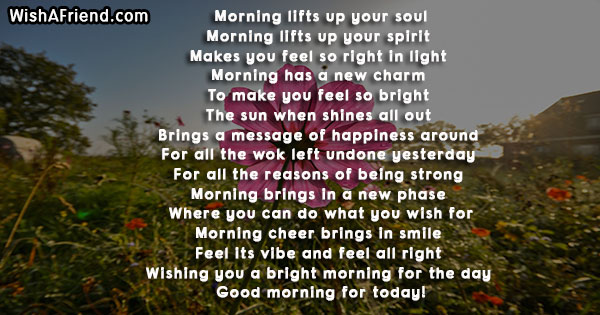 Morning lifts up your soul
Morning lifts up your spirit
Makes you feel so right in light
Morning has a new charm
To make you feel so bright
The sun when shines all out
Brings a message of happiness around
For all the wok left undone yesterday
For all the reasons of being strong
Morning brings in a new phase
Where you can do what you wish for
Morning cheer brings in smile
Feel its vibe and feel all right
Wishing you a bright morning for the day
Good morning for today!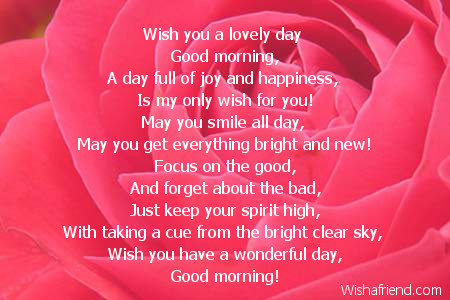 Wish you a lovely day
Good morning,
A day full of joy and happiness,
Is my only wish for you!
May you smile all day,
May you get everything bright and new!
Focus on the good,
And forget about the bad,
Just keep your spirit high,
With taking a cue from the bright clear sky,
Wish you have a wonderful day,
Good morning!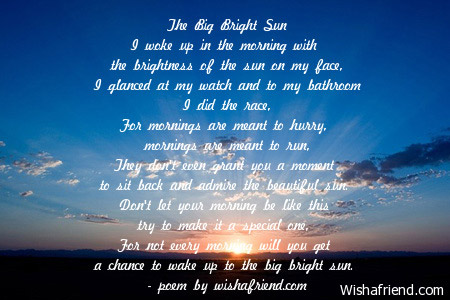 The Big Bright Sun
I woke up in the morning with
the brightness of the sun on my face,
I glanced at my watch and to my bathroom
I did the race,
For mornings are meant to hurry,
mornings are meant to run,
They don't even grant you a moment
to sit back and admire the beautiful sun.
Don't let your morning be like this
try to make it a special one,
For not every morning will you get a chance to wake up to the big bright sun.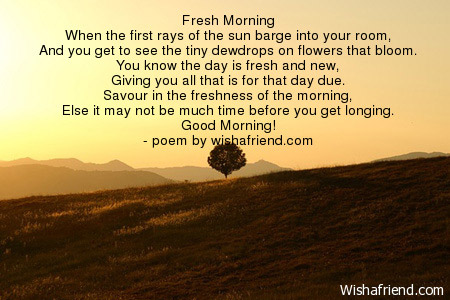 Fresh Morning
When the first rays of the sun barge into your room,
And you get to see the tiny dewdrops on flowers that bloom.
You know the day is fresh and new,
Giving you all that is for that day due.
Savour in the freshness of the morning,
Else it may not be much time before you get longing.
Good Morning!