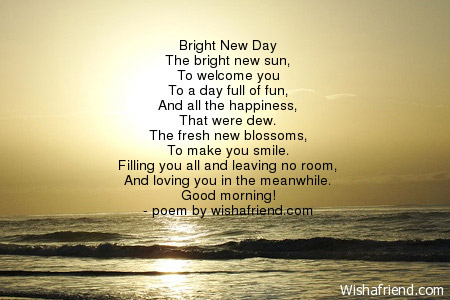 Bright New Day
The bright new sun,
To welcome you
To a day full of fun,
And all the happiness,
That were dew.
The fresh new blossoms,
To make you smile.
Filling you all and leaving no room,
And loving you in the meanwhile.
Good morning!
Other Popular Good Morning Poems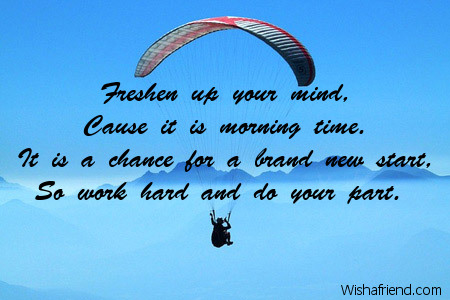 Freshen Up Your Mind
Freshen up your mind,
Cause it is morning time.
It is a chance for a brand new start,
So work hard and do your part.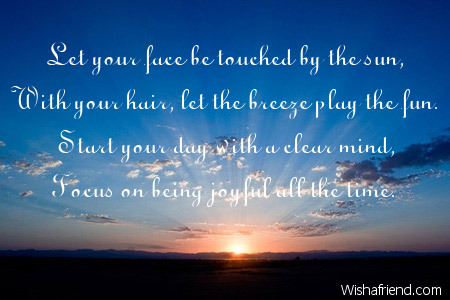 The Morning Nature
Let your face be touched by the sun,
With your hair, let the breeze play the fun.
Start your day with a clear mind,
Focus on being joyful all the time.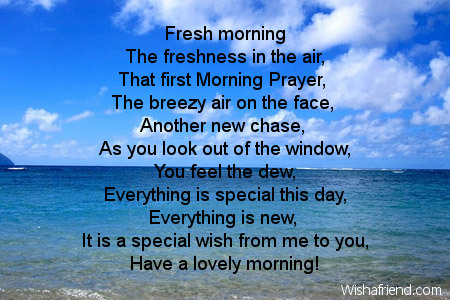 Fresh morning
The freshness in the air,
That first Morning Prayer,
The breezy air on the face,
Another new chase,
As you look out of the window,
You feel the dew,
Everything is special this day,
Everything is new,
It is a special wish from me to you,
Have a lovely morning!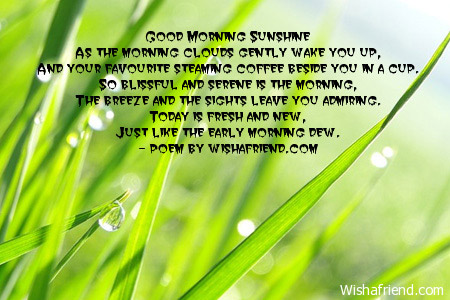 Good Morning Sunshine
As the morning clouds gently wake you up,
And your favourite steaming coffee beside you in a cup.
So blissful and serene is the morning,
The breeze and the sights leave you admiring.
Today is fresh and new,
Just like the early morning dew.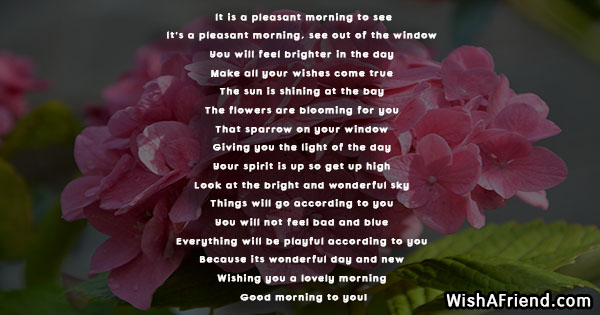 It is a pleasant morning to see
It's a pleasant morning, see out of the window
You will feel brighter in the day
Make all your wishes come true
The sun is shining at the bay
The flowers are blooming for you
That sparrow on your window
Giving you the light of the day
Your spirit is up so get up high
Look at the bright and wonderful sky
Things will go according to you
You will not feel bad and blue
Everything will be playful according to you
Because its wonderful day and new
Wishing you a lovely morning
Good morning to you!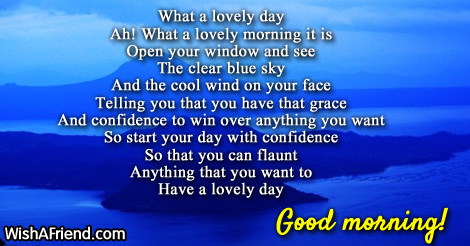 What a lovely day
Ah! What a lovely morning it is
Open your window and see
The clear blue sky
And the cool wind on your face
Telling you that you have that grace
And confidence to win over anything you want
So start your day with confidence
So that you can flaunt
Anything that you want to
Have a lovely day
Good morning!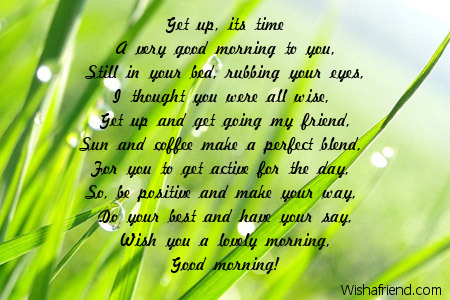 Get up, its time
A very good morning to you,
Still in your bed, rubbing your eyes,
I thought you were all wise,
Get up and get going my friend,
Sun and coffee make a perfect blend,
For you to get active for the day,
So, be positive and make your way,
Do your best and have your say,
Wish you a lovely morning,
Good morning!