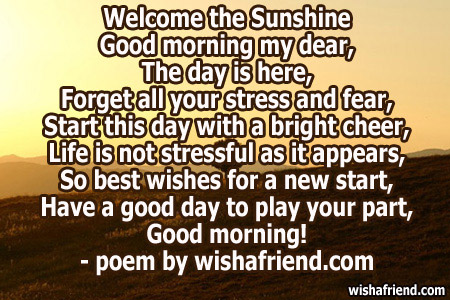 Welcome the Sunshine
Good morning my dear,
The day is here,
Forget all your stress and fear,
Start this day with a bright cheer,
Life is not stressful as it appears,
So best wishes for a new start,
Have a good day to play your part,
Good morning!
Other Popular Good Morning Poems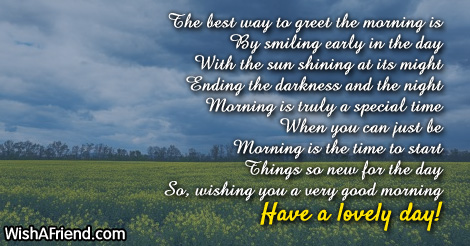 The best way to greet
The best way to greet the morning is
By smiling early in the day
With the sun shining at its might
Ending the darkness and the night
Morning is truly a special time
When you can just be
Morning is the time to start
Things so new for the day
So, wishing you a very good morning
Have a lovely day!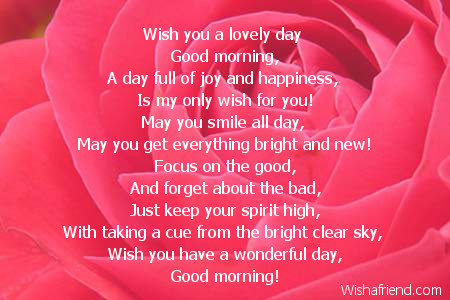 Wish you a lovely day
Good morning,
A day full of joy and happiness,
Is my only wish for you!
May you smile all day,
May you get everything bright and new!
Focus on the good,
And forget about the bad,
Just keep your spirit high,
With taking a cue from the bright clear sky,
Wish you have a wonderful day,
Good morning!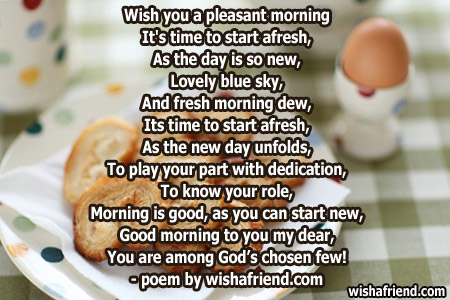 Wish you a pleasant morning
It's time to start afresh,
As the day is so new,
Lovely blue sky,
And fresh morning dew,
Its time to start afresh,
As the new day unfolds,
To play your part with dedication,
To know your role,
Morning is good, as you can start new,
Good morning to you my dear,
You are among God's chosen few!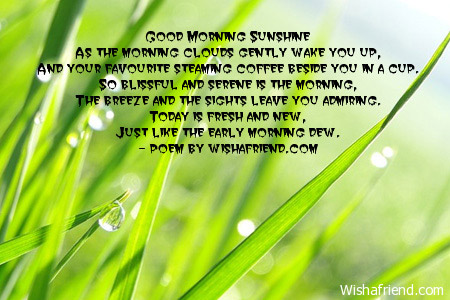 Good Morning Sunshine
As the morning clouds gently wake you up,
And your favourite steaming coffee beside you in a cup.
So blissful and serene is the morning,
The breeze and the sights leave you admiring.
Today is fresh and new,
Just like the early morning dew.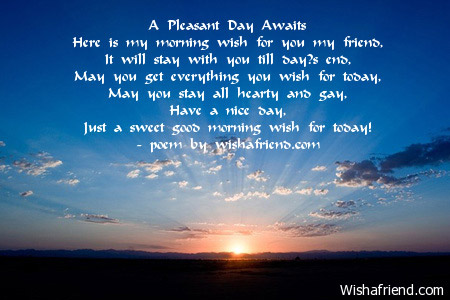 A Pleasant Day Awaits
Here is my morning wish for you my friend,
It will stay with you till day's end,
May you get everything you wish for today,
May you stay all hearty and gay,
Have a nice day,
Just a sweet good morning wish for today!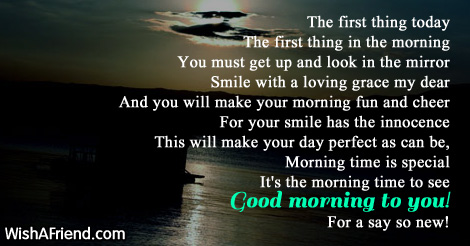 The first thing today
The first thing in the morning
You must get up and look in the mirror
Smile with a loving grace my dear
And you will make your morning fun and cheer
For your smile has the innocence
This will make your day perfect as can be,
Morning time is special
It's the morning time to see
Good morning to you!
For a say so new!
Enjoy The Sunshine
Morning brings a new freshness,
In thoughts,
In actions,
In things to do,
It feels like everything is so pleasant and new,
My good morning wishes for you,
Even if you have no clue,
May you have the brightest day,
Good morning and have a nice day!