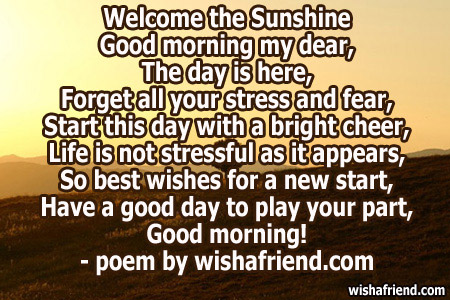 Welcome the Sunshine
Good morning my dear,
The day is here,
Forget all your stress and fear,
Start this day with a bright cheer,
Life is not stressful as it appears,
So best wishes for a new start,
Have a good day to play your part,
Good morning!
Other Popular Good Morning Poems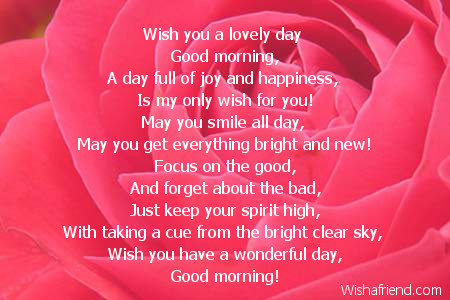 Wish you a lovely day
Good morning,
A day full of joy and happiness,
Is my only wish for you!
May you smile all day,
May you get everything bright and new!
Focus on the good,
And forget about the bad,
Just keep your spirit high,
With taking a cue from the bright clear sky,
Wish you have a wonderful day,
Good morning!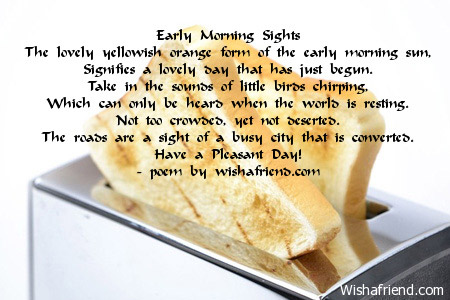 Early Morning Sights
The lovely yellowish orange form of the early morning sun,
Signifies a lovely day that has just begun.
Take in the sounds of little birds chirping,
Which can only be heard when the world is resting.
Not too crowded, yet not deserted.
The roads are a sight of a busy city that is converted.
Have a Pleasant Day!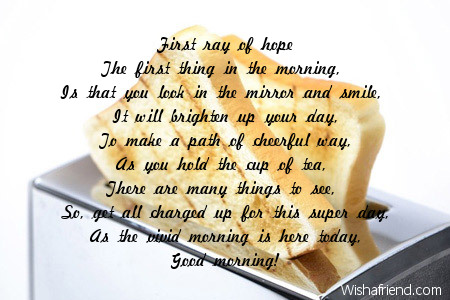 First ray of hope
The first thing in the morning,
Is that you look in the mirror and smile,
It will brighten up your day,
To make a path of cheerful way,
As you hold the cup of tea,
There are many things to see,
So, get all charged up for this super day,
As the vivid morning is here today,
Good morning!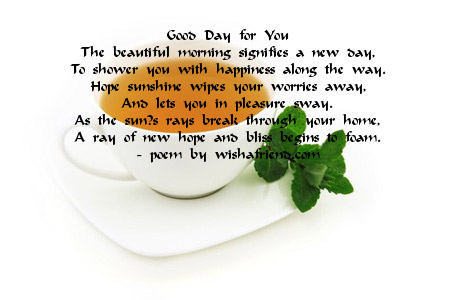 Good Day for You
The beautiful morning signifies a new day,
To shower you with happiness along the way.
Hope sunshine wipes your worries away,
And lets you in pleasure sway.
As the sun's rays break through your home,
A ray of new hope and bliss begins to foam.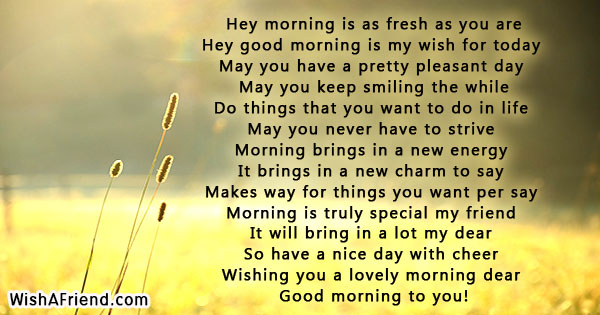 Hey morning is as fresh as you are
Hey good morning is my wish for today
May you have a pretty pleasant day
May you keep smiling the while
Do things that you want to do in life
May you never have to strive
Morning brings in a new energy
It brings in a new charm to say
Makes way for things you want per say
Morning is truly special my friend
It will bring in a lot my dear
So have a nice day with cheer
Wishing you a lovely morning dear
Good morning to you!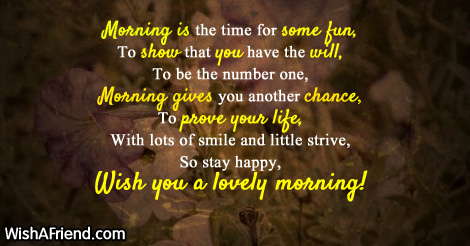 Time for some fun
Morning is the time for some fun,
To show that you have the will,
To be the number one,
Morning gives you another chance,
To prove your life,
With lots of smile and little strive,
So stay happy,
Wish you a lovely morning!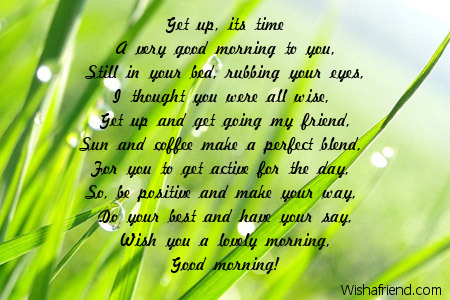 Get up, its time
A very good morning to you,
Still in your bed, rubbing your eyes,
I thought you were all wise,
Get up and get going my friend,
Sun and coffee make a perfect blend,
For you to get active for the day,
So, be positive and make your way,
Do your best and have your say,
Wish you a lovely morning,
Good morning!