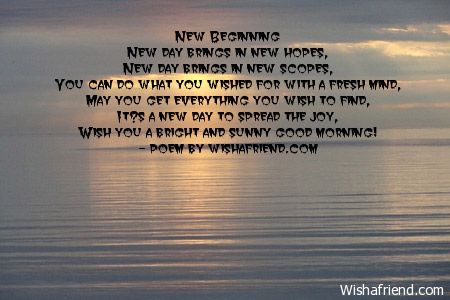 New Beginning
New day brings in new hopes,
New day brings in new scopes,
You can do what you wished for with a fresh mind,
May you get everything you wish to find,
It's a new day to spread the joy,
Wish you a bright and sunny good morning!
Other Popular Good Morning Poems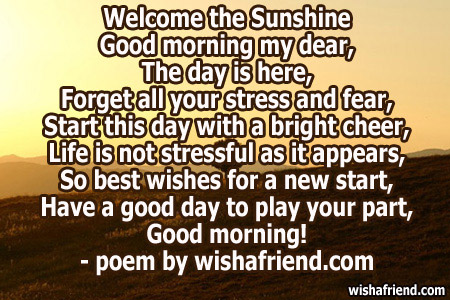 Welcome the Sunshine
Good morning my dear,
The day is here,
Forget all your stress and fear,
Start this day with a bright cheer,
Life is not stressful as it appears,
So best wishes for a new start,
Have a good day to play your part,
Good morning!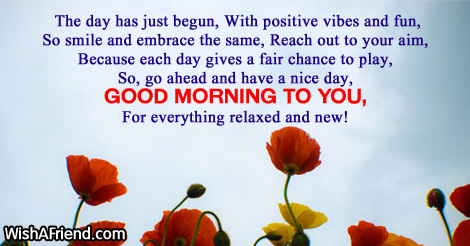 The day has just started
The day has just begun,
With positive vibes and fun,
So smile and embrace the same,
Reach out to your aim,
Because each day gives a fair chance to play,
So, go ahead and have a nice day,
Good morning to you,
For everything relaxed and new!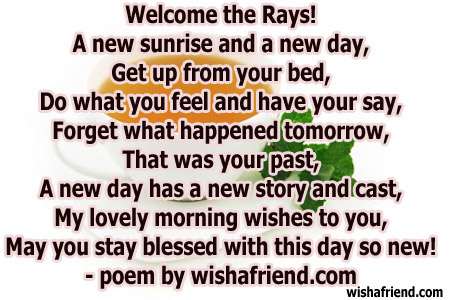 Welcome the Rays!
A new sunrise and a new day,
Get up from your bed,
Do what you feel and have your say,
Forget what happened tomorrow,
That was your past,
A new day has a new story and cast,
My lovely morning wishes to you,
May you stay blessed with this day so new!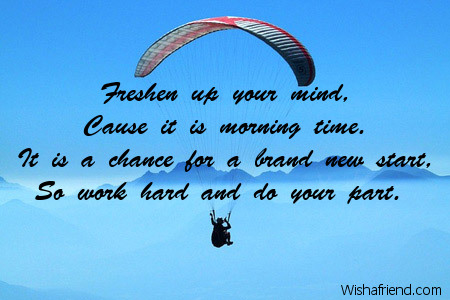 Freshen Up Your Mind
Freshen up your mind,
Cause it is morning time.
It is a chance for a brand new start,
So work hard and do your part.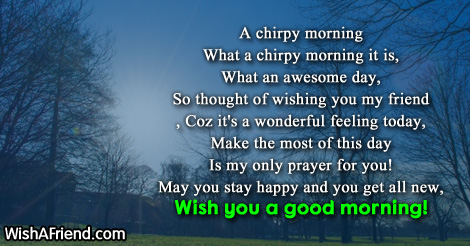 A chirpy morning
What a chirpy morning it is,
What an awesome day,
So thought of wishing you my friend
, Coz it's a wonderful feeling today,
Make the most of this day
Is my only prayer for you!
May you stay happy and you get all new,
Wish you a good morning!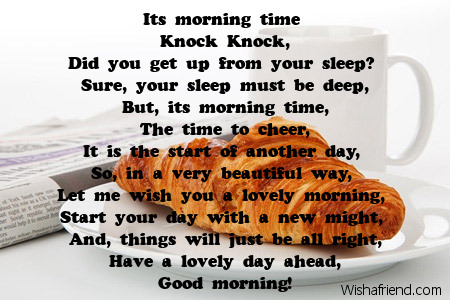 Its morning time
Knock Knock,
Did you get up from your sleep?
Sure, your sleep must be deep,
But, its morning time,
The time to cheer,
It is the start of another day,
So, in a very beautiful way,
Let me wish you a lovely morning,
Start your day with a new might,
And, things will just be all right,
Have a lovely day ahead,
Good morning!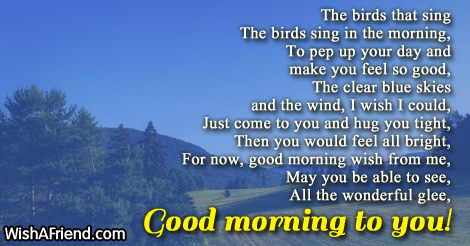 The birds that sing
The birds sing in the morning,
To pep up your day and make you feel so good,
The clear blue skies and the wind,
I wish I could,
Just come to you and hug you tight,
Then you would feel all bright,
For now, good morning wish from me,
May you be able to see,
All the wonderful glee,
Good morning to you!