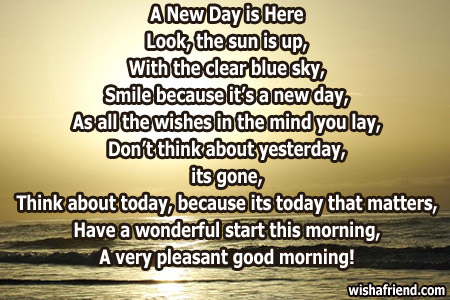 A New Day is Here
Look, the sun is up,
With the clear blue sky,
Smile because it's a new day,
As all the wishes in the mind you lay,
Don't think about yesterday,
its gone,
Think about today, because its today that matters,
Have a wonderful start this morning,
A very pleasant good morning!
Other Popular Good Morning Poems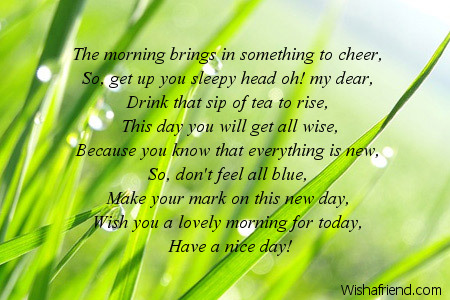 Something to cheer
The morning brings in something to cheer,
So, get up you sleepy head oh! my dear,
Drink that sip of tea to rise,
This day you will get all wise,
Because you know that everything is new,
So, don't feel all blue,
Make your mark on this new day,
Wish you a lovely morning for today,
Have a nice day!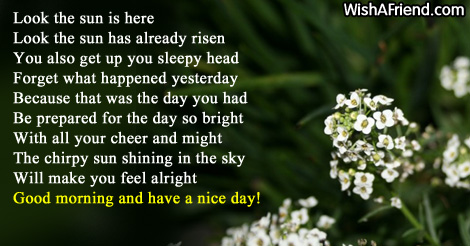 Look the sun is here
Look the sun has already risen
You also get up you sleepy head
Forget what happened yesterday
Because that was the day you had
Be prepared for the day so bright
With all your cheer and might
The chirpy sun shining in the sky
Will make you feel alright
Good morning and have a nice day!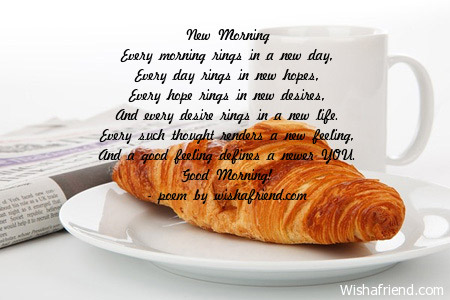 New Morning
Every morning rings in a new day,
Every day rings in new hopes,
Every hope rings in new desires,
And every desire rings in a new life.
Every such thought renders a new feeling,
And a good feeling defines a newer YOU.
Good Morning!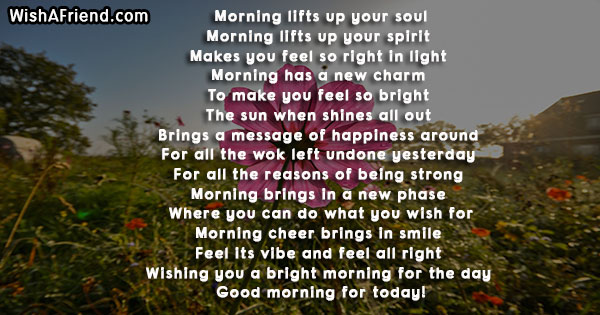 Morning lifts up your soul
Morning lifts up your spirit
Makes you feel so right in light
Morning has a new charm
To make you feel so bright
The sun when shines all out
Brings a message of happiness around
For all the wok left undone yesterday
For all the reasons of being strong
Morning brings in a new phase
Where you can do what you wish for
Morning cheer brings in smile
Feel its vibe and feel all right
Wishing you a bright morning for the day
Good morning for today!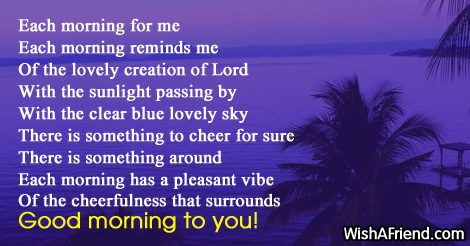 Each morning for me
Each morning reminds me
Of the lovely creation of Lord
With the sunlight passing by
With the clear blue lovely sky
There is something to cheer for sure
There is something around
Each morning has a pleasant vibe
Of the cheerfulness that surrounds
Good morning to you!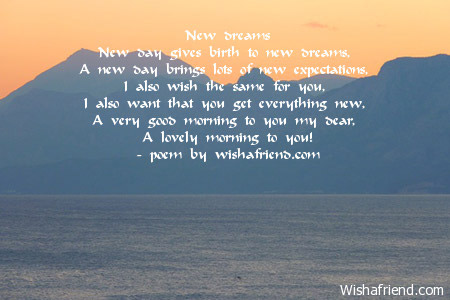 New dreams
New day gives birth to new dreams,
A new day brings lots of new expectations,
I also wish the same for you,
I also want that you get everything new,
A very good morning to you my dear,
A lovely morning to you!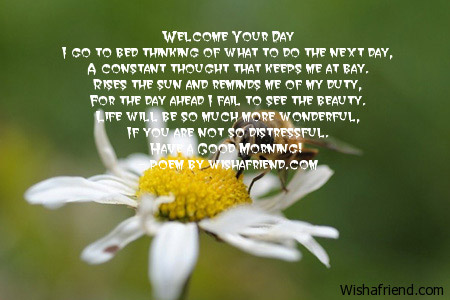 Welcome Your Day
I go to bed thinking of what to do the next day,
A constant thought that keeps me at bay.
Rises the sun and reminds me of my duty,
For the day ahead I fail to see the beauty.
Life will be so much more wonderful,
If you are not so distressful.
Have a Good Morning!