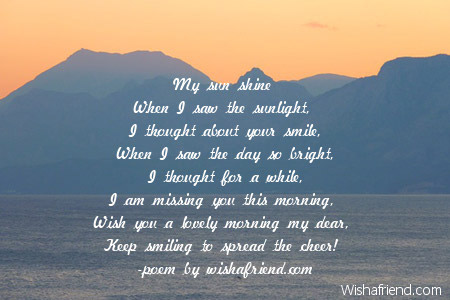 My sun shine
When I saw the sunlight,
I thought about your smile,
When I saw the day so bright,
I thought for a while,
I am missing you this morning,
Wish you a lovely morning my dear,
Keep smiling to spread the cheer!
Other Popular Good Morning Poems for Her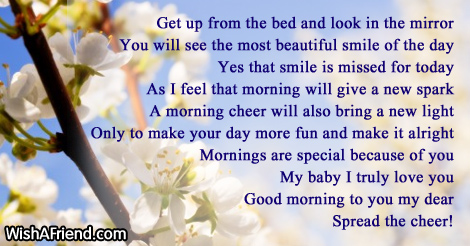 Get up from the bed
Get up from the bed and look in the mirror
You will see the most beautiful smile of the day
Yes that smile is missed for today
As I feel that morning will give a new spark
A morning cheer will also bring a new light
Only to make your day more fun and make it alright
Mornings are special because of you
My baby I truly love you
Good morning to you my dear
Spread the cheer!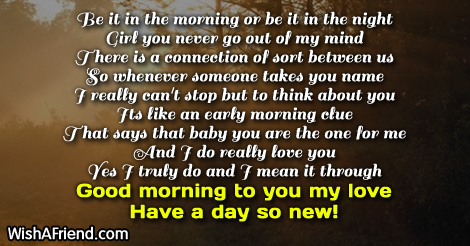 Be in the morning light
Be it in the morning or be it in the night
Girl you never go out of my mind
There is a connection of sort between us
So whenever someone takes you name
I really can't stop but to think about you
Its like an early morning clue
That says that baby you are the one for me
And I do really love you
Yes I truly do and I mean it through
Good morning to you my love
Have a day so new!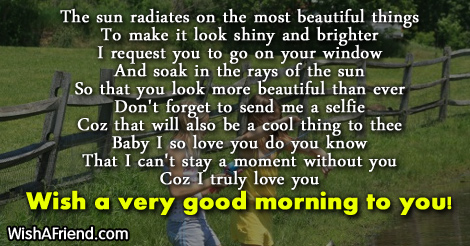 The sun shines so bright
The sun radiates on the most beautiful things
To make it look shiny and brighter
I request you to go on your window
And soak in the rays of the sun
So that you look more beautiful than ever
Don't forget to send me a selfie
Coz that will also be a cool thing to thee
Baby I so love you do you know
That I can't stay a moment without you
Coz I truly love you
Wish a very good morning to you!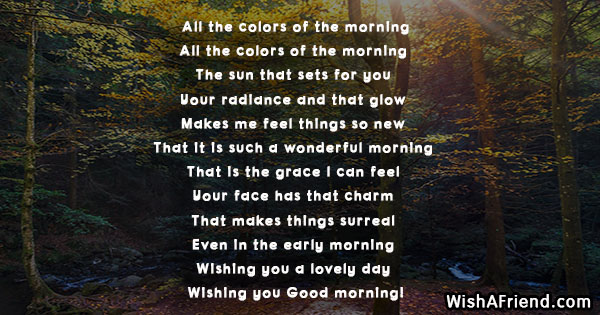 All the colors of the morning
All the colors of the morning
The sun that sets for you
Your radiance and that glow
Makes me feel things so new
That it is such a wonderful morning
That is the grace I can feel
Your face has that charm
That makes things surreal
Even in the early morning
Wishing you a lovely day
Wishing you Good morning!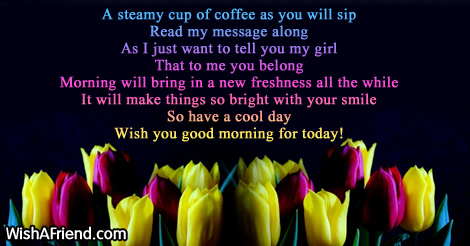 A cup of coffee for you
A steamy cup of coffee as you will sip
Read my message along
As I just want to tell you my girl
That to me you belong
Morning will bring in a new freshness all the while
It will make things so bright with your smile
So have a cool day
Wish you good morning for today!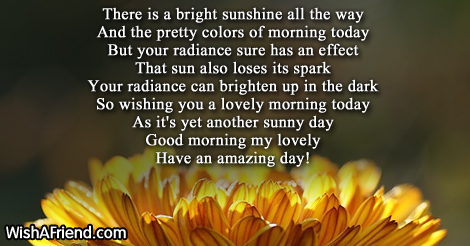 The bright sun shine
There is a bright sunshine all the way
And the pretty colors of morning today
But your radiance sure has an effect
That sun also loses its spark
Your radiance can brighten up in the dark
So wishing you a lovely morning today
As it's yet another sunny day
Good morning my lovely
Have an amazing day!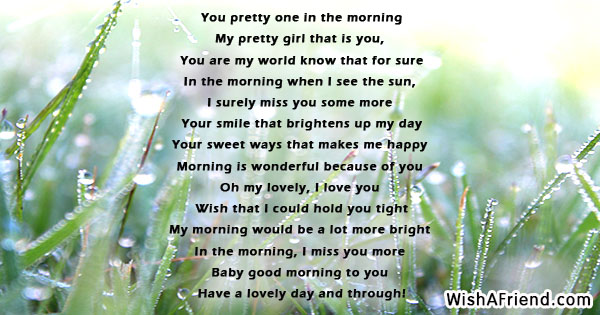 You pretty one in the morning
My pretty girl that is you,
You are my world know that for sure
In the morning when I see the sun,
I surely miss you some more
Your smile that brightens up my day
Your sweet ways that makes me happy
Morning is wonderful because of you
Oh my lovely, I love you
Wish that I could hold you tight
My morning would be a lot more bright
In the morning, I miss you more
Baby good morning to you
Have a lovely day and through!