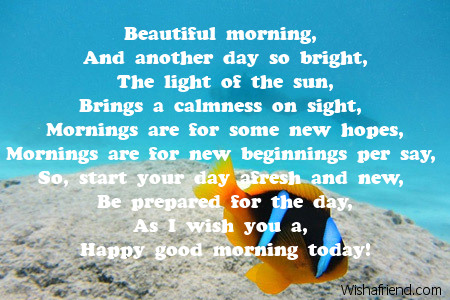 Beautiful morning
Beautiful morning,
And another day so bright,
The light of the sun,
Brings a calmness on sight,
Mornings are for some new hopes,
Mornings are for new beginnings per say,
So, start your day afresh and new,
Be prepared for the day,
As I wish you a,
Happy good morning today!
Other Popular Good Morning Poems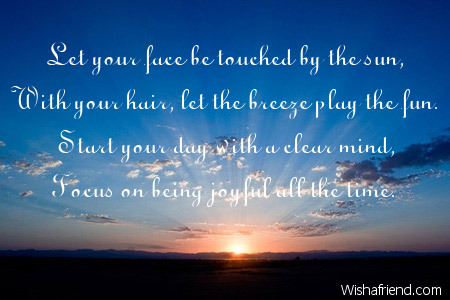 The Morning Nature
Let your face be touched by the sun,
With your hair, let the breeze play the fun.
Start your day with a clear mind,
Focus on being joyful all the time.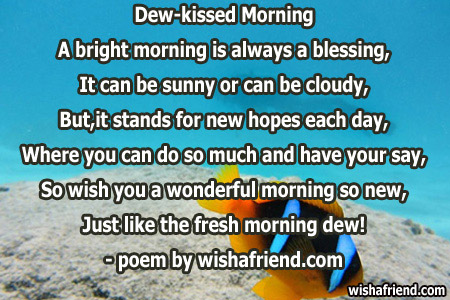 Dew-kissed Morning
A bright morning is always a blessing,
It can be sunny or can be cloudy,
But,it stands for new hopes each day,
Where you can do so much and have your say,
So wish you a wonderful morning so new,
Just like the fresh morning dew!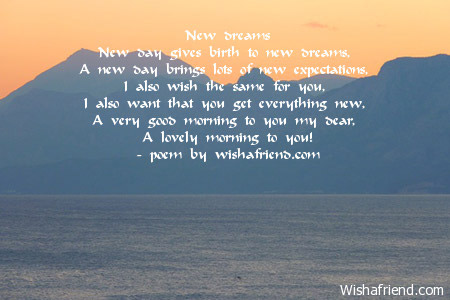 New dreams
New day gives birth to new dreams,
A new day brings lots of new expectations,
I also wish the same for you,
I also want that you get everything new,
A very good morning to you my dear,
A lovely morning to you!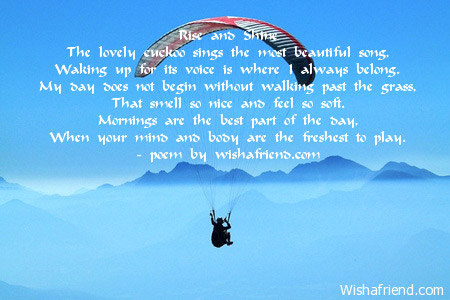 Rise and Shine
The lovely cuckoo sings the most beautiful song,
Waking up for its voice is where I always belong.
My day does not begin without walking past the grass,
That smell so nice and feel so soft.
Mornings are the best part of the day,
When your mind and body are the freshest to play.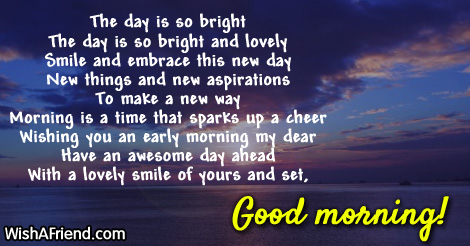 The day is so bright
The day is so bright and lovely
Smile and embrace this new day
New things and new aspirations
To make a new way
Morning is a time that sparks up a cheer
Wishing you an early morning my dear
Have an awesome day ahead
With a lovely smile of yours and set,
Good morning!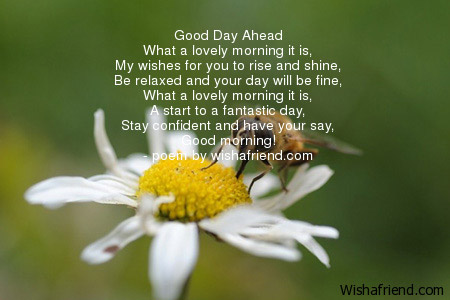 Good Day Ahead
What a lovely morning it is,
My wishes for you to rise and shine,
Be relaxed and your day will be fine,
What a lovely morning it is,
A start to a fantastic day,
Stay confident and have your say,
Good morning!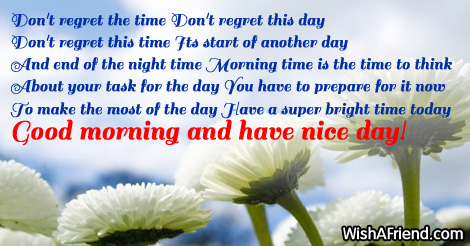 Don't regret the time
Don't regret this day
Don't regret this time
Its start of another day
And end of the night time
Morning time is the time to think
About your task for the day
You have to prepare for it now
To make the most of the day
Have a super bright time today
Good morning and have nice day!