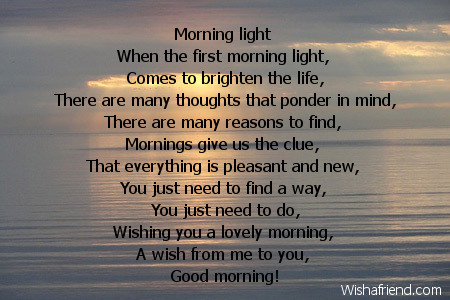 Morning light
When the first morning light, Comes to brighten the life,
There are many thoughts that ponder in mind,
There are many reasons to find,
Mornings give us the clue,
That everything is pleasant and new,
You just need to find a way,
You just need to do,
Wishing you a lovely morning,
A wish from me to you,
Good morning!
Other Popular Good Morning Poems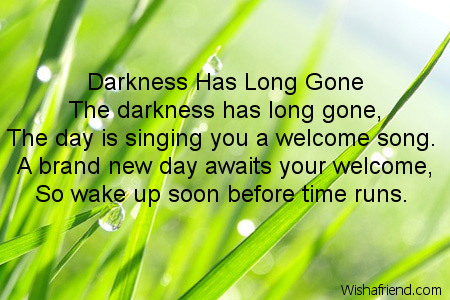 Darkness Has Long Gone
The darkness has long gone,
The day is singing you a welcome song.
A brand new day awaits your welcome,
So wake up soon before time runs.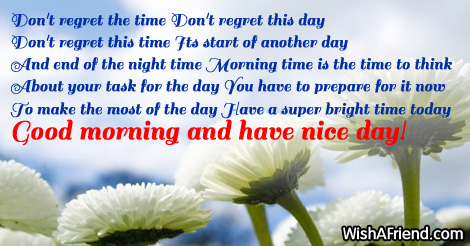 Don't regret the time
Don't regret this day
Don't regret this time
Its start of another day
And end of the night time
Morning time is the time to think
About your task for the day
You have to prepare for it now
To make the most of the day
Have a super bright time today
Good morning and have nice day!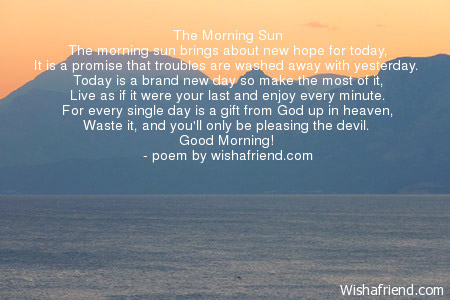 The Morning Sun
The morning sun brings about new hope for today,
It is a promise that troubles are washed away with yesterday.
Today is a brand new day so make the most of it,
Live as if it were your last and enjoy every minute.
For every single day is a gift from God up in heaven,
Waste it, and you'll only be pleasing the devil.
Good Morning!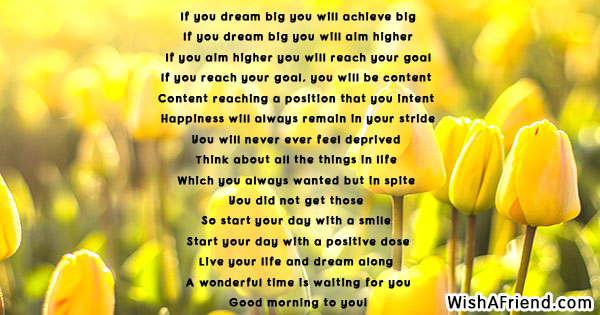 If you dream big you will achieve big
If you dream big you will aim higher
If you aim higher you will reach your goal
If you reach your goal, you will be content
Content reaching a position that you intent
Happiness will always remain in your stride
You will never ever feel deprived
Think about all the things in life
Which you always wanted but in spite
You did not get those
So start your day with a smile
Start your day with a positive dose
Live your life and dream along
A wonderful time is waiting for you
Good morning to you!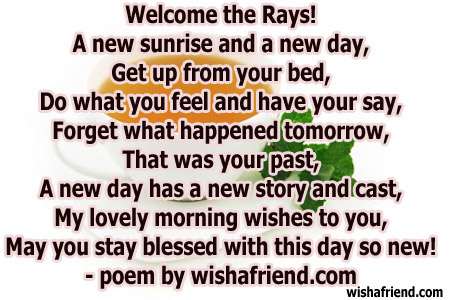 Welcome the Rays!
A new sunrise and a new day,
Get up from your bed,
Do what you feel and have your say,
Forget what happened tomorrow,
That was your past,
A new day has a new story and cast,
My lovely morning wishes to you,
May you stay blessed with this day so new!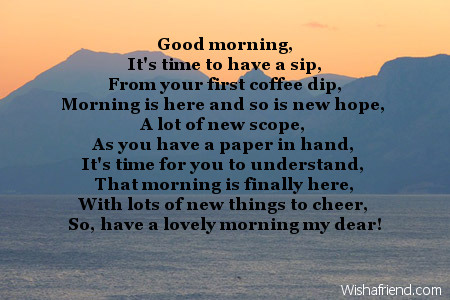 Morning fun
Good morning,
It's time to have a sip,
From your first coffee dip,
Morning is here and so is new hope,
A lot of new scope,
As you have a paper in hand,
It's time for you to understand,
That morning is finally here,
With lots of new things to cheer,
So, have a lovely morning my dear!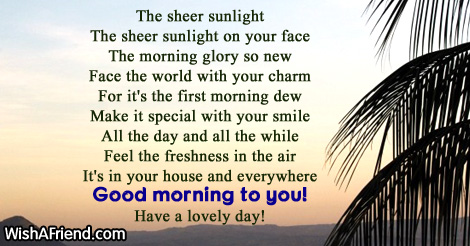 The sheer sunlight
The sheer sunlight on your face
The morning glory so new
Face the world with your charm
For it's the first morning dew
Make it special with your smile
All the day and all the while
Feel the freshness in the air
It's in your house and everywhere
Good morning to you!
Have a lovely day!